More Problems with Daycare
More Problems with Daycare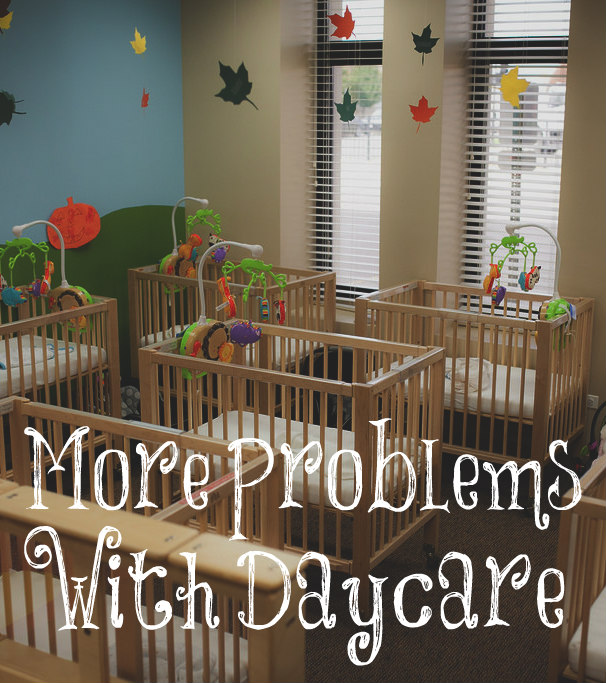 Last week, I wrote a post about the problems with daycare. When I saw all of the comments being made on Facebook under this post, I came up with a few more problems. For one thing and most importantly, God commands mothers be the ones to bring their children up in the nurture and the admonition of the Lord. Yes, this command is given to fathers but as our husband's help meet, we are to help him in this area since we are the ones home full time with the children.
Who will train them if the children are away from their mothers all day long five days a week? Who will discipline and correct their bad behavior? Who will praise them when they choose to do the right thing? Who will read them Bible stories and point them to Jesus all throughout the day? How will they see godly womanhood modeled if they aren't with their godly mothers full time? How will the daughters grow up wanting to be wives and mothers at home if they don't see their own mothers doing this? They will want careers instead because this is all that is modeled to them by the world. We need more mothers at home not less. We need less career women and more mothers!
Another thing, what about the high cost of daycare? Yes, I know some in the government are trying to get "free" childcare but nothing is ever free from the government. Someone is paying for it and the higher taxes will only mean that more mothers must leave their homes to pay the higher taxes. No one wins in this situation! It will also encourage more women to work since childcare is "free." No, providing "free" childcare is not the answer.
I was talking to a young woman recently and she said that a very nice childcare near her home costs $30,000 a year! A mother could easily stay home instead of paying this high cost. I encourage every mother who is working outside of the home to figure out exactly how much income she brings home after deducting the costs of daycare, wear and tear on the car, extra clothing, gas, food that she can't prepare from scratch, not having time to compare prices and shop frugally, and so on. The amount that she brings home may be much less than she thinks and she may be able to find a way to live simply and frugally within her husband's income.
On this previous post about daycare, I was accused of "mommy shaming" and judging working mothers. So not "mommy shaming" is more important to women today than teaching what is best for children? How is it "mommy shaming" and judging to teach women God's will for them? Did you know that it's not bad to feel shame when confronted with the truth? Instead of feeling conviction when they hear the truth being taught, they are offended and call the one teaching it judgmental and shaming. Our culture makes shame feel like a horrible thing but if it causes people to reconsider the path they are on and begin obeying God, then it's a good thing!
If some were to tell me that at my age and with no children in the home, I should go back to teaching full time, make money, and do "something" with my life, I would feel absolutely no shame because I know I am right where I am supposed to be. If you know you are doing the right thing, then no one can make you feel any shame!
The Apostle Paul wrote about causing shame when confronting people with truth (1 Corinthians 6:5). If a mother knows she is doing the best she can do and still must work outside of the home, then she should feel no shame. Yes, she will probably still feel guilt and regret while continuing to seek the Lord in making a way for her to come home, but she will freely admit that she knows that it would be far superior to be the one home with her children rather than put them in daycare. She understands that God's ways are best even if she can't do them at this point in her life.
Throughout the years that I have been mentoring and teaching women, many have told me that they have gone home to be with their children. Some had no idea how they were going to make it financially but they took a step of faith and went home. They saw God's provision every step of the way. Sometimes, their husband's received a pay raise or a better job. Sometimes, they found a way to make money from home but how will one ever know how God will answer abundantly above anything they can ever ask or think if they never take a step of faith in the direction that He calls them to do?
Now to Him who is able to do far more abundantly beyond all that we ask or think, according to the power that works within us.
Ephesians 3:20