Pumpkin Pie, Mashed Potatoes, and Gravy
Pumpkin Pie, Mashed Potatoes, and Gravy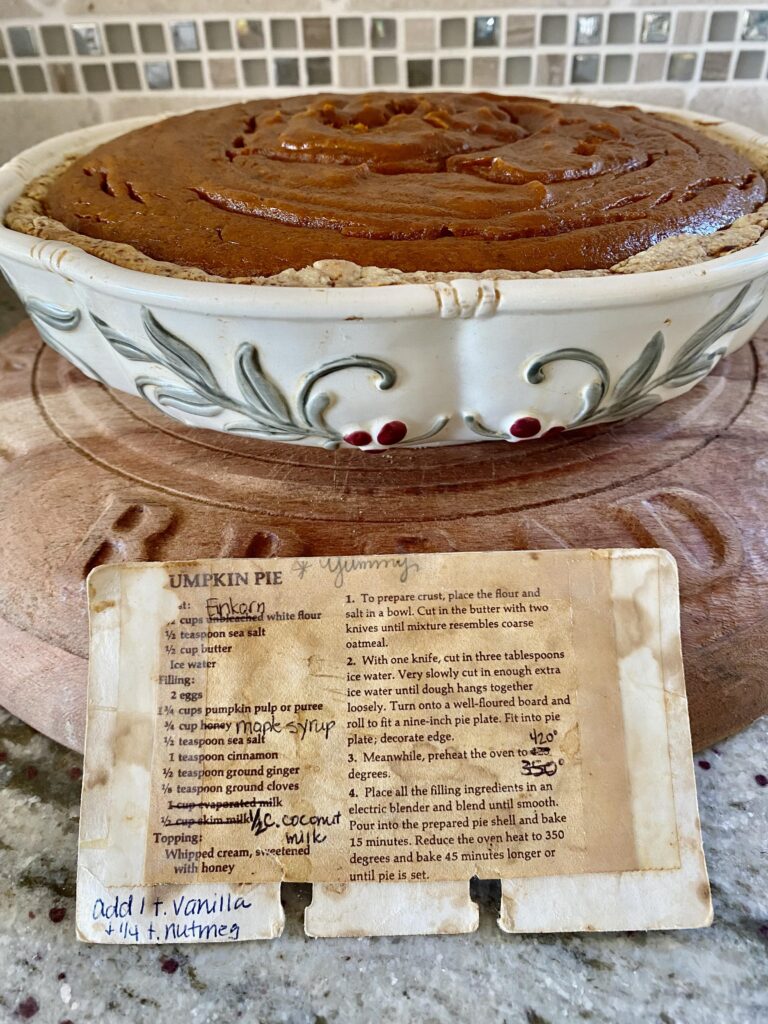 On my Instagram account, I share my new recipes. My purpose for making this post is to remind myself for future Thanksgivings of the things I have learned that made for a great feast yesterday!
First of all, I will share my pumpkin pie recipe which many women have tried and loved! They've told me it's the best pumpkin pie they've ever eaten. My family all loves it too. It's the only type of pie I made this Thanksgiving, and no one complained one bit! I have been making this since we were married. My husband loves this pie so I make it for him throughout the year. (The recipe card is from when we were married almost 43 years ago!) You can double the recipe to make a lot more filling in the crust. It just needs to cook longer.
In a blender, add and blend well:
2 eggs
1 15 oz. can of organic pumpkin pulp
3/4 cup maple syrup
1/2 t. sea salt
1 t. cinnamon
1/2 t. ground ginger
1/8 t. ground cloves
1/2 cup coconut cream or coconut milk
1 t. vanilla
Pour into the frozen pie crust. Put onto a cookie sheet into a 425 degree oven. Cook for 15 minutes. Lower the heat to 350 degrees for 45 minutes. It is done when a knife comes out of it smoothly. I whisk organic heavy whipping cream and add maple syrup and vanilla to go on top! Delicious!
I found out that even the pie crusts in the health food store have seed oils in them so I made my own! It's easy.
2 cups Einkorn flour
2 T. coconut sugar
1 t. salt
7 T. melted butter
4 T. ice water
Mix together and roll out. Put in pie mold and shape a bit. It doesn't roll out easily but I make it work!
This year, I bought gravy at a local health food store since my son-in-law was smoking a turkey, and I wouldn't have any drippings. When I got home, I saw that it contained flour so I knew I had to make some for those who are gluten free. I put 1/4 cup of butter into a pan and melted the butter. I added 1/4 cup of cornstarch (some women told me arrowroot powder is healthier and works as well) then whisk the two for a bit. I slowly added in 4 cups of homemade chicken broth while whisking until it was thick and creamy. Then I added salt and pepper to taste. It was thick and delicious!
For the mashed potatoes, I used Yukon potatoes and just scrubbed them clean without peeling or cutting them. I put them into a big pan with cold water. I salted the water, then brought it to a boil and simmered until the potatoes were done. Then I strained out the water, and my husband used a potato masher to mash them, skin and all! I added a cup of melted butter while he was mashing them. Then added salt and pepper. They were excellent too!
We made this Thanksgiving day feast simple. My son-in-law smoked the turkey. I made the gravy, mashed potatoes, and pies. I baked some yams too. I did buy some cranberry sauce at the health food store but this was it, and everyone was completely satisfied! I love simple and delicious. (My son-in-law would maybe admit that the entire turkey thing wasn't that simple!)
Enter into his gates with thanksgiving, and into his courts with praise: be thankful unto him, and bless his name. For the LORD is good; his mercy is everlasting; and his truth endureth to all generations.
Psalm 100:4,5