Raising Sons in This Feminist, Anti-Male Culture
Raising Sons in This Feminist, Anti-Male Culture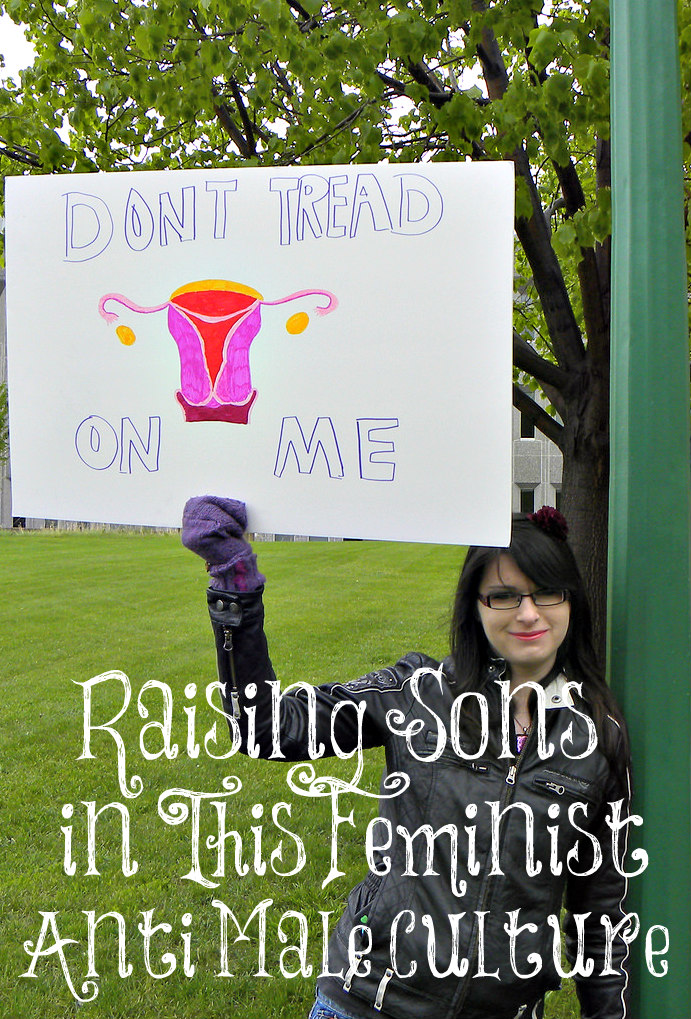 It grieves me when I see young Christian women calling themselves feminist when we look at all of the destruction they have caused and are causing. Why not call ourselves feminine women who love the Lord Jesus instead! The Federalist wrote an article about Kellyanne Conway, Counselor to the President, whether or not she would call herself a feminist.
She answered: "I don't consider myself a feminist. I think my generation isn't a big fan of labels. My favorite label is mommy. I feel like the feminist movement has been hijacked by the pro-abortion movement or the anti-male sentiments that you read in some of their propaganda and writings. I'm not anti-male. One does not need to be pro-female and call yourself a feminist, when with it comes that whole anti-male culture where we want young boys to sit down and shut up in the classroom. And we have all of these commercials that show what a feckless boob the man in the house is. That's not the way I see the men in my life, most especially my 12-year-old son. I consider myself a postfeminist. I consider myself one of those women who is a product of her choices, not a victim of her circumstances."
The author of this post, Leslie Loftis, goes on to say how horrible feminism has been for men which many men would agree. "In elementary school, when we drug little boys (and active girls) so that they all conform to our notions of the good little student — that is, the eager-to-learn little girl — the drugs seem to help, for a while."
We didn't drug our sons. We knew they were boys and weren't made to sit in a classroom chair all day long. I finally wised up and began homeschooling them from fifth grade through ninth. They loved those years! They didn't have to be around all of the JUNK that goes on in the public junior high school. They played, ate, read, played, ate, did math, played, and ate, and went to their sports' team practices and games. It was a perfect life for boys but it takes a mother home full time with them in order to acccomplish this.
Leslie went on to write, "…boys grow up feeling entitled to women's bodies and thinking that they can go for it whenever the urge strikes." My sons did not grow up like this because we consistently taught them the truth of God's Word, plus (and this is a BIG plus) we didn't and wouldn't send them to public high schools and universities from the ages of 15-21 years old where these schools are more like Sodom and Gomorrah than anything else. My sons learned to "bounce" their eyes and run from sexual immorality from a young age and knew that women are to be valued and respected. Both of their wives can attest to this fact today!
Leslie's conclusion: "It doesn't matter how we raise our sons. Cultural assumptions run against them, and eventually most of us learn this truth, sometimes the hard way." Not true. Raise them in the church. Stay married. Hide God's Word deeply in their hearts. Talk to them openly about everything. Set boundaries of protection. Discipline and train them from the time they are young. Teach them to work hard and they will most likely grow up to be strong, godly men; just what this country needs! Then they will be a product of wise choices, not a victim of any circumstances since Christ in them is stronger than anything that may be thrown their way.
 I have written unto you, fathers, because ye have known him that is from the beginning. I have written unto you, young men, because ye are strong, and the word of God abideth in you, and ye have overcome the wicked one.
1 John 2:14