The. Same. Old. Thing.
The. Same. Old. Thing.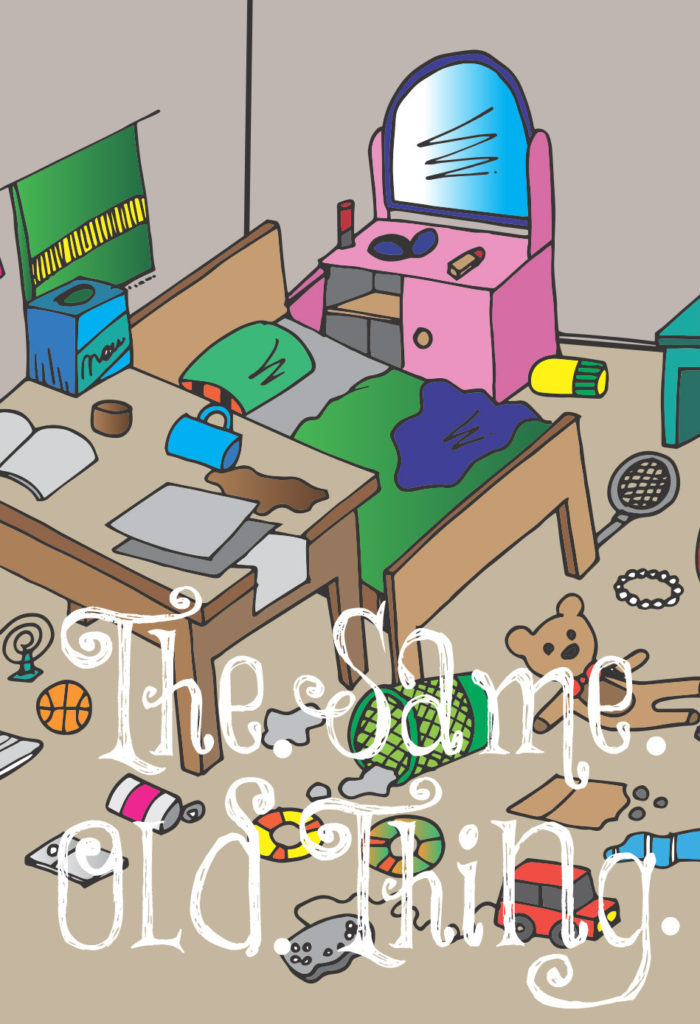 Stay-at-home mother. Faithful, submissive wife. Homemaker. It's the Same. Old. Thing. for many of us. We wash dishes over and over again. We've changed hundreds of diapers, rocked sick babies, fixed another meal, vacuumed another carpet, shopped for healthy food, cleaned another toilet, and on and on the list goes. The. Same. Old. Thing.
My grandchildren were here this past weekend. Their parents needed a break so we had the three young ones for 24 hours. It was hard because Ken and I are not young anymore but we loved it! Hard isn't bad. It's just hard but worth it. Yes, I had to change diapers, feed them over and over again, teach them about Jesus, clean up, pick up, and scrub. The. Same. Old. Thing.
Do you know that the enemy of our soul has used the Same. Old. Thing. to take many women away from the path that the Lord wants them to be on? My grandchildren love books and they happened to leave out "The Screwtape Letters"* by C. S. Lewis (Satan talking to his helper on how to weaken Christianity) on my coffee table. (No, they can't read this book yet. It's way above their ability to read or understand!) I decided to pick it up and read some of it and I read about the Same. Old. Thing. and how Satan uses this in our lives to draw us away from God's will.
"The horror of the Same Old Thing is one of the most valuable passions we have produced in the human heart – an endless source of heresies in religion, folly in counsel, infidelity in marriage, and inconstancy in friendship…To experience much of it, therefore, they must experience many different things; in other words, they must experience change…He (God) has contrived to gratify both tastes together in the very world He has made, by that union of change and permanence which we call Rhythm. He gives them the seasons, each season different yet every year the same, so that spring is always felt as a novelty yet always as the recurrence of an immemorial theme."*
Man naturally wants and enjoys change and God has given us change in a godly and beautiful ways: seasons, morning, evening, the tide, the moon, food, the flowers, birth, childhood, adulthood, old age, death. We should be content with the change He brings in our lives and not be making up "new and improved" ways to worship, live, and love that God has established for us.
"Now just as we pick out and exaggerate the pleasure of eating to produce gluttony, so we pick out this natural pleasantness of change and twist it into a demand for absolute novelty."* Feminism. Careers for women. Daycare. Affairs. Worsening of TV shows and movies. Public schooling.
"This demand is valuable in various ways. In the first place it diminishes pleasure while increasing desire."* Feminism began to "help" women depending upon who you ask. They "helped" them to be able to own property, vote, and a few other things. These didn't bring the pleasure they expected so they went after birth control, sex with whomever, abortion, divorce, no-fault divorce, child care, careers. These didn't bring the pleasures they expected either, so they have a Women's March and dress up in vaginas and post tampons on walls and have no idea what they are "fighting" so hard for anymore. Their pleasure is gone but they still have a rebellious desire for change because they are sick of the Same. Old. Thing.
"And continued novelty costs money, so that the desire for it spells avarice or unhappiness of both. And again, the more rapacious this desire, the sooner it must eat up all the innocent sources of pleasure and pass on to those the Enemy (God) forbids. Thus by inflaming the horror of the Same Old Thing we have recently made the Arts, for example. less dangerous to us than perhaps, they have ever been, 'low-brow' and 'high-brow' artists alike being now daily drawn into fresh, and still fresh, excesses of lasciviousness, unreason, cruelty, and PRIDE."*
 For the wrath of God is revealed from heaven against all ungodliness and unrighteousness of men, who hold the truth in unrighteousness; Because that which may be known of God is manifest in them; for God hath shewed it unto them. For the invisible things of him from the creation of the world are clearly seen, being understood by the things that are made, even his eternal power and Godhead; so that they are without excuse: Because that, when they knew God, they glorified him not as God, neither were thankful; but became vain in their imaginations, and their foolish heart was darkened. Professing themselves to be wise, they became fools, And changed the glory of the uncorruptible God into an image made like to corruptible man, and to birds, and fourfooted beasts, and creeping things. Wherefore God also gave them up to uncleanness through the lusts of their own hearts, to dishonour their own bodies between themselves: Who changed the truth of God into a lie, and worshipped and served the creature more than the Creator, who is blessed forever. Amen. (Romans 1:18-25)
"But the greatest triumph of all is to elevate this horror of the Same Old Thing into a philosophy so that nonsense in the intellect may reinforce corruption in the will."* Way too many women are swayed by the Ancient Serpent of old (feminism and pride which is fueled by the depraved universities; For the wisdom of this world is foolishness with God.): "I don't feel validated, worth anything, or appreciated being at home all day stuck with my children doing the same old thing. I need to get out. Use my gifts, intellect, and talents the Lord gave me. Put my children in day care for others to raise, make my husband help me with household chores, and make my mark on the world!"
"The Enemy (God) loves platitudes. Of a proposed course of action He wants men, so far as I can see, to ask very simple questions; is it righteous? is it prudent? is it possible? Now if we can keep men asking, 'Is it in accordance with the general movement of our time? is is progressive or reactionary? Is this the way that History is going?' they will neglect the relevant questions. And the questions they do ask are, of course, unanswerable; for they do not know the future, and what the future will be depends very largely on just those choices which they now invoke the future to help them make."* Christians should measure all their decisions by "is it righteous? is it prudent? is it possible?" reassured with the fact that we know what and where our future is and  that He (God) has the best prescription for our lives, even if our lives are the Same. Old. Thing. day after day and fraught with hardships. For our light affliction, which is but for a moment, worketh for us a far more exceeding and eternal weight of glory; While we look not at the things which are seen, but at the things which are not seen: for the things which are seen are temporal; but the things which are not seen are eternal (2 Corinthians 4:18).

"Once they knew that some changes were for the better, and others for the worse, and others again indifferent. We have largely removed this knowledge."* They no longer can distinguish good from evil and get them all mixed up. Woe unto them that call evil good, and good evil; that put darkness for light, and light for darkness; that put bitter for sweet, and sweet for bitter! (Isaiah 5:20)
The ironic thing is in the end, mothers who leave their homes to find fulfillment and satisfaction from careers and their instead of caring for their husbands, children, and homes, end up doing the Same. Old. Thing, day after day but not according to God's will for them and everyone suffers. They fail to store their treasures in heaven where they belong.