Regretting Her College Education
Regretting Her College Education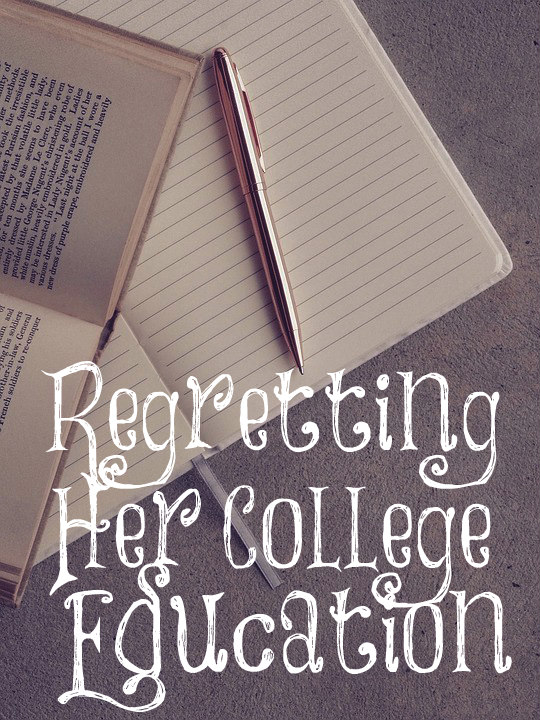 A woman named Kathryn Beal tweeted this the other day: "I regret my college education. If you want to be a wife and a mom, you will likely feel aimless like I did. Many people see college as necessary, but it isn't. For aspiring homemakers, the cost may not be worth the benefits."
I can relate to her. I don't necessarily regret it, but I would have been fine not going since all I wanted to do was to be a wife and mother. I had no debt after college since it was so inexpensive back then and it was a private Christian college. But I definitely felt aimless in college because it wasn't where I belonged. I wanted to be in a home with a family.
I know too many young women whose college debt their husband now carries which puts off having children and the mothers unable to be home full time. Did you know that women carry two-thirds of the $1.3 trillion student loan debt? This keeps them in bondage to their jobs for many, many years. It sounds like a good plan by Satan himself.
Colleges' purpose is to prepare people for a career and a paycheck. God never calls women to careers or making money in His Word. It also exposes them to godless teaching and feminism which is the opposite of being feminine.
In my opinion, any woman who comes out of college with a huge student loan debt, college was a waste! Where is it scriptural to go into mass amounts of debt for oneself which keeps women far away from God's will for their lives? Do we think that our lives are meaningless and there's nothing we can do without an expensive college education? Where is God in the equation and trusting in Him with our lives?
I asked the women in the chat room what their thoughts were on this matter.
"Absolutely. I'm in a huge amount of debt. I was not allowed to consider a career as a homemaker as a child. My parents saw it as unreasonable. My daughter will be raised very differently!"
"Yep. I was totally lost while at college. I wondered why I was even there. My mom put so much pressure on me to attend college."
"I dropped out of college and I don't regret it at all. Being a nanny and working in daycare prepared me for having my own children more than any of the classes I took in college, and I went for Education. Studying Scripture prepared me the most!"
"I regret college degree very much; a lot of time and money wasted."
"I completely regret it. Everything I learned in college I could have easily learned on my own through reading or the Internet. As a homeschooling mom, I had to 'unlearn' some of the things I was taught in order to be a better and more effective teacher for my children. And even though I was aware of the liberal, feminist influence at college and *thought* I was not allowing myself to be affected by it, I was affected by it to a degree that I didn't realize until much later. I could have spent those five years it took me to get my degree (not to mention the money) in much more useful ways."
"I do. In my teen years, parents bought the lie that everyone needed to go to a university. I wanted to go to an animal husbandry trade school but was told that was 'beneath' me. In reality, I wanted to get married and have children, though I didn't realize that. I was never encouraged to get married since my parents were miserable in theirs. I had many wasted years, lost and wandering despite being raised in church. I had my first child out of wedlock and faced years of heartache. We need to go back to extolling the virtues of marriage and family as a means to glorify God. It would prevent most from embracing disobedience and having years that the locusts have eaten."
Christian parents no longer extol the virtues of marriage and child raising and instead extol higher education and careers for their daughters.
"This is something that has been grieving my heart lately. I was holding my two-year-old as he slept against me last night while seeing post after post on social media of homeschooling Christian families we know doing college visits with their daughters to expensive, private colleges, I might add.
"Then a friend of mine told me how her DIL is putting her just barely month old first baby in daycare to go back to work just because she likes working. I was there holding my sweet, precious son with tears in my eyes pondering all of this. It is such an honor and privilege to be a homemaker and mother.
"Why do Christian parents act as if they want their daughters to do anything, literally anything but 'just' be a wife and mom?"
If you don't want to go to college, young women, then I encourage you not to go. Live under your father's roof if you are able and he is a good father. Make money being a nanny or helping out in the local daycare or old folks' home. This is good preparation for learning to serve others. Save any money you make to help in your future marriage, if you get married. Learn to be a good cook and homemaker. Study the Word daily and allow it to transform you into a meek and quiet-spirited woman.
As believers in Jesus Christ, let's stop making college and a paycheck the idol that our culture has made them. It's caused a lot of destruction in our culture from what it teaches. We are commanded to avoid false teaching and colleges/universities are full of false teachers.
Dennis Prager, one of my favorite radio personalities, believes it is a waste for everyone unless they are going to be a doctor or something that needs a college degree. He has said frequently that the Left poisons everything it touches. It has touched colleges and universities and they are definitely poisoned and poisoning others.
Be ye not unequally yoked together with unbelievers: for what fellowship hath righteousness with unrighteousness? And what communion hath light with darkness?
1 Corinthians 6:14