Few Teach Women to Be Keepers at Home
Few Teach Women to Be Keepers at Home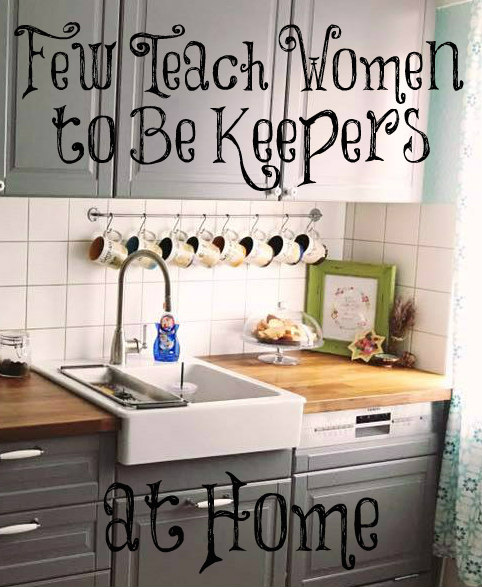 Being a wife and mother are not valued in this culture, no, not even among many Christians. They teach their daughters to pursue higher education and careers which often keep them far from God's will for them.
I have been reading a book called "The Golden Gems of Life." It was written in 1880. The authors had no problems teaching women that their calling is in the home as a wife and mother. This is rare indeed. Here are a few quotes from the book.
"Many women do the work of their life without being seen or noticed by the world. The world sees a family reared to virtue, one child after another growing into Christian manhood or womanhood, and at last sees them gathered around the grave where the mother that bore them rests from her labors. But the world never sees the quiet woman laboring for her children, making their clothes, providing them meals, teaching them prayers, and making their homes comfortable and happy."
"Educate the girls in the intricate duties that will be required of them as a wife and mother…Educate the boys to a knowledge of what the busy world will require of them."
"We exhort you who are a wife to be gentle and considerate to your husband. While you are careful to adorn yourself with desirable apparel…be still more attentive in ornamenting your mind with meekness and peace, with cheerfulness and good humor. Keep at home. Let your employment and pleasures be in the home."
God commands that older women teach the younger women to be keepers at home so the "word of God be not blasphemed" (Titus 2:3-5). I see many women who teach the Bible do all types of gymnastics with words to get around this and make women who have careers/jobs feel better about themselves. Instead of trusting that God's plan is perfect, they make all of the excuses and exceptions why women don't need to be keepers at home.
 I'm not going to do this. I appreciate this book of old and the old commentaries that don't do this either. They trust God at His Word, teach it, and let the chips fall where they may. Many women have written to me and told me that they have quit their high paying careers and/or jobs to be home full time. They are thankful that I don't try to water down the commands of God since His ways are good, and acceptable, and perfect!
Never be afraid to teach God's Word as it is written, women. His Word is sharper than a twoedged sword. We are told that His commands aren't burdensome and that with God all things are possible. Keep speaking the truth in love. Women need to be keepers at home. Their husbands and children need them there. Their homes need them in order to make them warm, cheerful, peaceful, and orderly places for their families to live in.
"A woman's influence is the chief anchor of society. No costly marble can build a more beautiful monument to her memory than the impression she makes on her own household…The world is moved and civilization is advanced by the silent influence of women."
She looks well to the ways of her household, and eats not the bread of idleness.
Proverbs 31:27