Satan Wants to Destroy Your Children
Satan Wants to Destroy Your Children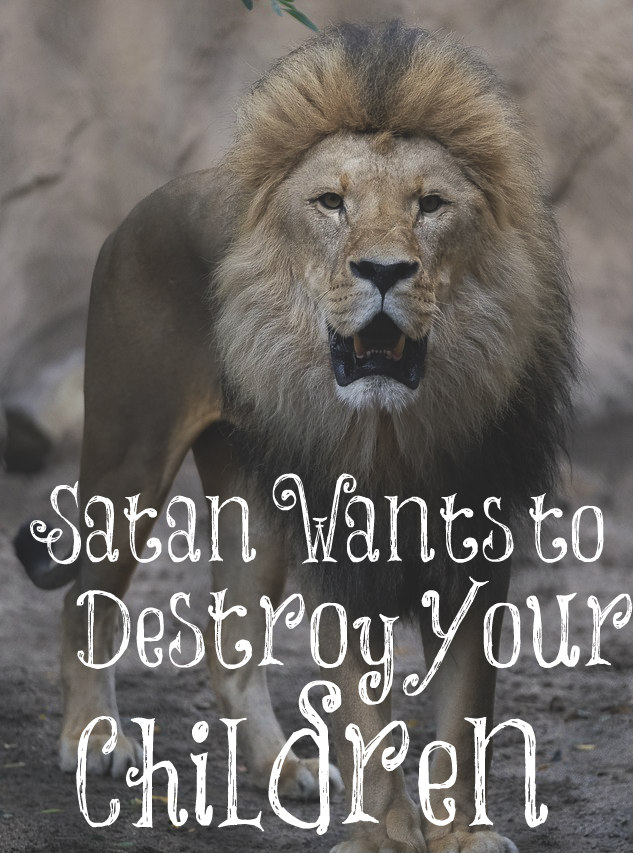 As most of you know, I receive a lot of hate-filled comments on my social media. I also receive them on this blog but I don't publish them. I am going to show you this one I received the other day. I know it's from a troll so I'm not sure it's accurate, but I do know without a doubt that Satan is doing all that he can to destroy your children.
"I work with an organization that helps children leave fundamentalist Christianity and embrace secularism, feminism and LGBTQ+ rights. I am thrilled to inform you that we have had a lot of success reaching out to – and successfully converting!! – teens by going through the Facebook pages of your Facebook followers and reaching out to their kids. They're so grateful! Every time you comment, we rescue more teens from your toxic ideology. Thank you so much for helping us find them!"
The public schools and universities are openly and unashamedly promoting these lifestyles to the students. This is an important reason why God wants mothers to be keepers at home full time with their children. He gave children mothers to protect them from the evil in this world. He wants you to know what friends your children play with; for bad company corrupts good morals. He wants you training them up in the ways of Him, and making sure your children know the Gospel and who they are in Christ!
The following is an article written by Karen Sargent called "Required Reading" and it was from the No Greater Joy March-April magazine.
I read an article yesterday that should be required reading for every parent. It was written by a young mom, Sloane (not her real name). She works with an organization called Bark, whose sole purpose is to protect children from online predators. Her story is chilling.
In the article, she recounts a typical day in her work with Bark. They start with a photo of Sloane wearing clothing a pre-teen would wear, glitter nail polish, chest bound with ace bandages. Team members use photo manipulation to turn it into a perky and innocent 11-year-old girl they call Bailey who, at that age, should be playing house and having tea parties.
Sloane uses an iPhone paired to a big-screen TV so the whole team can follow along. A video camera records it all because every speck of evidence is precious to law enforcement. The team creates accounts of fictitious young girls to show parents how pervasive the problem of online predation is.
Tonight Sloane is 11-year-old Bailey. She uploads a "selfie" to Instagram and writes a caption about being excited to see her friends tonight. Then she waits.
Sloane writes: "This part never takes long. It's always unnervingly fast… on the very first night as Bailey, two new messages came in under a minute after publishing a photo… the numbers pinged up on the screen—2, 3, 7, 15 messages from adult men over the course of two hours. Half of them could be charged with transfer of obscene content to a minor."
She goes on to describe in hideously graphic detail the conversations these men have with what they think is a little girl.
Are you hearing this, Mama? Are you paying attention, Daddy? In just two hours of an innocuous photo on Instagram, sick, twisted perverts are sending your innocent little girl pornographic photos of themselves and asking her to participate in activities too horrific to imagine.
Where are you while this is happening? Are you driving while she sits in the back seat and has her mind forever polluted by the filth of the world? Are you watching TV in the living room while she lies on her bed enjoying a little social media time with her "friends"?
It is not innocent or harmless entertainment. It is you standing at the door of your child's mind and heart and actively inviting the devil in. It is not enough to put a filter on the Internet in your home. Your children have access to the Web everywhere they go. Their friends have cell phones with unfiltered Internet. Some girls are "groomed" through their school email accounts.
And it's pervasive: social media, Fortnite and Minecraft, TikTok, and chat apps. Small children are targeted while watching My Little Pony videos on YouTube and playing games designed for very young children. Literally any time your child is on the Internet, he or she is a potential victim.
Last year, in a sting operation at the Jersey shore in which they posed as children online, authorities arrested 24 predators in the first week. In another county, 17. In another, 19. Those arrested came from all walks of life—"a police officer, a teacher, a minister, a nurse, a bank manager, a mechanic, a waiter, a dental hygienist, a college student…" There is no "typical predator" profile.
A state deputy attorney general said, "Nearly every game has a chat, so it's hard for parents to keep track, even if they're doing their homework." Did you hear that? You can't keep up.
Do you feel paranoid? You should. You are no match for the devil's world. So what is a parent to do in this age of high-tech?
Say no. No, you will not have a cell phone or a tablet or computer of your own. You will not have a school email account (all necessary emails can be sent to the parents). You will not sleep over at your friend's house. Your friend may not bring her cell phone here. You will not ride the bus to school.
Will that be enough? Will she be protected if we just homeschool and home church and don't let her have a cell phone?
Sadly, no. So much of life in the 21st century is technologically driven, and it is becoming exponentially more so every day. Eventually the children will leave home for work or school. It is not enough to shield them from the dangers that are out there; we must teach them to guard their own hearts. Train them to be vigilant gate-keepers of their own minds so that when the first glimmer of temptation shows up, they are so well trained they instinctively flee. We must insulate them from within, as Mike wrote in this article 18 years ago.
Parenting in 2020 is much scarier than it was when my children were little in the 1980s. The dangers are more pervasive than ever, but Ecclesiastes says, "There is no new thing under the sun." The devil who wanted my kids in 1980 still wants yours today; he's just keeping up with technology better than you are.
Be sober, be vigilant; because your adversary the devil, as a roaring lion, walketh about, seeking whom he may devour.
1 Peter 5:8