Women Suffer Under Feminism
Women Suffer Under Feminism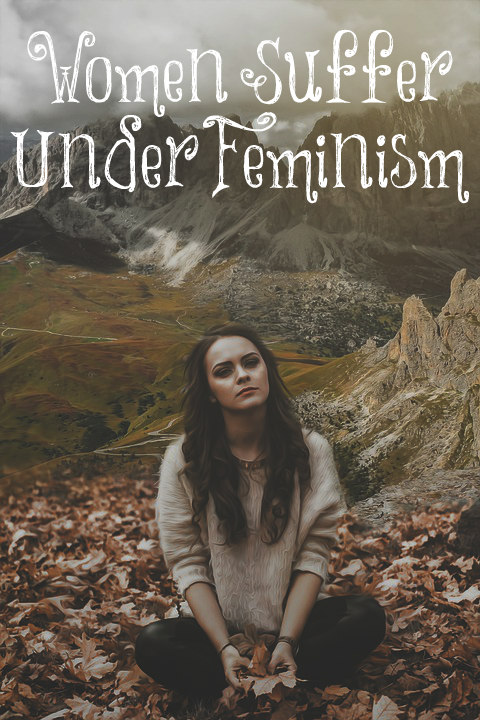 On Saturday, I wrote this on my Facebook page: "Feminism promotes a culture of death. We are seeing this now. Slaughtering of millions of unborn babies. No fault divorce. Daycare. Fatherlessness. Women rule. Patriarchy dead. Chaos. Skyrocketing depression and suicides. Life has no value. Reject feminism. Embrace life and God." One woman responded this way:
I'm still absolutely shocked that women can possibly defend feminism when by age 40 or so, those who have NOT followed God's ways have (typically) experienced at least several of the following:
– Divorce/broken relationships/heartbreak
– Abuse (of any kind) and/or assault
– Mental illness (especially depression/anxiety)
– Single parenting or lack of children
– Many job/career changes and associated stress, pressure, fatigue, overworked/underpaid, nightmare bosses, awful coworkers, bad companies, etc.
– One or more abortions
– Huge student loan debt OR discrimination for not having a degree in a mostly corrupt and often unfairly competitive corporate culture
I've experienced ALL of the above and have NEVER aligned with feminism, yet I was a backslidden Christian most of my adult life and did my own thing. To say that I have MASSIVE regret in my late 40's would be the understatement of the century. God's ways are ALWAYS better. (end of her comment)
Another woman asked why I hate women. I am often accused of this. They hate that I teach the doctrines of biblical womanhood, because truth sounds like hate to those who hate truth. I made a YouTube answering that question for anyone who is interested. How could I possibly hate women when I spend so much time and energy teaching them and putting up with so much mocking, slander, and threats?
Women are so dreadfully deceived these days and most churches do nothing but perpetuate the lies. I praise God for all women who are speaking the truth in love. Young women need to hear the perfect ways of the Lord before they grow old and have mountains of regret and needless suffering from feminism.
Women were never created to lead and rule, and do what men do. Chaos ensues when people turn from God and go against His will.
As for my people, children are their oppressors, and women rule over them. O my people, they which lead thee cause thee to err, and destroy the way of thy paths.
Isaiah 3:12