She Does Him Good and Not Evil – Proverbs 31:12
She Does Him Good and Not Evil – Proverbs 31:12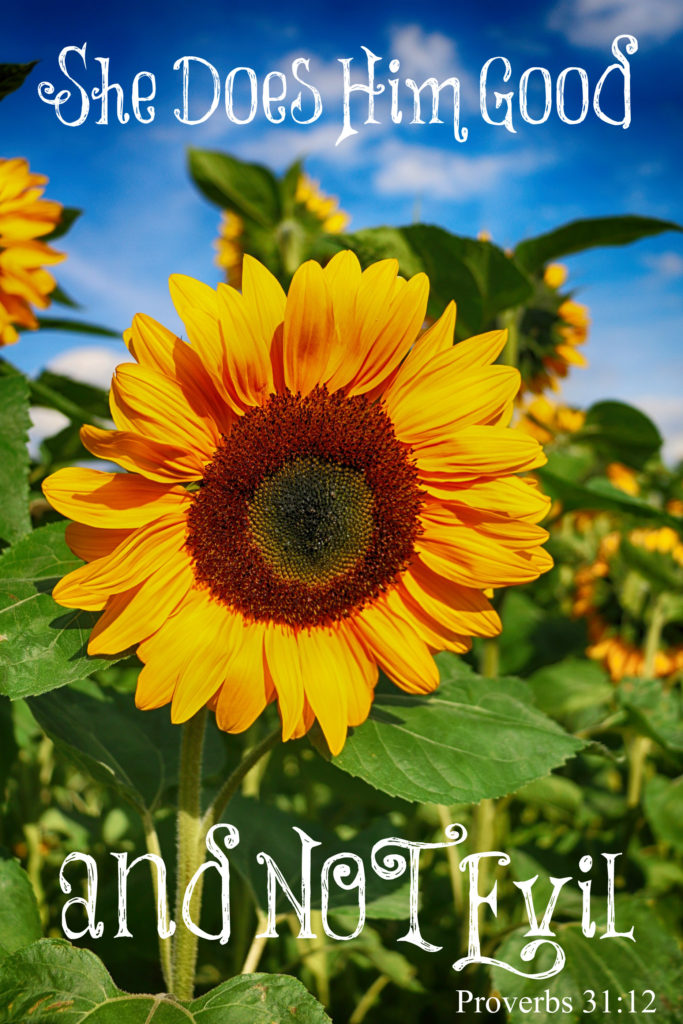 Proverbs 31:12 tells us that a godly wife does her husband good and not evil. Some synonyms for good are excellent, favorable, marvelous, positive, superb, valuable, and wonderful. Some antonyms for good (bad = what a godly wife doesn't want to be known for) are disagreeable, unacceptable, unhelpful, worthless, mean, noxious, rotten, unreliable, vicious, vile, and unvirtuous. Do you do your husband good or evil?
She builds up his home, instead of tearing it down.
She speaks respectfully to him, instead of being disrespectful towards him through her actions and words.
She is joyful, instead of complaining.
She takes good care of her children, instead of scrolling through Facebook, playing on her iPhone, and watching TV, thus neglecting her children.
She speaks highly of him to others, instead of tearing him down.
She is a student of God's Word, instead of her Bible gathering dust.
She submits to her husband's leadership, instead of lording it over him.
She speaks words of kindness to him, instead of being cruel towards him.
She is cheerful and laughs with him, instead of at him.
She does not deprive him sexually, instead of doing it when she feels like it.
She is modest in her clothing, instead of being sensual and turning on other women's husbands.
She has a gentle and quiet spirit, instead of being harsh and loud.
She loves to stay home and keep it clean and tidy, instead of running here and there and neglecting her home duties.
She dwells on the lovely and the good, instead of having no discretion with what she thinks about and watches.
She loves and sacrifices for him, instead of being selfish and only caring for herself.
I can tell you from personal experience, you will be much happier when you are doing your husband good instead of evil.
She will do him good and not evil all the days of her life.
Proverbs 31:12