She Doesn't Feel Led to Homeschool
She Doesn't Feel Led to Homeschool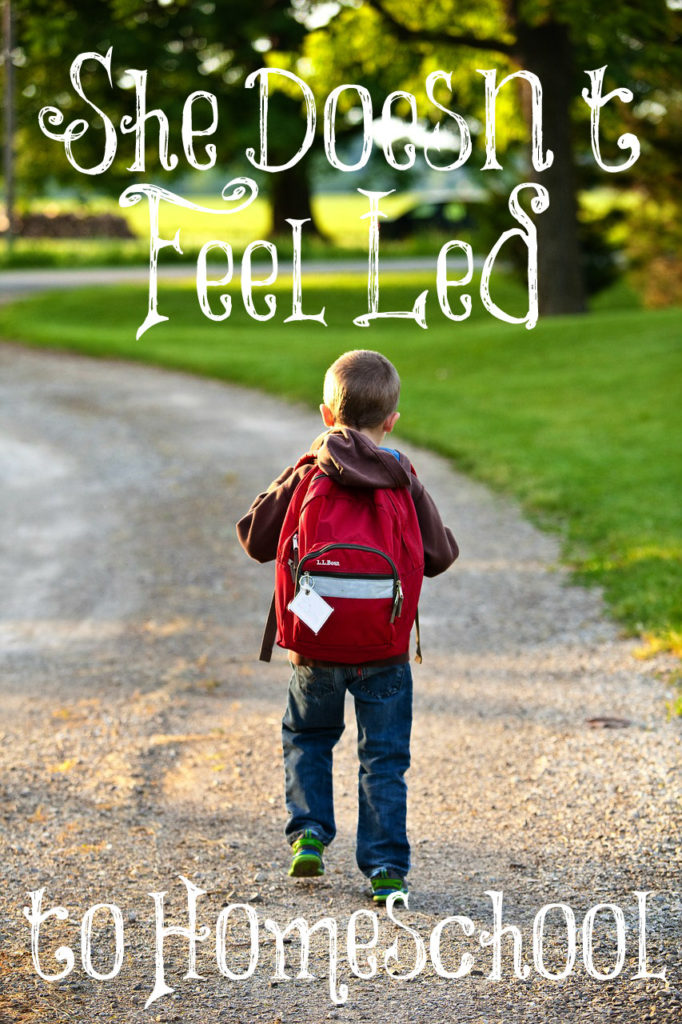 We were discussing public schools in the chat room last week because one woman told me that the high school her son attends is the "darkest place" she's ever stepped foot on. I drove past that school the other day and I saw young teenage girls with their stomachs and breasts half uncovered, tight jeans, and short shorts. I grieved for them along with the guys who were exposed to this all day long.
One woman asked what she should do since she doesn't feel led to homeschool. Lindsay Harold responded to her this way:
"What do you mean by 'feel led?' Were you expecting God to tell you through your feelings what He wants you to do? Because that's not usually the case. God doesn't speak to us by our feelings. He spoke to us through His word. And His word commands parents to teach their children about Him and His word all throughout their day, wherever they go, and whatever they do.
"Deuteronomy 6:6-7 'These words, which I am commanding you today, shall be on your heart. You shall teach them diligently to your sons and shall talk of them when you sit in your house and when you walk by the way and when you lie down and when you rise up.'
"Ephesians 6:4 'Fathers, do not provoke your children to anger, but bring them up in the discipline and instruction of the Lord.'
"The teaching of the scripture to our children is so important. The public schools will not do it. And not only do they need the teaching of the scripture, but they need to be taught to apply it to every area of their lives so that they develop a complete and rigorous Biblical worldview. Not only do public schools not do this, they actively undermine a Biblical worldview by teaching a humanistic, godless view of the world.
"These factors – the Biblical commands about how we are to teach our children and the reality of the public schools – compel me to homeschool, not because I feel like that's what God wants me to do or what I want to do, but because God has already told me in His word what I am to do as a parent."
Nothing a believer does in their life should be decided by what they feel led to do. No, we are not led by our feelings but by the Word of God. God makes it clear that bad company corrupts good morals and that we are to raise our children in the nurture and admonition of the Lord. He would not have wanted the Jewish people to allow the Philistines to raise their children so why should we allow a godless institution raise ours?
We wonder why the Church is so weak today and this is one explanation. Children are influenced by what they are around. I believe this is one important reason that God calls women to be keepers at home. He wants THEM to raise their own children, not others. How have we so easily fallen into what culture finds acceptable instead of searching Scripture for how we are to live?