The House Sits Empty All Week Long
The House Sits Empty All Week Long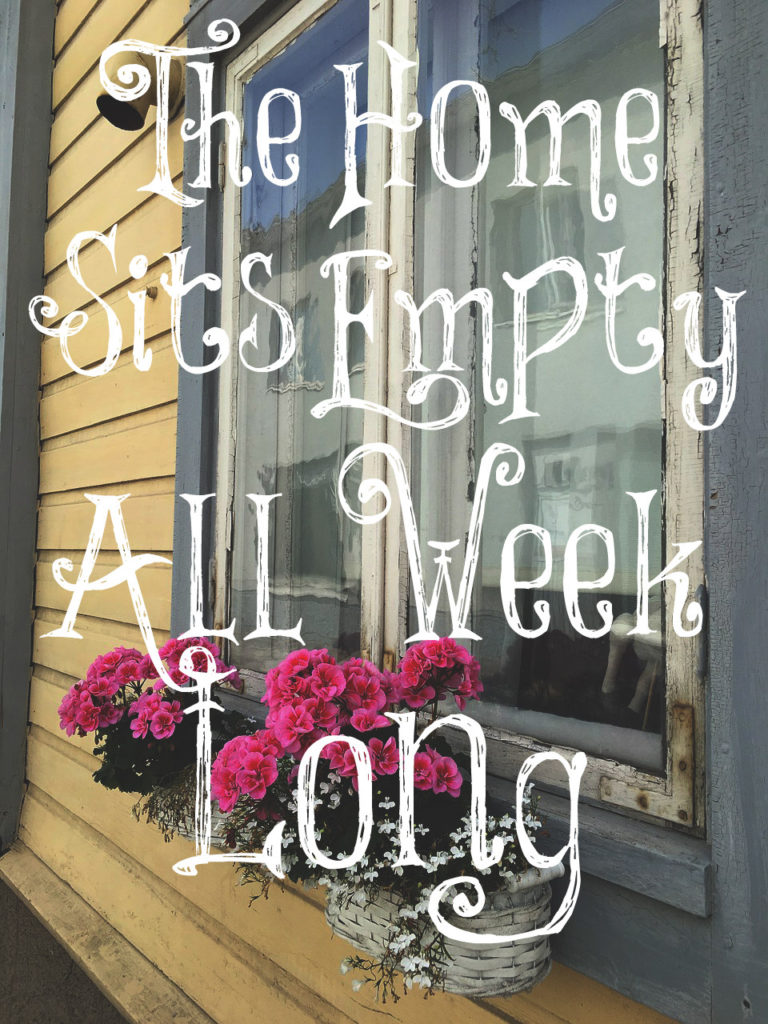 Written by Kate Singh (with some of my additions which I believe are biblical in italics)
The house is empty all week. It just sits there. A $1,700 to $3,000 mortgage (oh yes, in Northern California, yes). No one uses it really. Everyone works 60 hour weeks to pay for a home they don't use. They have a yard that has grass, nothing really living and producing. Just water wasting grass that is another thing to deal with on the weekends. They have dogs that don't get walked and live in the empty house all day staring out the slider at the grass. They have children they never have time for. When? Between shoving toast in their hands and pushing them out of the car to the school or daycare where God knows what they go through all day because when the parents get home there is so much to do to get ready for the next day of hell they don't have time to talk or even tune into the child and see that they may be struggling or suffering at school or the daycare. On the weekends there are too many chores and then the child is forced into a packed schedule of classes then too. Ballet, music, soccer, softball.
Schedules are packed, parents are both in careers, kids live in schools and after school programs. Homes are empty; dogs and cats are lonely. People are depressed. Addictions and alcoholism are high. The big Pharma are pushing a new depression pill weekly. I've seen them on TV. I find it ironic that the medication that is specifically for depression have a disclaimer that it "may cause suicidal thoughts or actions." Hummmm. I don't think that happy pills are supposed to give you the overwhelming desire to off yourself.
Our country is a mess. We have built all the towns for cars. We are slaves to the car. Look at suburbia and the strip malls. We drive everywhere. We go to dirty, crowded box stores to find a deal. We work jobs we detest…jobs that make us drink a lot on the weekends to forget the misery waiting for us on Monday. Our children hate us by puberty. They have been trying to get our attention for years. Now they are just done with us.
Ask yourself if it is all worth it? Are you happy? Is that house, those cars, the expensive vacation, the classes, the over scheduling, the technology, the Ivy League degree…is it worth it? Are you thriving and living in the present?
What if you could work a job (keeper at home) you really believed in? A job that meant something. What if you had hours in the day to be with your family and weekends were spent going to the beach or forest? What if one of the parents stayed home (the mothers since they are the ones that God calls to be keepers at home) and cooked from scratch, baked weekly, was there when the kids got off school (or better yet, homeschooled them and was home with them all day) and walked the dog daily? What if the yard was filled with vegetable gardens and fruit trees? What if you could be with your children all day (that might not be dreamy for some) – (even if it's not "dreamy," it's what God calls them to do)?
I've done the 3 jobs, the office manager, the 3-hour commutes, the city life, the night school. It never amounted to much for me except stress and misery.
My mother was a feminist, well-educated, attorney. She was miserable. She wanted nothing more than to stay home and garden, cook, and write. She would be disgusted with me at being a proud housewife…and she would be extremely envious. (The confused nature of feminism because it's contrary to our God created DNA.)
Nothing is more important than family happiness and well being. (God's ways are the only thing that bring true and lasting happiness.) I feel strongly that if you have chosen to have a family then you have chosen your career (YES!). Period. You can not work two careers and succeed at both. One or the other. This is not a call for us to go back to oppressive times or forget our fight for equal rights and voting (yes, it is since you can forget everything feminism accomplished because all it did was drive a wedge between men and women). Goodness, the man can stay home for all I care. (No, he can't since it's women that God has called to be keepers at home. Men are called to be the providers and protectors regardless of how we "feel" about it.) But if you choose a family (which you should if God blesses you with children), you must make a choice of work or home (home is the only choice)…one of you (the woman who has the womb, breasts, and bore the children) that is.
People that both work and have families don't have true peace and happiness. They can't really enjoy the children and their homes aren't truly clean and tidy or run efficiently. And who can cook from scratch after work?
Women that complain about staying home need to just stop. (Amen!) It is a blessing that some mothers don't have (sadly, but with God all things are possible). Some women are single parents and don't have this luxury (I know some who do – keep asking the Lord to make a way). They would give their right arm to not have that painful task of dumping their child off at a daycare and have their heartache all day wondering if the baby is being treated well. (They may not have to give their right arm if they seek the Lord and pursue options to be able to stay home.)
She looketh well to the ways of her household, and eateth not the bread of idleness.
Proverbs 31:27