She Doesn't Want to Go to College
She Doesn't Want to Go to College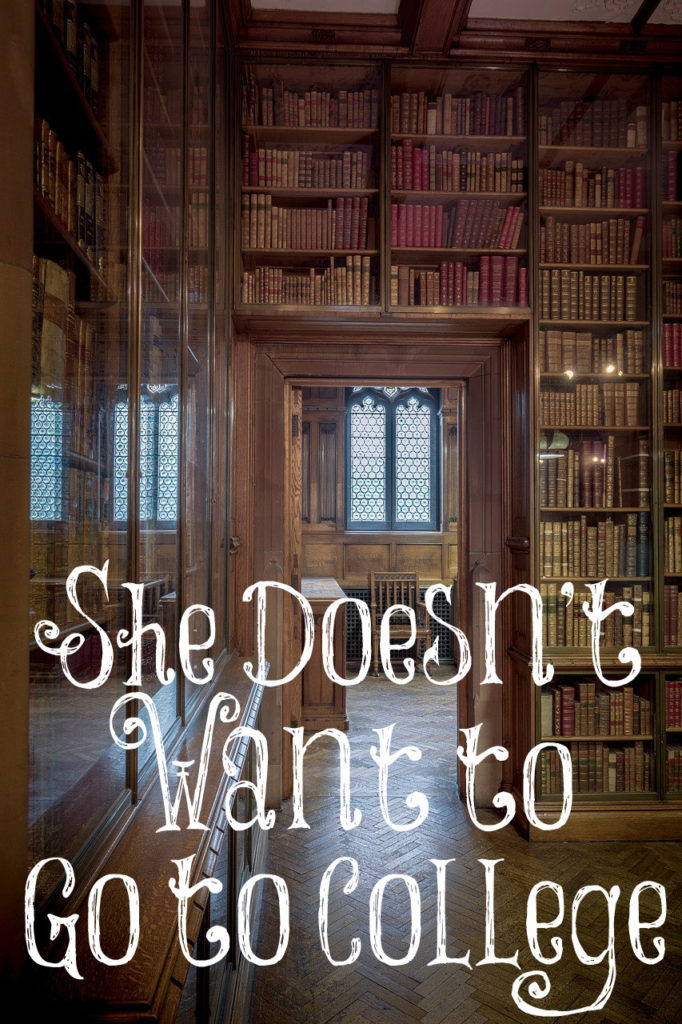 "Let's say an 18 year old woman came to you seeking out your advice. She loves the Lord. She doesn't want to go to college as all of her friends are doing. The Christian colleges are way too expensive and the secular colleges are too godless, plus she has no interest in having a career. All she wants is to be a wife and mother, if the Lord blesses her with a husband. How would you advise her?"
Luba: "Use this time for the following:
* Hours of Bible reading and prayer
* Learning all you can about running a household
* Learning to cook healthy meals
* Be a blessing to parents
* Help an elderly lady at church with cleaning and errand running
* Learn all you can about being a godly wife
* Be content until God brings you a husband
* Pray about starting a business (being a nanny, cleaning – the possibilities are endless)"
Amanda: "This sounds like my 17 year old daughter! She was thinking she would go to university next year and study nursing. I didn't try to talk her into or out of it, but just prayed she would follow God's lead in her life. In the last few months, I have seen her change. She talked to my husband and me recently and explained she no longer felt university was for her. She wants to be a wife and mother first and foremost.
"I have advised her to stay home while she waits for God to bring her husband along and in the meantime, learn all she can in the way of managing a home and caring for a family. I have told her to make sure she spends a lot of time in God's Word and covers her future in prayer and commits it to the Lord. She is also reading some really good Christian books on Godly Womanhood, like Preparing to be a Help Meet, Let Me Be A Woman, Godly Woman 101, Girl Defined, and Love Defined. And you know what, since she has decided not to go to university, she looks so much happier and at peace. She joyfully helps me with laundry (she says ironing is her 'happy place'!), loves to bake, and clean. I have seen very positive changes in her, and it's very encouraging.
"Note: she is still in school completing her last year (Christian School), and works casually on Saturdays and after school at (none other than?) McDonald's. She has learned piano for many years and will be able to conduct piano lessons from home if she chooses."
Julie: "I am a firm believer that college is NOT necessary. However, I do think it's important to learn how to work and earn money. Developing a good work ethic and financial responsibility is never a bad thing, in my opinion. It doesn't necessarily need to be like a waitress or a grocery store clerk, but maybe earn money babysitting/nannying, or maybe house-cleaning?"
Vickie: "When I first decided to stay home, we needed some extra money and I cleaned two houses a week. With only one child at the time, I brought him with me and made enough to pay for all of our groceries. My daughter is like this, too. I agree with all of what Luba said.
"In addition, we live on a small farm and raise animals. She is taking on some of that so she can sell some livestock and with our goat milk we have started a small business selling soap and other natural products. She can do most of it from home and is getting a website started. This way she has been able to make some money of her own and if it continues she could do this as a wife and mother if she chooses. Another thing she has talked about is being a hairdresser. You can go to technical school and that is something she could also do from home with a family.
"She has bought old furniture from yard sales and refinished it and resold for a good profit. There are many things out there like this and she really enjoys being helpful. She does not have a boyfriend but she is looking forward to it. She isn't sitting around dwelling on it either. She keeps busy and feels when the timing is right, the Lord will let her know."
Christina: "I'd tell her great. The only thing I would advise to do that if she does decide to go, watch where she goes and for what. There may be a day that she needs to have a degree to homeschool so that a teaching degree may be at use or a nursing degree which also could be useful to use at home, too. But if she doesn't feel she should go, great! But be in God's Word and in prayer. Make sure she is being the BEST godly woman she can humanly be."
Dawn: "Much will depend on her parents and living situation. If coming from a girl whose parents are not on board with waiting, praying, and helping around the home until marriage, she will need to attend college and get a job. I would say chose a college degree/certificate that could be ultimately useful in the home or for her future children's education. Even better, a certificate program rather than a typical four year liberal arts education which will avoid many of the less desirable teachings. Care-taking and administrative type jobs can also build skills for the home."
Samantha: "Pray a lot, and I mean a lot. Save your heart for the man God wants to put in your life. Learn to cook well, how to manage finances, and how to keep a tidy home. Learn the basics of home keeping if she hasn't already. Pray over any potential relationship with a man; do some soul searching and be sure he is the right man for you before ever getting engaged. Be friends first and foremost, because if there is no friendship to base the relationship on, then is he really the one God puts in your life and intends for you to marry? Don't just go out in the world and date willy nilly; be friends first. Build your relationship with God and draw closer to him. Let God guide you and your natural instinct about situations and people in your life; your gut instinct is usually right."
Paige: "I'd tell her to be open to what God calls her to do. There are many ways to prepare for motherhood: caring for children by babysitting, serving people in her church by helping them in their household, working with her own mother."
Rebecca: "There are three ways of thinking about it: 1) becoming educated in case you don't get married; 2) being educated so that you can teach your children at home; 3) not overeducating, thus providing your husband a temptation for you to work because your salary would be so significant. But if you don't have access or finances to go to a Christian college, being educated isn't all that good of a thing. There are many things to think about, that's for sure."
Tammy: "As with any career, it's always possible to learn more. As a stay-at-home, homeschooling, mom I can think of some experiences and classes that would have benefited me or had been fun. Cooking classes or working in a nice restaurant would be a fun way to increase cooking skills. Taking some teaching courses online would increase her "qualifications" to homeschool in some states. Working in a preschool or as a nanny would give her some more insight into caring for different personalities. Cleaning homes is a good way to learn techniques and make good money. Personally. I don't think any of it is necessary but I do think it could be fun and increase confidence."
Christine: "Love all the advice above. I want to add to it by saying, if she needs to work, retirement homes, daycares, someplace that she could learn about caring for others in a different way would be a good way to go. This will also help prepare her for the future as a homemaker, wife, and mother."
Kim: "She might also look at volunteering. There are so many places where she can use her gifts. Many times, those that are in need of volunteers and would love to see younger faces. I have been volunteering at a local church run foodbank for 12 years and when I first started I was the youngest! I was still home schooling, so I brought my kids to help. It was a great way to get them involved and teach them empathy."
I will therefore that the younger women marry, bear children, guide the house, give none occasion to the adversary to speak reproachfully.
1 Timothy 5:14