She is an Asset to Her Husband
She is an Asset to Her Husband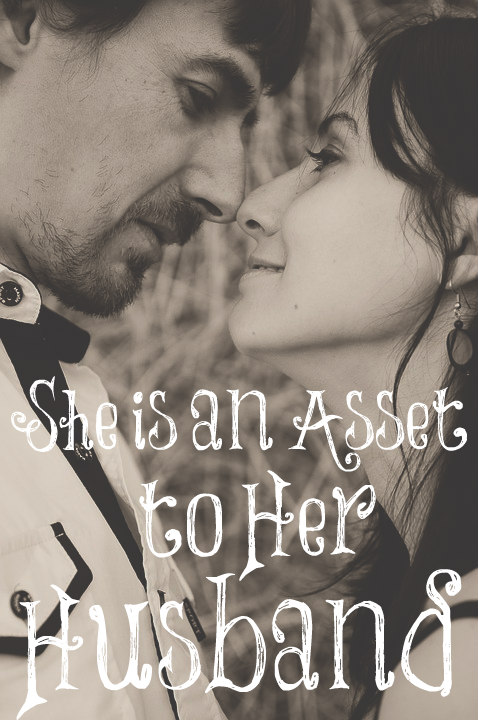 During the years, more than a few people have asked me why I use the word "help meet" instead of help mate to describe the reason God made Eve for Adam. I love the KJV Bible and have used it for many years. Here is how the word is used in the KJV: "And the LORD God said, It is not good that the man should be alone; I will make him an help meet for him" (Genesis 2:18). Help meet – "which is to say Eve was created to be a helper (noun) that was meet (adjective), suited to Adam's needs" (Debi Pearl). Eve was a helper suitable for Adam as we are for our husbands. Got Questions answered what a help meet is this way: "a suitable helper for a husband is a wife who is different from him, but well-suited to him, one who completes him in every way and who brings harmony, not discord, to the relationship." A true help meet builds her marriage and her home up!
Many women (feminists) today don't want to be a help meet to any man period. They want to do their own thing, be their own boss, fight for their supposed "rights," and go their own way. A woman named Mary responded to a discussion about being a help meet to her husband and all this encompasses on Facebook this way:
I would like you to know that just because I'm a woman doesn't mean I'm a feminist. My husband is a man who loves God and treats women with respect. I do not feel oppressed. I do not feel belittled. I am important in my family and society. I enjoy taking care of my husband and children. By the way, he takes care of me, too.
If you think that women don't benefit from taking care of their family and being a help meet to their husbands, I will tell you. I get free rent. I get free food. I get free internet and TV. I get free heat. I get a free car. I even get spending money. I get the safety and provision my husband provides. And I get the blessings that come with family like love and friendship.
I do not hate men. Men have always been a blessing in my life. I do not hate children. I protect them. It is a great privilege and responsibility to protect and care for your unborn child. If that doesn't make a woman important!
Feminists are not looking for women's rights. Women have rights in America. Women are reporters, company owners, managers, athletes, congresswomen, judges, and almost anything they want to be. And it's not hard to become one of these things.
Feminists are about sin. They want the freedom to be everything that God did not make them to be. And God made women very valuable and precious. But feminists aren't even into their value as a woman. All they want is to throw fits about not being able to kill babies, not being able to be a man (which kind of defeats the purpose of a women's movement, don't you think?), or things of that sort. They are not even lovely when they talk about it (which is an awesome quality that women possess). They are hateful and vile.
So NO, just because I'm a woman doesn't make me a feminist. I am a true woman who protects the innocent, takes care of her family, and am a true asset and help meet to my husband. And there are many more WOMEN like me who I think would agree.
But let it be the hidden man of the heart, in that which is not corruptible, even the ornament of a meek and quiet spirit, which is in the sight of God of great price.
1 Peter 3:4