She is "Called" to Preach?
She is "Called" to Preach?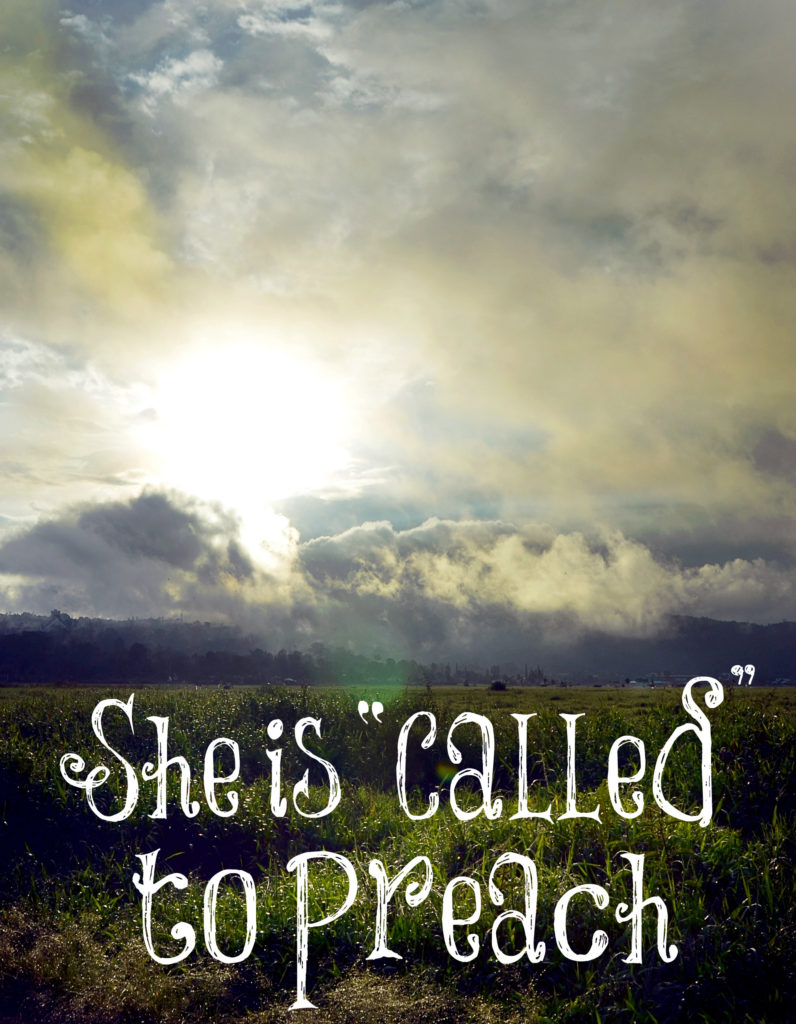 "Success isn't big crowds but it IS bringing HUNDREDS upon hundreds of thousands of people to salvation through Jesus, it IS ABSOLUTELY helping to restore the broken and feeding the hungry – which is just what female preachers like Joyce are doing.
In Jeremiah 18:1-5, God presents Himself as a potter and us as the clay, where He easily molds us from one thing into another. Who are we to tell Him how He might use a person? Who are you to tell a woman that the blood of Christ which covers her isn't the same blood which covers a man? Does the Bible also not say, 'There is no longer Jew or Gentile, slave or free, male and female. For you are all one in Christ Jesus.' – Galatians 3:28 NLT
What it really comes down to is, we are all servants of the Lord, and He can use us however He wants to. Why make someone apologize or feel bad about wanting to share the love of God just because they are a woman? Isn't God still the One getting the glory either way? I'm sorry, but posts like these really anger me because Joyce has been serving God for over 40 years – attacking her character and ministry is just plain wrong.
I am proud to say I'm called to preach, been called since I was just 18 years old, and NO ONE is going to stop me from talking about my Jesus, and so far… my being a girl hasn't stopped Him from using me." – Kelly
This is a comment I received on my post about women preachers which is quite controversial in this day and age, as we might expect, since most of God's ways are controversial in this wicked generation, even among Christians.
Years ago, I spent a few years listening to Joyce Meyer preach and I enjoyed her. She was funny and entertaining. She reminded me a lot of me since she was very rebellious towards her husband for years but then learned about submission. She clearly understands her new life in Christ and I agree with some of what she teaches but I saw the error in her teachings, too.
Joyce calls herself a preacher and uses the illustration of Mary Magdalene seeing the empty tomb and running back to the disciples to "preach" to them about what she saw. "They have taken away the Lord out of the sepulchre, and we know not where they have laid him" (John 20:2). No, relaying something one saw is not the same as preaching which is defined this way: "deliver a sermon or religious address to an assembled group of people, typically in church." She knows very well that Mary Magdalene didn't preach to the disciples.
Joyce preaches all over the world in churches, auditoriums, and stages set outside to audiences that are full of women and men. Yes, her husband sits on the front row but there's nothing in the Bible that states that this makes women preaching okay. (Unfortunately, Nancy DeMoss Wolgemuth believes the same thing. "Nancy does not believe that occasional teaching by women in mixed audiences is inappropriate, as long as two things are clear. First, that it is taking place under the headship of male spiritual authority.")  There is NOTHING in the Bible that supports this belief.
Responding to Kelly's comment, how do we know that female preachers are "bringing HUNDREDS upon hundreds of thousands of people to salvation"? Why can't male preachers do the same thing since this is God's way? Why do we NEED female preachers/teachers to directly disobey the clear teachings of the Word to accomplish God's work, thus leading many other women astray by falsely believing that women can preach?
Let the woman learn in silence with all subjection. But I suffer not a woman to teach, nor to usurp authority over the man, but to be in silence. For Adam was first formed, then Eve. And Adam was not deceived, but the woman being deceived was in the transgression.
1 Timothy 2:11-14
Let your women keep silence in the churches: for it is not permitted unto them to speak; but they are commanded to be under obedience as also saith the law. And if they will learn any thing, let them ask their husbands at home: for it is a shame for women to speak in the church.
1 Corinthians 14:34, 35
God couldn't have been any clearer in His instructions to women! The verse about everyone being "one in Christ Jesus" from Galatians doesn't wipe out these verses, Kelly. This verse means that every single person can have eternal life by believing in Jesus Christ; for we all have equal value and worth but different roles. We don't need "to tell Him how He might use a person" because He has told us exactly what we've been called to do. His Word, the Bible, is living and active and has everything we need for life and godliness. Galatians 3:28 doesn't wipe out all of the other verses in the Bible that explain male and female roles.
 "He can use us however He wants" but He's also given us clear instructions, Kelly, and you are acting in the spirit of Jezebel. You are in rebellion to God's ordained role for you. You were not "called to preach" since God doesn't change nor contradict His Word. What He commanded through the writers of the Bible is still the same today. Jesus could have easily chosen a female disciple (apostle) but He chose twelve men. Priests in the Old Testament were all men and Elders and deacons are to be the "husband of one wife."  
Yes, you can talk about Jesus with whomever you want and you should but this doesn't mean you are allowed to preach in a church service where men are present and you are in authority over them; for you are to be silent. In fact, women are commanded to have meek and quiet spirits for a reason. What you are doing is shameful in God's eyes; for it is a shame for women to speak in the church. I fear for women like you who make up their own bible and do as they wish. Please, repent and begin walking in the Spirit and in obedience to His will.