Manipulating Scripture so Women Can Be Preachers of the Word
Manipulating Scripture so Women Can Be Preachers of the Word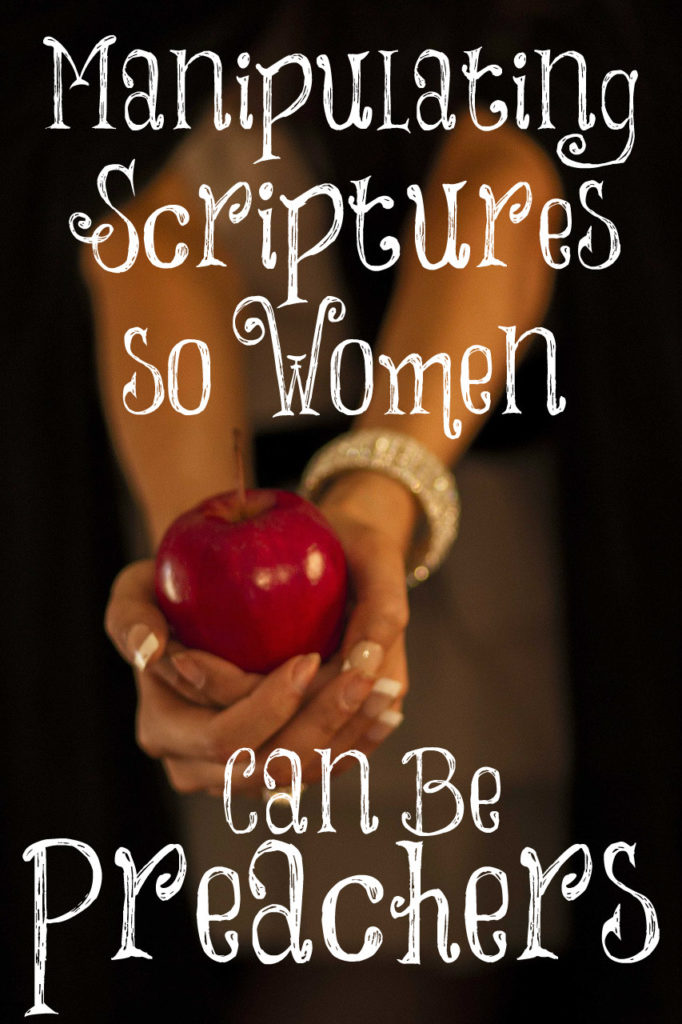 Do you want to know why there are so many women standing behind pulpits today and preaching the Word of God when it's clear that they are not called to do this but instead are commanded to be silent in the churches and not be in authority over men? There is a great manipulation of the Word of God going on right now that feminists have drummed up in order to change the clear commands that they don't like and don't want to obey. Many women today despise the teachings of the Apostle Paul.
"But I suffer not a woman to teach, nor to usurp authority over the man, but to be in silence" (1 Timothy 2:12).—"The whole purpose of these weighty admonitions of the great founder of the Gentile Churches relegates Christian women to their own legitimate sphere of action and influence—the quiet of their own homes" (Ellicot's Commentary). I love the commentary on this verse since I love being a woman and I love being quiet in my home but I'm sure feminists mock this commentary's interpretation. They falsely believe these old commentaries are no longer relevant for today.
Gail Wallace is a good example of a woman who does a great job at manipulating and watering down this verse and I will show you how and why she is wrong since it's becoming more and more common today.
First of all, she states that the word "authority" in this verse is a bad translation. Of course, she must say this in order to do away with women not being in authority over men so this is typically their first line of attack. Go to the Greek and make it say something other than what it states even though every single legitimate version of the Bible uses the word "authority" but for some reason, she knows better, along with all the women who believe the same.
I do want to mention one of the newest versions or perversions of the Bible (International Standard Version) and how it has interpreted this verse: "Moreover, in the area of teaching, I am not allowing a woman to instigate conflict toward a man. Instead, she is to remain calm." Feminists and women preachers must have written and use this version since they can now freely teach and have authority over men as long as they don't "instigate conflict toward a man!"  Blech.
Then Mrs. Wallace claims that hardly anyone teaches that women should be silent in the church which I believe is true and shameful. It's most likely because leaders in the churches fear women. I have been in one church where they take this verse seriously and I enjoyed it very much. I have no desire to speak out in church or have any authority over men in a church setting or anywhere for that matter. Also, just because something isn't taught in the churches doesn't mean we shouldn't obey it! Rarely is submission, temperance (moderation in everything, including eating), modesty, or being a keeper at home taught but we, as godly woman, must obey all of God's commands.
She uses 1 Timothy 2:14, which she believes couldn't possible be true, in order to disregard the clear instructions of 1 Timothy 2:12. "And with rare exceptions, no one holds that women are saved in childbearing." Okay, if this is the case, can we easily pick and choose what verses to believe and which ones to disregard if we don't understand them completely? No! The meaning of this verse is that women's place is in the home with their families and/or they will be saved through the birth of Christ. Unlike 1 Timothy 2:14, however, 1 Timothy 2:12 is very easy to understand. Even a child could understand what it means but not feminists apparently and it's only because they don't like it.
Next, she wrote, "There is no mention of this in the rest of Paul's writings, or anywhere else in the Bible for that matter." Not true. The verse right before this verse: "Let the woman learn in silence with all subjection." I'm also not sure how she missed these verses from 1 Corinthians 14:34, 35: "Let your women keep silence in the churches: for it is not permitted unto them to speak; but they are commanded to be under obedience as also saith the law. And if they will learn any thing, let them ask their husbands at home: for it is a shame for women to speak in the church" but she most likely has a way to twist them to mean something "enlightened" as well. Priests from the Old Testament, prophets, patriarchs, kings, and Jesus' disciples (those in authority) were ALL men!
 Then she wrote that the Apostle Paul supported women in leadership positions. Where? She didn't list any verses or women that Paul specifically supported in leadership positions. Phebe was a "servant of the church" (Romans 16:1 KJV) and Priscilla was never spoken about as in a leadership position either.
"It is baffling to me that some church leaders and theologians give such weight to the 1 Timothy 2 passage when many other portions of scripture support equality." What other verses support equality in church leadership? Again, no verses to back up her assertions.
"Churches find it impossible to put 1 Timothy 2:12 into practice in a consistent or logical way." Therefore, we throw out the verse, try to manipulate it to say something it doesn't, and put women in leadership positions in the church? No! I agree that churches put this verse into practice in different ways or ignore it completely but I have never attended a church with a female elder and never will. I will not listen to a female preacher. I even prefer men leading worship and praying but I know this isn't popular in today's feminized, watered-down churches. Just because it's not practiced in a consistent or logical way doesn't nullify God's clear command.
Then Mrs. Wallace also wrote, "I think it's significant that this is a personal letter written to Timothy and not to the church-at-large." And why does she believe this? Are women better and more enlightened today than the church he wrote this for? Can we do this with any and all letters the Apostle Paul wrote to the Church? NO! There is zero indication that this letter is not directed to the entire Church of today since He wrote all of his letters for our exhortation, rebuke, encouragement, and teaching under the New Covenant of grace in which we now live since Christ's death and resurrection.
"At the same time, God is raising women up all over the world today in all kinds of arenas, including the church." No, Mrs. Wallace, God isn't raising up any women in the Church to be leaders. He is the same yesterday, today, and forever. It doesn't mean that women are any less valuable to the Kingdom of God. It simply means that God has a different and unique will and calling for women.
Now for some wisdom from the Matthew Henry Commentary about this verse: "According to St. Paul, women are not allowed to be public teachers in the church; for teaching is an office of authority. But good women may and ought to teach their children at home the principles of true religion."  Yes, women, we are not to be public teachers in the church nor in authority over men. Older women are instructed to teach younger women the ways of godly womanhood but other than this, I believe all teaching in the Church should be taught by men.
This is from a newer commentary that was written in 1992: "Paul's main concern in this section is proper order within the church. Men, he writes, should pray and teach. Women should adorn themselves modestly and do good works, but they should not be teaching publicly or leading men. Verse 15 explains what their primary concern should be: 'childbearing.' Thus, it means that much of God's judgment of women will be based on how well they perform their God-given role in bearing children."
 Some churches allow women to pray, share their testimonies, and of course, sing and praise the Lord since none of these fall specifically under teaching or being in authority over men. However, we are told that women should be silent in the church also, so if 1 Timothy 2:11, 12 is not taught in your church and what all this includes, come to your own convictions about how silent in the church that you should be after careful consideration of the Word and ask your husband what he believes to be true. I prefer to err on the side of being too silent than not be silent enough.
Let the woman learn in silence with all subjection.
1 Timothy 2:11
***For anyone who has a question about women prophesying in the church, here is a post I did on this subject.