Sweating Bullets While Teaching Submission
Sweating Bullets While Teaching Submission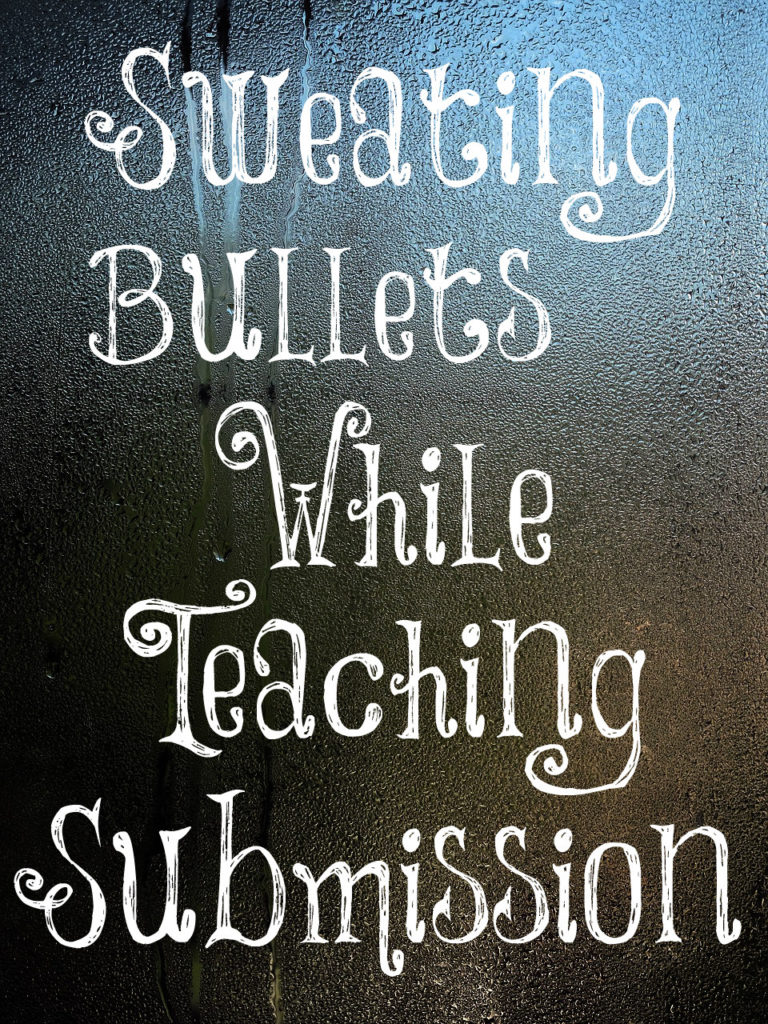 If you read other biblical marriage blogs, you will see that most of them have warnings all over them about abuse and what submission doesn't mean. If you notice, my blog doesn't have this. I have written many posts about submission and never even mentioned the word abuse on most of them. I do this purposefully because abuse and submission don't go together as many today try to do by twisting and perverting the beauty of submission. (Yes, I have a post on my side bar for those who are in marital crisis but it has nothing whatsoever to do with submission since even wives who aren't submissive are physically abused.)
David Wegener wrote, "Our pastors preach through books like Ephesians and Colossians and sweat bullets as they approach Ephesians 5:22-24 and Colossians 3:18. And if they do preach on the topic, they talk mostly about what submission does not mean. So the final result is, 'wives, be nice to your husbands.'" Yep, this is what it has come down to today. Most preachers are afraid to teach what submission is and what it looks like in a marriage. Forget teaching 1 Peter 3:1 about women who are married to disobedient husbands yet are supposed to be living in subjection to them.
I would much rather focus upon what submission is than what it is not because this is what changes marriages for the good. Women don't need to hear more reasons to disobey their husbands. They need to hear that they are commanded to obey their husbands "Even as Sara obeyed Abraham, calling him lord: whose daughters ye are, as long as ye do well, and are not afraid with any amazement" (1 Peter 3:6).
Then forget about hearing about wives submitting to their husbands "in everything" (Ephesians 5:24) without first being taught how loving, kind, and sacrificially husbands should be towards their wives as Christ loved the church. Therefore, wives are the ones who get to decide if they should submit and are even taught that their submission to their husbands is dependent upon their husband's behavior.
Women say that what I teach is "dangerous." No, living in rebellion to the Word of God is dangerous; for we reap what we sow. Many today falsely believe that all suffering is evil. No, suffering refines us and makes us like Jesus. Read 1 Peter. We are responsible to follow Jesus and obey Him regardless of the cost to us; for in this there is great reward!
We are responsible for loving our husbands according to God's definition of love: long-suffering, kind, bearing all things, enduring all things, hoping all things, and believing all thing; for love never fails. It's obeying Him even when we don't feel like it. These are hard teachings in today's feminist "hate the truth" environment in which we live but they hated Christ, so they will hate all those who teach the hard truths of God's unchanging Word.
His ways are good, women! They reap beautiful fruit. He's our Creator and He knows what is best for us. Your husband's eternal soul may be at stake if he is an unbeliever. Live like Jesus in front of him as His power works mightily in and through you. You have nothing to fear because God is fighting this battle for you. He promises to never leave nor forsake you. Learn to be a godly, submissive wife in the good times as well as in the hard times. You will be rewarded for your obedience.