She Just Kept Rowing
She Just Kept Rowing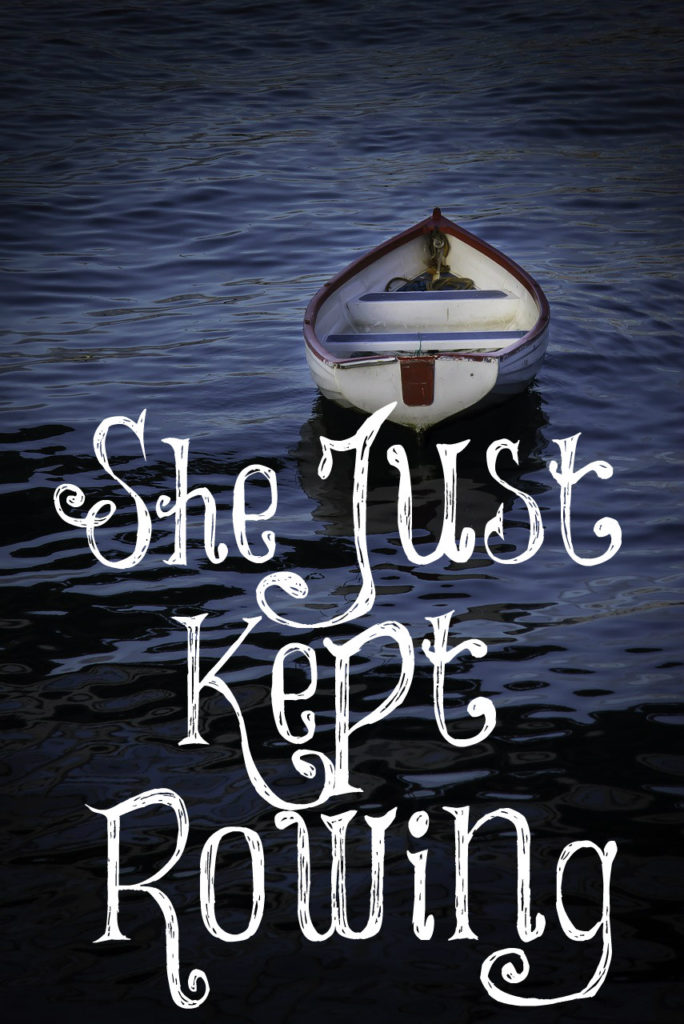 I would like to preface this post by saying that I'm not writing it to hurt anyone or shame anyone. I have hesitated about sharing this because I have been scared of hurting some people but in hesitating, I have been refusing a chance to glorify God, share the work of His grace, and show what happens when you obey Him above all.
As I have mentioned before, I do guest blogs over at radical christian woman from time to time for my friend and fellow blogger, Elaine. I've been working on one today about how your tribe affects your vibe (it isn't done yet) when the thought of maintaining the courage of your convictions came to mind.
Y'all that's one of the single hardest things for a Christian to do!!!
I know this because there was a season in my life when I had to stick with my convictions even when I was told repeatedly to give up, that I had heard God wrong, that God would want me to be happy (I'm not even going to touch on that load of dookie), and so on and so forth.
Thinking on that season of my life has reminded of the faithfulness of God and how imperative it is to obey God even when everyone around you tells you you're crazy.
To give you a real life example of this, I'm going to share a testimony with you…
JUST KEEP ROWING
August of 2015 I was in an utterly desperate place. My husband was lost as all get out, totally self-centered, a narcissistic alcoholic, and sometimes just plain ole' mean. He never hit me but he was abusive in other ways and very demeaning. It was awful and I was completely miserable. I was ready to leave. I had one foot out the door until I went to church one night during the revival we were having at that time.
During that service, the preacher was preaching on when Jesus fed the 5,000 and how after that, He sent the apostles on ahead to Bethsaida. Because of the storm on the Sea of Galilee, the apostles rowed and rowed and rowed but they couldn't get anywhere because the wind was against them. They rowed for nine hours and only got three miles. Then they saw Jesus walking on the water. We know what happened then. Peter walked on the water with him and we like to think that was the miracle in the story but as Dr. Mills said that night, another miracle happened…
When Jesus got in the boat, they immediately landed on shore.
The next words that preacher man spoke lodged in my heart.
He said, "I don't know who you are but God told me to tell you to just keep rowing."
I felt that message was for me so strongly I found myself looking around to see if anyone at church was looking at me!!!
God confirmed it the next morning, though. Some of us from one of the ladies' missions group met to volunteer at the community kitchen and one of the women looked at me and said, "That message was for you last night." I am so thankful for that friend!!!
Now over the next SEVERAL months, I would need to go back to that moment over and over because my husband just continued to get worse and worse.
I had friends and family encourage me to get a divorce and call me crazy when I wouldn't. Some were gentle and compassionate about it. Others were outright rude about it and basically just told me to suck it up, and still others encouraged sin and disobedience (that one hurt the most because that person above all should have been encouraging me to obey God) but there were a few godly friends that encouraged me to obey God and hang on.
Towards the end, I was ready to give up. It was just too much. I was literally sick from the stress he was causing in my life and I was ready to call the lawyer the next morning but a precious friend said to me if God told you to keep rowing, you really better keep rowing, because the consequences for disobedience could be worse than this current situation.
I told God I would keep rowing. I told him I might beat B half to death with the paddle but I would keep rowing.
Fast forward a few days later to June 30th 2016, he was arrested for a DUI.
The night he was arrested, Satan was very busy. He knew things were about to change in our lives and that old devil was bound and determined to keep it from happening but praise God Almighty, He's still on the throne!!!
I had went to the grocery store and B was supposed to be right behind me. I kept waiting and waiting but he never showed up so I went on into Aldi. I had been shopping for almost an hour when he finally called me and I could tell something wasn't right.
He was so mad.
When he finally got to the grocery store, I was horrified. He was so far beyond drunk. I don't even know what you would call what he was but he was terrifyingly mad and EXTREMELY messed up and there was a look in his eye that told me a violent beast was about to break free.
For the first time ever, I feared for my life. I remember standing in the checkout line at Aldi and praying for an officer. I asked God to send an officer, or to have someone call the police because people could see him jerking the cart around and hear what he was saying to me. Just anything to get the law there.
I knew that if he didn't go to jail, someone was going to die that night.
After I got my groceries bagged, I made a beeline for my car and left that parking lot as fast as I could and drove over to Walmart, hoping he wouldn't follow me. I called one of my best friends and told her what was going on and she told me to get some clothes and come to her house.
I was too scared to argue.
AN ANSWERED PRAYER: GOD SENT AN OFFICER.
When I left the Walmart parking lot, I was hysterical.
I had one thought and one thought only: get home and get out fast.
I wasn't paying any attention whatsoever to how fast I was going.
Remember my prayer for God to send an officer? Well he did. I got pulled over.
When I rolled down my window, the officer saw me and was taken back by my distress and ask me if I was okay. It was like word vomit. I still don't know what all I said but I know he went looking for B.
I drove back toward Aldi and at the red light, I told the officer that B had said he was going to Ingles and that I was going to look and see if he was over there. I drove around the parking lot but I didn't see him so I waited at the end of the parking lot for the officer to show up so I could tell him.
The Bible tells us that God can do more than we ask or imagine, that He can go above and beyond what we ask of Him and He did that night. When the first officer showed up at Ingles, I saw that he brought a friend with him.
God didn't just send me one officer, He sent me two officers.
Thank God the second one was much larger than the first because my husband is very big and he was drunk and he was MAD.
I spoke with the officers briefly and left to go home and get my clothes and leave.
As I was pulling out of one side of the parking lot, I looked over and saw B pulling into the parking lot on the otherside.
God got me out of there at exactly the right time. He spoke to my heart and told me he was getting me out of there just in time for me to see B but for him to not see me.
I knew the friend I was going to stay with was at Lowe's on that end of town so I called her and asked her to go down there and see if they were arresting him and sure enough they were.
I felt peace wash over me in that moment. I knew I was safe.
I also thought I was done with him for good. I just didn't see how I could stay with him after that. The next seven days were torment for me. I alternated between being scared to death of him getting out of jail and trusting God to protect me.
What I didn't consider was the work God was doing in B while he was in that pit.
When B was being arrested for a DUI, an old, retired preacher was being arrested for carrying all his medications in one bottle and some of those medications were narcotics and that's highly illegal.
God knew exactly what he was doing though because that old preacher ended up sharing a bunk with my lost and dying husband.
Despite what people think, jail is not a vacation. I've seen the inside of that place and it is AWFUL. I cried myself sick thinking of B being in there but there was no way I was bailing him out. I couldn't even if I wanted to. It's a good thing I didn't because God was doing such a miraculous work while he was in there.
That preacher spoke a brutal truth into my husband and led him to the Lord right there in the middle of that jail.
I had no clue that was happening though. I had the Jeep, the keys, B's phone, his wallet, everything. I knew when he left that jail, he would make a beeline for my Dad who owns a business within close walking distance to the jail and sure enough, that's exactly what he did. I had already warned Dad of what was going to happen and I told Dad to tell him I was done with him and that I didn't even want to look at him.
Please keep in mind that I had no clue at this point that he had gotten saved.
My phone rang that evening and I saw it was Dad so I answered it but it was B using Dad's phone. The first words out of his mouth were, "Please don't hang up on me." Lord, how I remember that moment. I could tell something was different right away and something told me not to hang up. I know now that it was the Lord.
That's when B told me he had gotten saved. I agreed to come talk to him and I am so glad I did because the Holy Spirit witnessed off of him right away. I knew it was really real.
I think back to everything that happened the night he got arrested and how I can see God's hand at work and how today, I see him pray. He has traded pornography for the Word of God. Now, instead of scrambling to turn off the TV when I come upstairs, I find him studying his Bible. Instead of drinking all day everyday, he turns to the Lord in prayer. I see him changing constantly. Before, I would have to beg him to go to church. Now, he's eager to go. Before, there was cursing. Now, we are so blessed.
If I had of listened to the people who spoke defeat into my life, if I hadn't of maintained the courage of my convictions, I wouldn't have experienced God in the way that I did. B would probably still be lost and drunk and possibly have died and went to hell. But thank God, when I was tired and wanted to stop rowing, he kept sending someone to speak life and encouragement into me and I kept rowing, even when people called me crazy. B and I came out victors because of it.
So today, if you are reading this, if you feel tired of rowing, I hope this has encouraged you to keep rowing and to keep trusting and obeying, even when the people around you call you crazy, even when you are sure nothing is going to change because God is faithful.
Just keep rowing,
Heather
Being confident of this very thing, that he which hath begun a good work in you will perform it until the day of Jesus Christ.
Philippians 1:6