She Plants a Vineyard – Proverbs 31:16
She Plants a Vineyard – Proverbs 31:16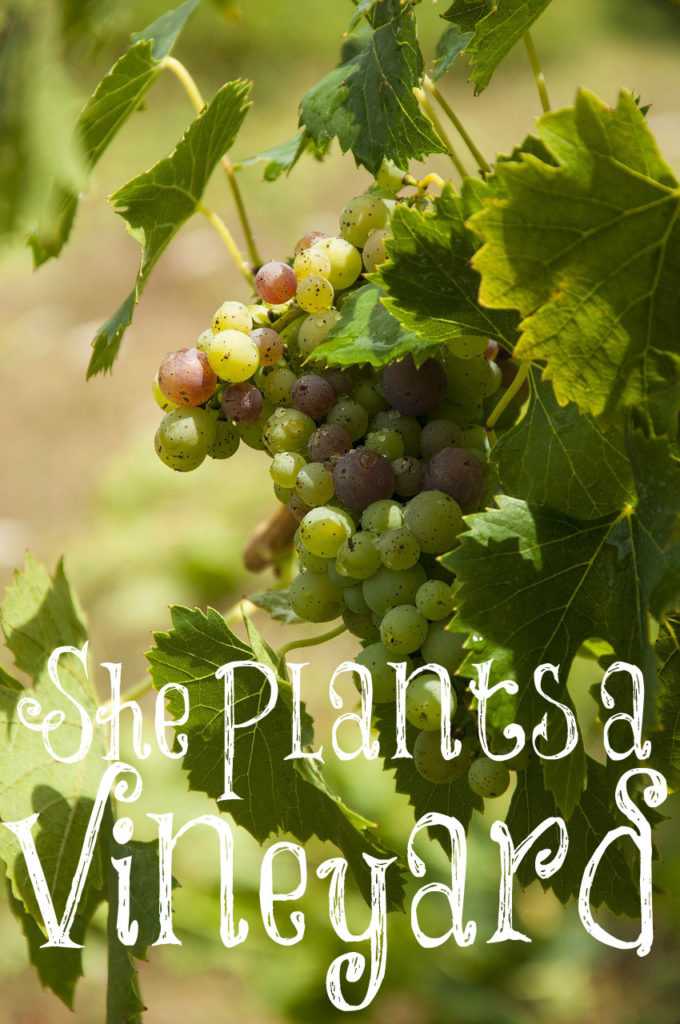 She considers a field, and buys it: with the fruit of her hands she plants a vineyard.
Proverbs 31:16
"Whether it be fit for use and of a reasonable price, and how she may purchase it. This excludes the rashness, as the proceeding to buy it excludes the inconstancy, which is often incident to that sex" (Benson Commentary). Yes, many of us women often buy things on impulse. We see something we like and buy it without pondering if we even need it or can afford it. There's advertisements on Facebook, Instagram, and all over trying to get us to buy another dress or product even though we have plenty of everything! Next time you want to buy something, carefully consider if you really need it and don't act rash about it. Yes, use wisdom and even prayer in your purchases. Most of us don't need any more stuff!
"She turns her attention to a certain field, the possession of which is for some cause desirable; and, after due examination and consideration, she buys it" (Pulpit Commentary). She "considers" a field before buying it. "Can I afford it?" "Is it a good use of our money?" "Will it be profitable for us?" She weighs her options and then decides whether or not to purchase it.
Do you notice that she buys "a field"? Not many fields. No, she is not a real estate agent as some try to convince me. This isn't her career. She is buying one field and considers carefully before buying it to see if it is a wise purchase. She didn't leave her home for hours every day five days a week, her children in the care of others, and worked for a boss. She is NOT a career woman.
I am sure she bought this land with her husband's hearty approval since she lived in submission to him. She was free to leave her home to shop, make things in her home and sell them to the merchants and then use this money to buy a field, but remember that she was known for "looking well to the ways of her household," not her job or career.
"The field are the Scriptures, in which are hid the rich treasures of Gospel doctrines and promises; and the church, and all truly enlightened persons, consider to what use this field may be put, to what account it will turn; how profitable the Scriptures are, for doctrine, reproof, correction, and instruction in righteousness; what a rich mine and valuable treasure is in them; things more desirable, and of greater worth, than thousands of gold and silver; and therefore will buy this field at any rate, and not sell it; will part with all they have before they will part with that; even life itself, which in an improper sense is called buying of it, though it is without money and without price; see Matthew 13:44" (Gill's Commentary).
The greatest treasures we own are the Scriptures. They are far more valuable than the things of this world. The greatest seeds you can plant, mothers, are not the stuff of this world but the seeds of truth into your children's minds and hearts so that they may grow into trees of righteousness with deep roots in Jesus.
"…with the fruit of her hand she planteth a vineyard; her own vineyard…it is observable, that in the Hebrew text there is a double reading; the 'Keri', or marginal reading, is feminine; but the 'Cetib', or writing, is masculine; to show that she did it by means of men, she made use of in her vineyard for that service; it being, as Aben Ezra observes, not the custom and business of women to plant vineyards, but men. It may be rendered, 'he planted', and be applied to her husband, Christ; who, through the ministry of the word in his church, plants souls in it; and happy are they who are the planting of the Lord! trees of righteousness, that he may be glorified, Isaiah 61:3." (Gill's Exposition). It's interesting that it was actually men who planted her vineyard, not the Proverbs 31 woman! This debunks the theory that the Proverbs 31 woman had a career as an agriculturalist as some have also claimed; for "it was not the custom and business of women to plant vineyards, but men!"
To appoint unto them that mourn in Zion, to give unto them beauty for ashes, the oil of joy for mourning, the garment of praise for the spirit of heaviness; that they might be called trees of righteousness, the planting of the LORD, that he might be glorified.
Isaiah 61:3