Divorcing Second Husband to Remarry First Husband?
Divorcing Second Husband to Remarry First Husband?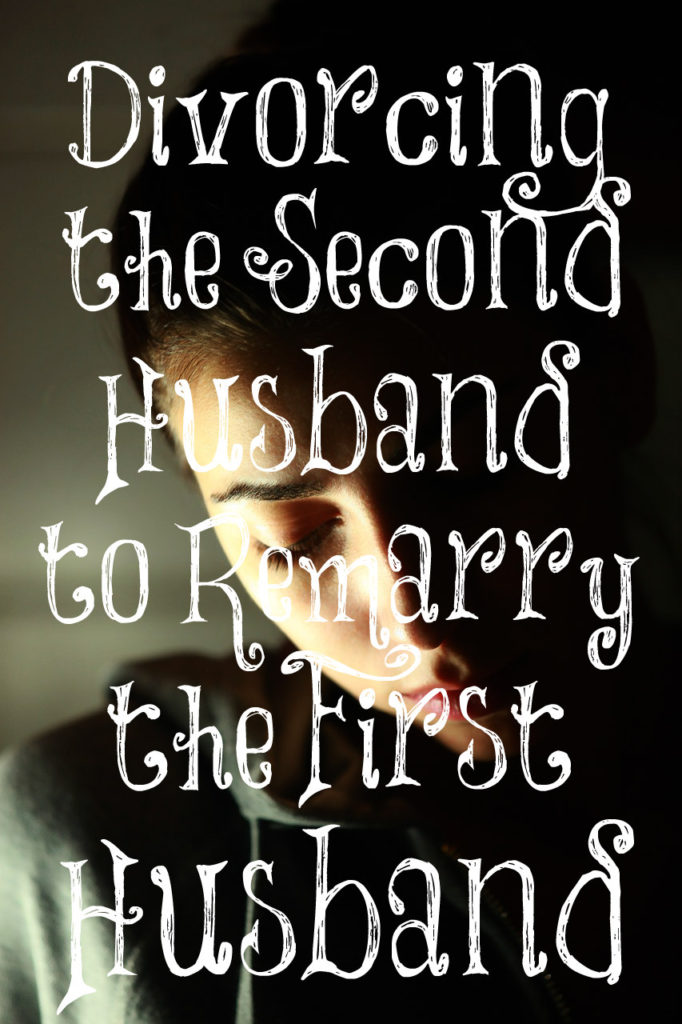 There are people who believe that if a woman has been divorced and then married another man, she is living in continual adultery and needs to divorce her second husband and try to be reconciled to her first husband or remain single for the rest of her life. Because I don't agree with this, I have been accused of supporting divorce and remarriage so I want to set the record straight. I hate divorce as God hates it and I do everything I can to strengthen and save marriages.
I strongly believe in the permanence of marriage until death does a couple part and what God has put together let NO man separate. This is what I will teach until I no longer have a voice. Divorce is devastating on all involved even affecting future generations. "Divorce, no matter what the reason, does something to children that is unholy" (Michael Pearl) and this is why the Apostle Paul urges believers to stay with unbelievers because they sanctify the unsaved spouse and children by their godly presence. God allowed divorce only because of the hardness of heart and gives an out for adultery and abandonment but never recommends, encourages, or commands divorce.
I am going to share what three godly men wrote about this issue because I believe they say my thoughts about it better than I can:
Michael Pearl in his book Divorce and Remarriage wrote this: "If you come to Christ having been the guilty part in terminating a marriage, and discover to your shame that you committed adultery when you remarried, Paul says you are to remain in the state you were in when you came to Christ. The adultery is initial, not perpetual. Your original sin of adultery is forgiven when you repent, and your marriage is now sanctified. 'Brethren, let every man, wherein he is called, therein abide with God' (1 Corinthians 7:24)."
"There are some cult-like groups that have committed great abomination and defiled marriages by insisting that a man or woman in their second (or more) marriage should leave their family – spouse and children – and return to the original spouse, insisting that they are living in adultery otherwise. While God has permitted divorce and remarriage on account of hard hearts (in the case of adultery and abandonment), he has never permitted a man or woman to leave a second spouse and return to the first. That remains an abomination. Anyone who would encourage a man or woman to leave their present spouse due to a former marriage is an enemy of God (Deuteronomy 24:1-4).
Her former husband, which sent her away, may not take her again to be his wife, after that she is defiled; for that is abomination before the Lord (Deuteronomy 24:4).
"If it were true that second marriages are not marriages at all, and that a person remains married to their first spouse until death, and their relationship with their second spouse is an ongoing state of adultery, then Jesus missed the point, for He acknowledged that the woman at the well had indeed had 'five husbands,' and the man she was presently with was not her husband" (Michael Pearl).
"Divorced people who have married again should not break the second marriage. The second marriage has broken the first marriage. God Himself holds the second marriage binding. To break it would do no good, but would do great harm…DO NOT BREAK THE SECOND MARRIAGE! Two wrongs never made a right. It would usually be impossible to restore the first marriage, and the Bible does not command it, even if it were possible. Confess the sin of the past, but do not sin again by another divorce or separation" (Dr. John Rice).
"The prohibition of a wife returning to her first husband even after her second husband dies (because it is an abomination) suggests very strongly that today no second marriage should be broken up in order to restore a first one" (John Piper).