She Would Give Anything to Be Desired By Her Husband
She Would Give Anything to Be Desired By Her Husband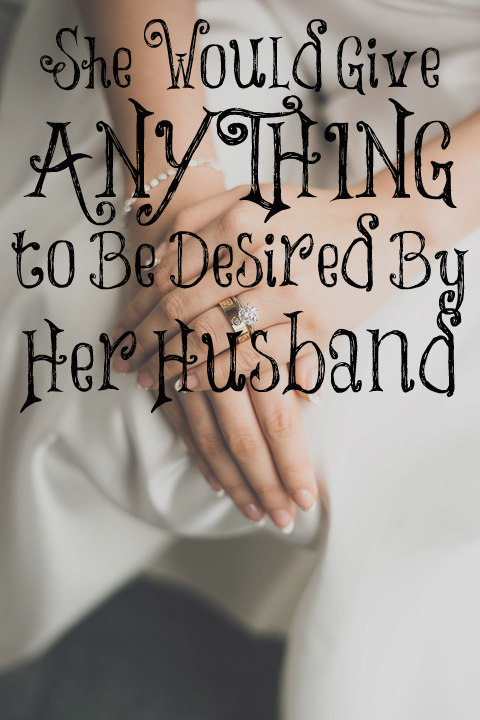 Most young women seem to give sex freely to their boyfriends or to anyone these days before marriage, but this stops once they get married. The feminist and worldly agenda (sexual revolution) have deceived women into believing they can have sex freely with anyone outside of marriage but then have the option to withhold it once they are married since they will NOT serve their husbands. Whenever I teach women to not deprive their husbands sexually, many women are in an uproar over it but I won't stop teaching it since it's biblical and it's good. Here is a woman who commented on my recent post Teaching Women to Not Deprive Their Husbands Leads to Marital Rape?
I would give ANYTHING to be desired by my husband. If your husband wants you, you are blessed. He loves you. Quit complaining and rejoice in it and the love he offers to you. You ought to be ashamed of yourself if you turn him down. Do you want to know what it's like to not even be wanted?
My husband does not want me anymore, and it has been five years. Prior to that, it was rare, sometimes only once a year, but usually two to four times in a year in the twelve years before he ceased all relations with me. I didn't think married men would want to be celibate that long, but apparently I was mistaken.
I found out gradually that I'm not the only one; there are many wives who apparently are being denied sex. So this is a two-way street. Unfortunately, we aren't really acknowledged, but we do exist. I have to be hyper vigilant and it is a struggle sometimes. I almost feel ashamed at the many temptations I deal with on a weekly basis (not every single day, thankfully). But there's a reason, I'm sure, and it's made me more aware of what my teenage son is probably going through. I choose to believe that it is necessary for me to deal with this so I can pray for him appropriately.
My husband is not a porn addict (as far as I know), but he was very attached to his mother, and I think that might have something to do with it. He always compared me to her, and I never could quite measure up. For many years, this caused me no end of misery, but I have now become used to it to the point that I simply have to let it go. I know I've done what I can, and I can't do much more. It is unwise to confront him (I learned that very early on), so for the sake of peace in our family, I learned to live day to day.
So, ladies, be THANKFUL your husband wants you. I'd be thrilled to be in your shoes. Go and have sex with him, and remember you release endorphins when you do — they take care of the proverbial headache WAY better than Excedrin!
Let her be as the loving hind and pleasant roe; let her breasts satisfy thee at all times; and be thou ravished always with her love.
Proverbs 5:19
***Here is a post for those of you who have higher sex drives than their husbands. I pray it will encourage those who are in this situation.