Your Husband's Sexuality is a Gift From God to You
Your Husband's Sexuality is a Gift From God to You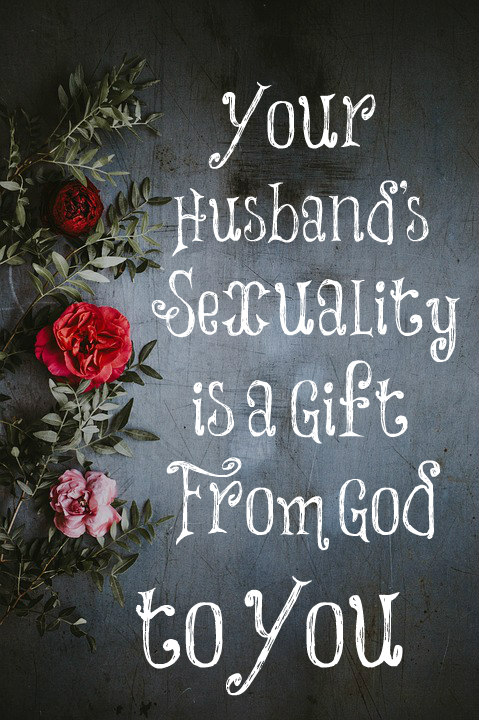 This is a comment that is full of wisdom left on my post She Would Give Anything to Be Desired By Her Husband.
There is a lie that has gone out into the world, from the very depths of hell. It tells women that to be chaste whilst single is stifling but sex in marriage is boring. It fits in neatly with the larger feminist message that for a woman to be under the authority of her own husband is utter enslavement but for her to be under the authority of several other men: her boss, her clients, her welfare officers, her shrink, her pastor (yes, some have unbiblical authority over women) is liberation.
On TV, sex outside marriage is largely depicted as glamorous and fun but sex inside of marriage is invariably depicted as ranging from dull and sporadic to downright nonexistent. A popular entertainment technique is to juxtapose an old married couple with an unmarried pair of young attractive fornicators. Plenty of ridicule is then heaped on the married couple and especially on their ho-hum marriage bed to everyone's applause. Reminds me of "Stolen water is sweet; And bread eaten in secret is pleasant" (Proverbs 9:17) except that nowadays, premarital sex and extramarital sex are no secret.
So foolishly, many ladies go out and do the same forgetting that biblically the reverse is true. We ought to abstain from sex outside marriage and enjoy it freely in marriage.
When I speak to younger wives, I am quick to correct them for expressing exasperation about their husbands' sex drives. This is because an older, wiser woman did me the same favor years back. She taught me that my husband's sexuality is a gift for me from God, and that I was to joyfully receive it, enjoy it, and cherish it, rather than dreading it or resigning myself to it.
It's mind boggling to think that many husbands have never known their wives' complete, unbridled, uninhibited sexual response and sadly, this has been wasted in past fornicating experiences. The wives now selfishly couldn't be bothered to offer their husbands anything more than duty sex if any.
Don't even get me started on the classic, "I am exhausted after a full day's work raising children, breastfeeding at night, keeping house, etc." If those responsibilities were so demanding that it would be senseless to expect mothers to be sexual during that season of life, would it have escaped the Lord's mind to work in an express exemption for such mothers? God thinks of EVERYTHING. He allowed menstruating women time off in the Old Testament. He also exempted newlywed men from going to war. He allowed women postpartum time off. So having many young children and a home to run on their own are no reason for abstinence in marriage.
I remember being on an island to island flight with only one flight attendant. It was a red eye flight, and I could see that the attendant was having a rough morning. Her hair was not as neatly coiffed as they usually have it. Her eyes were slightly bloodshot. Her makeup was meh, and her suit was creased in parts. I had a little baby on the flight, and the attendant was helping me secure our seat belt so I asked her if she was fine. She said it was her day off, but her colleague had been taken ill, so she had been given an hour's notice to cover the flight. She was kind and smiling the whole time. She made the requisite announcements cheerily and treated the passengers with congeniality. If this woman could show up at short notice and against all odds make every effort to treat strangers with affability, how much more should a wife rise above the usual demands of motherhood and life in general to joyfully anticipate and fully meet her husband's sexual needs?
It's a matter of putting God and His Word first rather than ourselves. When God comes first, we arrange our lives to obey His commands rather than arranging our lives to put ourselves first. If you need a break in the late afternoon before the husband gets home, work it into the household schedule. Down tools, curl up on the sofa, and read quietly to the children. Have that evening meal ready and waiting, set that table early. Have a quick shower before he gets home so you feel fresh and not covered in toddler fingerprints. Do what it takes to honor God and your husband, after all, if you were employed out there, you would do what it takes to get the job done. God is the Boss of bosses, and His yoke is not backbreaking. It's delightful.
Therefore shall a man leave his father and his mother, and shall cleave unto his wife: and they shall be one flesh.
Genesis 2:24