Stop Causing Division Over the Non-Essentials of Child Raising
Stop Causing Division Over the Non-Essentials of Child Raising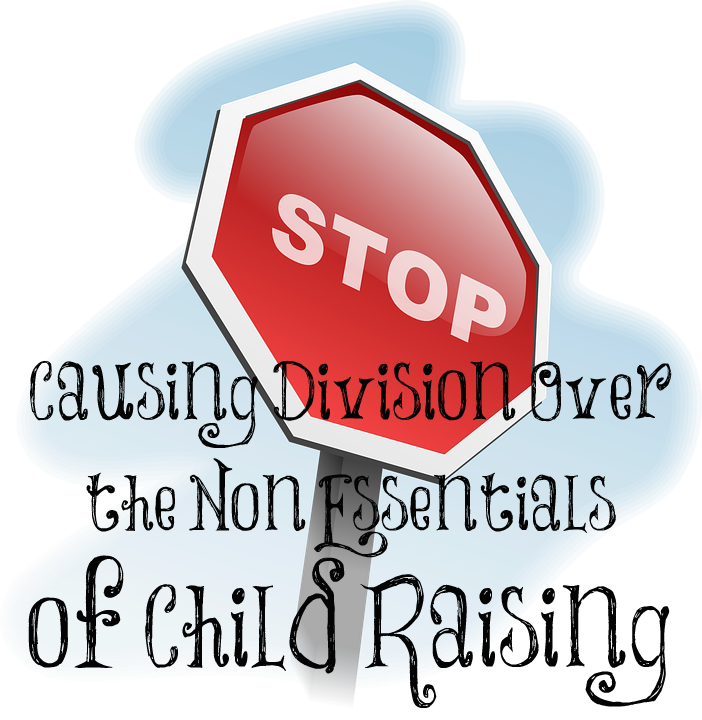 All four of my children were born in a hospital and I had male doctors deliver all of them. The first two were delivered without epidurals and the second two were. I breastfed all of them for about a year and didn't feed them on a schedule. We sleep trained them when they were about six weeks old and yes, we did the cry-it-out method. They were all in a separate bedroom by that time. I fed them mostly organic food. I didn't vaccinate any of them. We put them in the nursery as babies during the church service and when they were older, they went to Sunday School. We didn't do sleep overs. We spanked our children on their bottoms when they were disobedient. We taught them early to obey us.
They went to public school for elementary school, then I homeschooled them, and then they all spent a year or more in a small Christian high school. We didn't allow them to go on individual dates until they were 18 years old and they knew that "dating" was for the purpose of finding a spouse. Yes, they all kissed before marriage but for some of them (including some of my daughters-in-law and sons-in-law), the first person they kissed was who they married. We were considered very strict parents and were careful who they hung out with, plus they had to be home by 10:00 or 11:00 pm (I forget the exact time – I should ask them!) until they graduated high school.
Why am I telling you all of these things? I want you all to know that none of these things have anything to do with the salvation of their souls. We must not allow our differences in the way we raise our children to divide us as believers in Jesus Christ! There is too much pressure on mothers today. We are to raise godly offspring in the nurture and the admonition of the Lord. This is what God cares about. He doesn't give us the exact methods how to do this and this is where we have liberty. It should never cause division!
Some women deliver at home with a midwife naturally and some deliver in a hospital with an epidural. So what? Some breastfeed their babies for a few month, others for a few years, and some give their babies formula. So what? Yes, breast milk is far superior but in the end, it doesn't matter as long as the babies are fed. Some raise their children the "gentle parenting" way, have a family bed, would never spank their children, and wouldn't dream of allowing their babies to cry-it-out. So what? As long as their children grow up to obey their parents and know the Truth found in God's Word, this is all that matters in the end, right?
Women have become so angry with me when I tell them how I raised our children. Guess what? All my children are well-adjusted adults who walk in Truth. So what if we didn't have a family bed? So what if I sleep trained them at six weeks old? Many women think their ways are far superior to mine and have even called me selfish. This is pride, pure and simple. If a husband doesn't want a family bed, as the head of the household, the wife should obey him! The end results (the salvation of their souls) are all that matters in the end, right?
Some women don't believe organic foods are important and fully vaccinate their children. So what? They have every right to raise their children the way they feel is best for them. If a husband wants the children vaccinated, vaccinate them and pray that the vaccinations won't harm them. God cares a whole lot more about wives submitting to their husbands rather than if the children are vaccinated or not and eat organic food. I see too many women go way overboard on these issues and cause division among women and even in their marriages. I am a huge believer in organic food and not vaccinating, but I don't want to use my views to cause division in the body of Christ. These are the non-essentials of the faith.
Concerning spanking, I believe I can make a strong argument from Scripture that we are to spank our children. I make this case in my new book. But, I don't believe it's a sin not to spank as long as parents teach their children to obey them. It's a lot harder doing this without spanking them, but I know it can be done. My best friend didn't spank and she raised godly children.
I also believe I can make a strong biblical case for homeschooling, as I do in my Biblical Womanhood Study Guide. However, it's not a salvation issue and some husbands want their children in the public school system or a Christian school. We must respect their decisions. We can give our opinions and even convictions, but they should never cause division among friends or in marriages.
When our children were older, we were intentional about teaching them about their sexual purity before marriage so we taught them diligently. There is no right or wrong way to do this and what you allow your children to do or not do, but make sure you are praying over them daily. Talk to them! Be open with them about everything. If others raise their teenagers differently than you do, so what? The main goal is that they grow up to walk in Truth.
None of these issues ought to divide us, women. When we quarrel about these things and are so sure that we are right, this can lead to self-righteousness and feeling superior over others. We are called to love the Lord and love others in humility, not thinking of ourselves more highly than we ought (Romans 12:3). If we are causing division over the non-essentials and not loving others, then we are in sin. Yes, I am bold in what I teach younger women. Yes, I have strong convictions and I try very hard to stay true to the Word of God but please search the Scriptures for yourself and decide how to raise your children with your husband's full input and support. This pleases the Lord! When we are living in submission to our husbands, we are living in submission to the Lord.
Let nothing be done through strife or vainglory; but in lowliness of mind let each esteem other better than themselves.
Philippians 2:3