Something Better Than the Five Love Languages
Something Better Than the Five Love Languages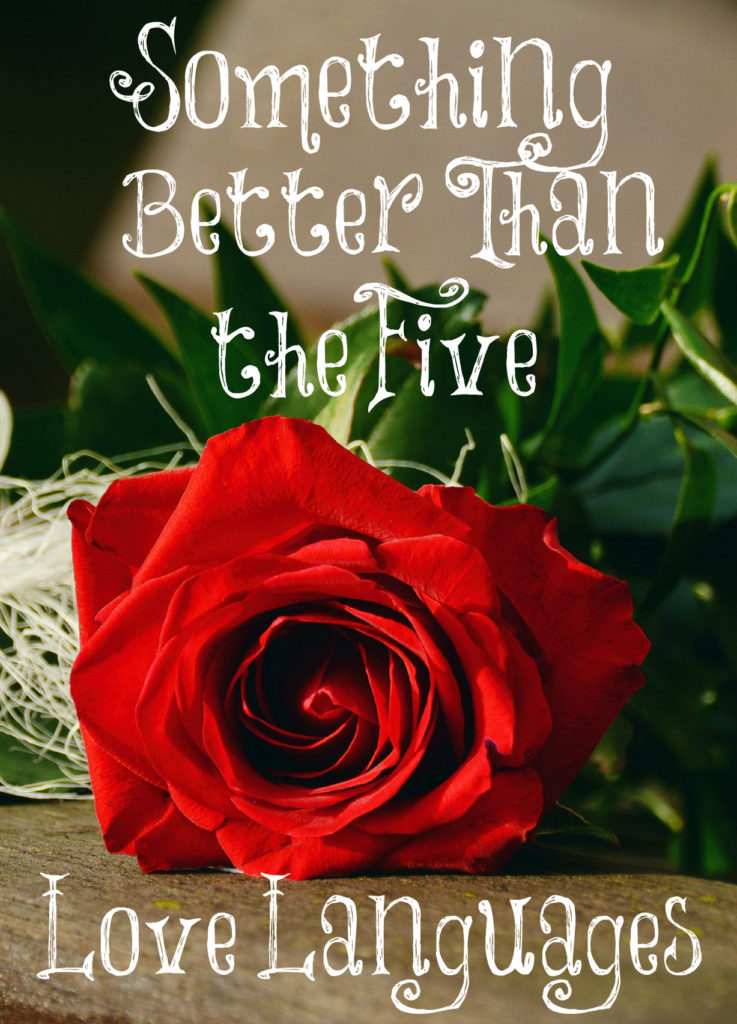 The Five Love Languages is an extremely popular book. I have never cared for it much. It seemed selfish to me and is just another way to place too high of expectations upon others, especially our husbands. "If you don't love me the way I want to be loved then you can forget it." I even have a friend who "unfriends" anyone who does not speak her love language. We must be very careful about popular terms that are not in the Word of God. Does the wife who wants affection but isn't receiving it get mad at her husband for not giving it even after she specifically told her husband that she loves affection? We don't need one more man-made principle and expectation that can easily divide couples.
Maybe a wife loves quality time together since this is her love language, but her husband works so hard to support the family that he doesn't have time to fulfill this desire of hers. Another one loves to receive gifts, but the husband is a terrible gift giver. Many women love words of affirmation, but maybe you are married to a man who doesn't give these to you. Others love lots of affections and the other spouse doesn't. Do you realize that none of these are how the Bible defines love?
We were all created so differently. We all have different personalities, different likes and dislikes, different taste buds and perspectives, and the list goes on and on. The Lord has told us that the greatest of all is the servant of all, however. He has also commanded us to be living sacrifices, deny ourselves, and do unto others as we would have them do unto us. Almost every single popular self-improvement, devotional, or marriage book of our day is not worth spending time on unless it is biblical. If something is very popular, it's wise to proceed carefully and measure it with what the Word says. Just because something is popular doesn't mean it is good. We are called to be as wise as serpents and as innocent as doves.
This book seems like it has hurt marriages more than helps unless one spouse uses the book to find out what the other spouse's love language is and proceeds to love them in the way they like. This is good since we are called to please our husband and in order to please them, we must ask them what they like. However, this book could easily cause us to be too introspective and figure out what our love language is instead of loving others as the Lord has called us to love them in 1 Corinthians 13.
Life isn't about us and getting our way. It's about giving our lives away for others. If this book has helped your marriage, great. But if you get upset occasionally because your husband isn't loving you like you think he should love you, get rid of the book, it's recommendations, and begin reading and studying the Bible instead. The Word perfectly describes what love is in 1 Corinthians 13. The KJV states that "Charity suffereth long." If every married woman chose to "suffer" long (extremely patient) in her marriage, especially those who are married to disobedient husbands, think what great witnesses Christian marriages would be to a lost world of Christ's relationship to His Church. He sure suffers long with many of us.
Love is also kind. Are you kind in the way you speak and act towards your husband? If not, practice kindness towards him at all times. Smile at him often, forgive quickly, be affectionate and warm with him, gentle, gracious, not argumentative, and generous with him. Love "beareth all things, believeth all things, hopeth all things, endureth all things." 
Here is God's prescription for love. No man can improve upon this definition. Love your husband with godly, biblical love and you will most likely have a great marriage!
Charity suffereth long, and is kind; charity envieth not; charity vaunteth not itself, is not puffed up, Doth not behave itself unseemly, seeketh not her own, is not easily provoked, thinketh no evil. Rejoiceth not in iniquity, but rejoiceth in the truth; Beareth all things, believeth all things, hopeth all things, endureth all things. Charity never faileth:
1 Corinthians 13:4-8
***If you are interested in being encouraged by like-minded women who love the Lord and His ways, especially those pertaining to godly womanhood (Titus 2:3-5), feel free to join the Always Learning Chat Room. You will first have to fill out an application so we know that your intentions of joining are for good and a desire to grow up into Christ.