Women Wanting to Do What is Right in Their Own Eyes
Women Wanting to Do What is Right in Their Own Eyes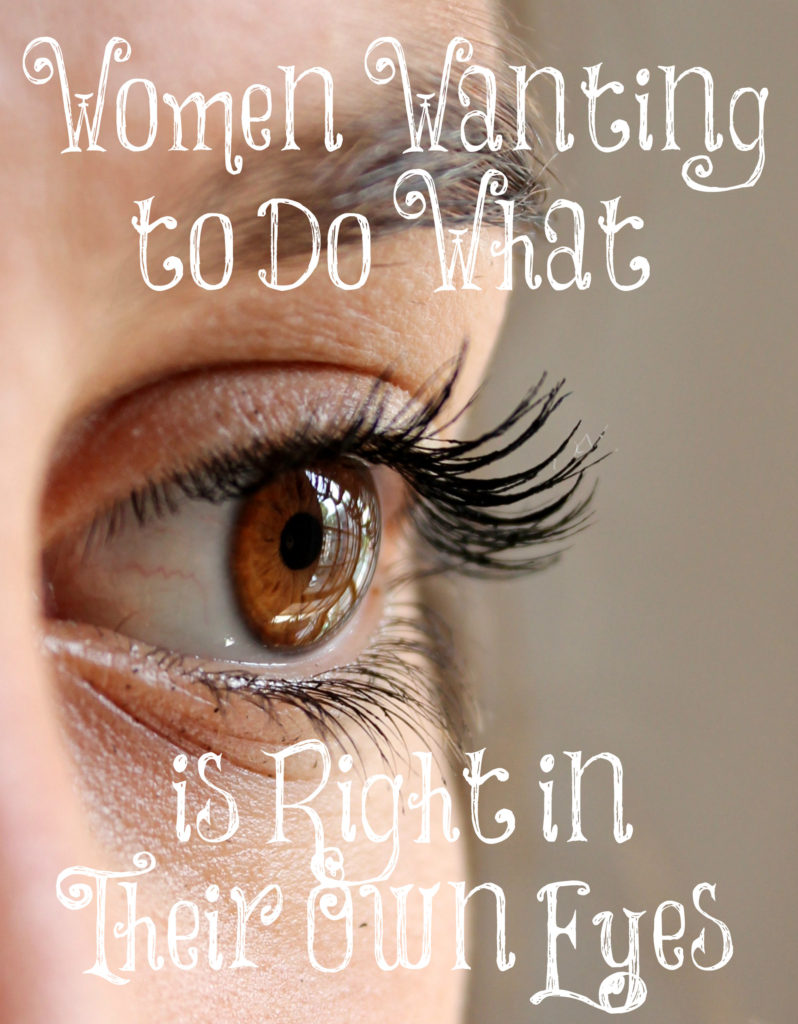 Many women are rebellious today and want to do what is right in their own eyes. They are rebellious to all types of authority and they don't want to be told what to do: what to wear, what to do with their bodies, and what to do with their lives. They want to do what they want to do regardless of who it hurts in the process. One example is from a man who wrote about his disgust with so many women wearing yoga pants.
''Yoga pants belong in the yoga studio,'' Alan Sorrentino wrote. ''What's next? Wearing a 'Speedo'' to the supermarket? Imagine if men did that. Yuck!'' If I had heard a man say this and I have, I would be cheering and agreeing with him! The editor of the article, however, wrote, "The letter, which said adult women wearing yoga pants in public was comparable to men wearing Speedos to the grocery store, went viral. The backlash was immediate, passionate, and international." Of course it was immediate, passionate, and international. Anyone who confronts women with the way they live is means for revolt in their eyes. This is how many are with me because I teach godly principles and God's design for them. They were "immediate, passionate, and international" and nasty and mean about my homemaking post that went viral.
I wrote an entire chapter in my book on modesty since women are not taught modesty anymore. I warned about yoga pants since I know they are not modest and cause men to stumble. It's a little tough on guys to continually avert their eyes when almost every single women they see is wearing them no matter what they look like in them. And what did the women do in response to this comment? They held a "yoga pants parade" in front of his house and flaunted all different colors of yoga pants for all to see. "On no, you can't tell women what to do with their bodies." Why, if they want to have their unborn babies murdered just because they don't want a baby, they should be able to have them murdered. It's their bodies!
"It was supposed to be funny, Sorrentino said, because what kind of 'tormented, uptight individual' could possibly care enough about yoga pants to write such a letter?" I am sure he toned it down once he saw the vitriol response to his words. Those "tormented, uptight individuals" who should care about them are those women who want to obey the Lord and not cause men to stumble. Yes, this is very foreign in today's culture since most women are taught to be independent and do their own thing since the women's liberation movement  freed them from the shackles of modesty, motherhood, marriage, and all the other things that they believed held women in bondage.
"I don't get involved in much in the way of protests and marches and all of that, but this just brought me out because the guy's letter was offensive," said one woman. Most everything that is good, decent, and the Lord's ways are offensive to women today. Try to teach Titus 2:3, 4 to younger women and see all the offended women come out of hiding. The things that should offend them, like evil, don't offend them anymore. "It was the shaming and the policing of women's bodies that struck a chord with the attendees," said another woman. No, never tell women what is good and right and what the Lord requires of them since they are their own god now and decide what is right.
Notice the signs in the article that the women are holding at their parade; "We Wear What We Want." Pure selfishness with no concern for anyone else. Yes, wear thong bikinis, skin tight, and short short anything because this is their right! "Love Yourself." Do whatever they "feel" like doing since this is loving themselves. "It shows the vein that it tapped into."  Anything that goes against their "rights" is a vein that we aren't supposed to mess with, unless you are a brave older women who knows that the Lord's ways are best for younger women regardless of how many are rebelling against them.
Every man did that which was right in his own eyes.
Judges 17:6
He that loves discipline loves knowledge, and he that hates reproof is a fool.
Proverbs 12:1