Sperm Count is Dropping Dramatically
Sperm Count is Dropping Dramatically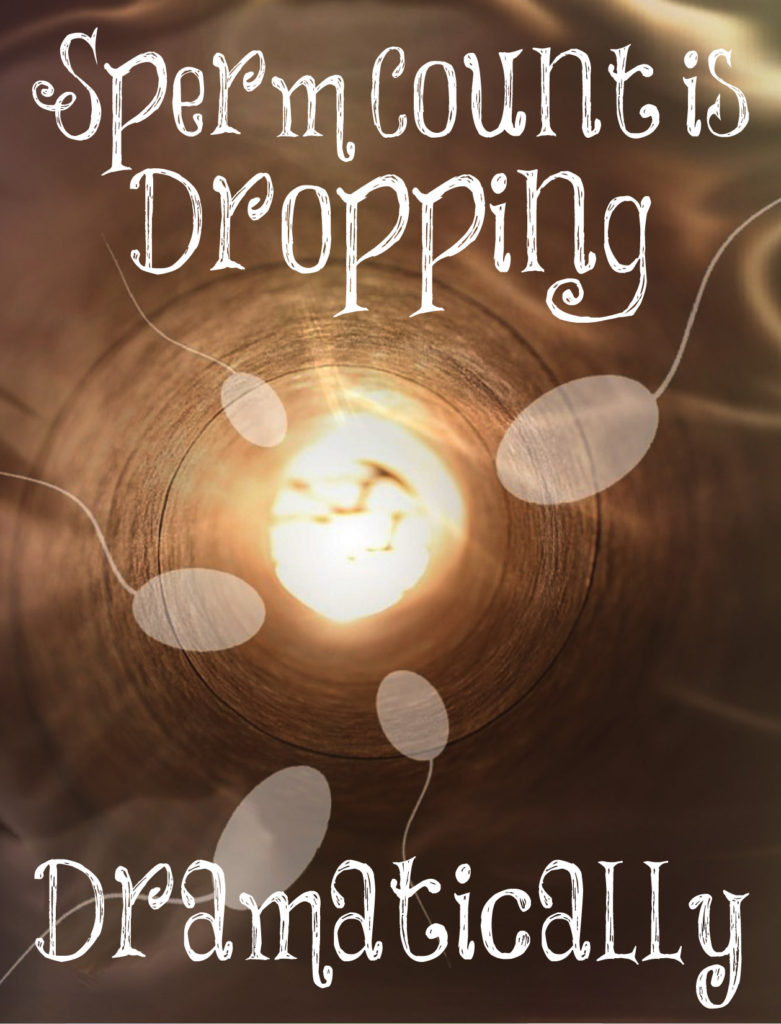 The NYT has an article entitled "What are Sperm Telling Us?" Here are some quotes from the article:
"Sperm counts have been dropping; infant boys are developing more genital abnormalities; more girls are experiencing early puberty; and adult women appear to be suffering declining egg quality and more miscarriages…Four years ago, a leading scholar of reproductive health, Shanna H. Swan, calculated that from 1973 to 2011, the sperm count of average men in Western countries had fallen by 59 percent. Inevitably, there were headlines about 'Spermageddon' and the risk that humans would disappear, but then we moved on to chase other shiny objects.
"Swan and other experts say the problem is a class of chemicals called endocrine disruptors, which mimic the body's hormones and thus fool our cells. This is a particular problem for fetuses as they sexually differentiate early in pregnancy. Endocrine disruptors can wreak reproductive havoc. These endocrine disruptors are everywhere: plastics, shampoos, cosmetics, cushions, pesticides, canned foods and A.T.M. receipts. They often aren't on labels and can be difficult to avoid."
Many of our modern conveniences are great but at what cost? Are there things we can do about this? Yes! I know a couple who couldn't get pregnant due to the husband's low sperm count. He was put on a healthy, organic diet and months later, the wife was pregnant! I believe eating as much organic as possible is very important since organic food isn't sprayed heavily with toxic chemicals like regular food is.
Even hand sanitizers are harmful to your health! There's also a professor who is concerned with the many children getting leukemia these days. "And this issue is becoming an increasingly worrying problem. Parents, for laudable reasons, are raising children in homes where antiseptic wipes, antibacterial soaps and disinfected floorwashes are the norm. Dirt is banished for the good of the household." You don't need to be the perfect, spotless housekeeper who fears germs!
I asked the women in the chat room what non-toxic products they used and one woman gave this great list.
?Lotion/Moisturizer
•Dr. Bronner's Organic Hand/Body Lotion
• Crunchi Daylight
•Crunchi Nightlight
•Think Sport Baby Body Lotion
•Young Living Lotions
•Rocky Mountain
•DIY Cream: 1/4 cup cocoa butter, 1/4 cup shea butter, 1/4 cup coconut oil, 1/4 cup sweet almond oil, 5-15 drops of pure essential oil
•Avalon Organics
?Baby Lotion/Moisturizer
•Babo
•Acure Unscented
•Weleda Baby Calendula
•Think Sport Baby Body Lotion
•Andalou Naturals
•Primally Pure
?Bath Salts/Soaks
•Zum Tub Bath Salts
•DIY Detox Bath – 1 cup Epsom salt + 1 cup baking soda+ Essential Oils
•DIY Salt & Vinegar Detox Bath – ¼ cup Himalayan/Sea salt + ¼ cup Epsom salt + ¼ cup baking soda + 1/3 cup ACV + Essential Oils
?‍? Shampoo
•Acure
•Alaffia
•Attitude
•Dr. Bronner's
•Plaine Products (very eco friendly)
•Innersense Organics,
•Rocky Mountain Soap Company
?‍?Dry Shampoo
•Acure
•Kaia Naturals
•Crunchi No Filter Translucent Finishing Powder
•DIY- 2 Tbsp organic cocoa powder + 2 Tbsp arrowroot powder OR organic cornstarch. It can be stored in a glass salt shaker
?Hair Gel/Spray
•Innersense Organics
•Andalou Naturals
•DIY coconut oil and a dab of honey
?Face Wash
•Crunchi Charcoal and/or Gentle Facial Bar
•Dulce de Donke bar soap
•Nourish Organics (all skin types)
•Dr. Bronner's
•Nourish Organic
•Zum Bar Goat's Milk Soap
Baby Wash
•Earth Mama Angel Baby Organics
•Dr. Bronners Baby
•Wink Naturals
•Crunchi Gentle Cleansing Bar
•DIY- plain water with a splash of organic olive oil
?Deodorant
•Crystal Body Deodorant Stick
•Piper Wai
•Dulce De Donke
•Primal Pit Paste
•Tom's Fragrance Free
•ThinkSport
•Primally Pure
?Essential Oils/CBD Oils
•Young Living
•DoTerra
•Plant Therapy
•Dr. Mercola
•Bluebird Botanicals
•Charlotte's Web
?Bug Repellent
•Badger
•Sky Organics
•Twinkle Apothecary (OKC)
•DIY – 8 oz dark glass spray bottle + 10 drops YL Purification + 5 drops Citronella + 5 drops Lavender + 5 drops Lemon + 5 drops Peppermint + 1/2 cup distilled water + 1/2 cup witch hazel (optional). Shake before each use.
?Lip Balm/Chapstick
•Dr. Bronners chapstick and/ or Magic Balm
•SkyOrganics
•Badger
•Hurraw Lip Balm
•Crunchi clear lip gloss
?Hand Sanitizer
•Dr. Bronner's Lavender Spray
•Thieves Young Living
•Homemade (search group for recipe)
?Sunscreen (all kid-friendly)
•Crunchi Sunlight (face)
•Thinksport/Thinkbaby
• Badger
• Earth Mama
• Babo Botanicals
• Goddess Garden
•All Good
?Makeup
•Crunchi or Young Living
?Laundry
•Molly's Suds Laundry Powder
•Buckaroo Organics Soapberry Suds
•DIY Laundry Powder – Castille soap, baking soda, and washing soda
•Wool Dryer Balls + Essential Oils
?Hand Soap
•Moon Valley Organics
•DIY: Combine 1/3 cup castille soap, 2/3 cup warm water, 1 tsp almond oil, 10-15 drops of essential oils of your choice into a foam pump bottle
•Dr. Bronner's
•Crunchi Charcoal Body bar
•Rocky Mountain
•Dulce de Donke bar soap
?Dishwashing Soap
•Chae Organics
•Better Life
•Seventh Generation Dish Liquid
?Toothpaste
•Dr. Brite (Also has a teeth whitening pen)
•Dr. Bronner's
•Jason
•Young Living Thieves
•My Magic Mud
•Redmond Earth Paste
**For teeth whitening, add a drop of Orange EO to your toothpaste before brushing
?Cleaning Products
•Branch Basics
•Young Living Thieves Household Cleaner
•DIY with baking soda and vinegar
•Dr. Bronner's Pure Castille Soap
•Force of Nature
•Norwex Envirocloth, Dusting Mitt, Window Cloth, Mop System
•Steam Mop
?Cookware
•Cast Iron
•Glass Corningware
•Le Cruset Enameled Cast Iron & Stoneware
•Stainless Steel
•Stoneware
•X-trema
?Apps to Verify Ingredients
• EWG
•Think Dirty
We must do all we can to protect the reproducing ability of our children. This impacts future generations, therefore, we must be as wise as serpents. Do your research. Eat as healthy as you can and use products that aren't harming your children's ability to have their own children.
What? know ye not that your body is the temple of the Holy Ghost which is in you, which ye have of God, and ye are not your own? For ye are bought with a price: therefore glorify God in your body, and in your spirit, which are God's.
1 Corinthians 6:19,20