Can Women Pray and Prophesy in the Church?
Can Women Pray and Prophesy in the Church?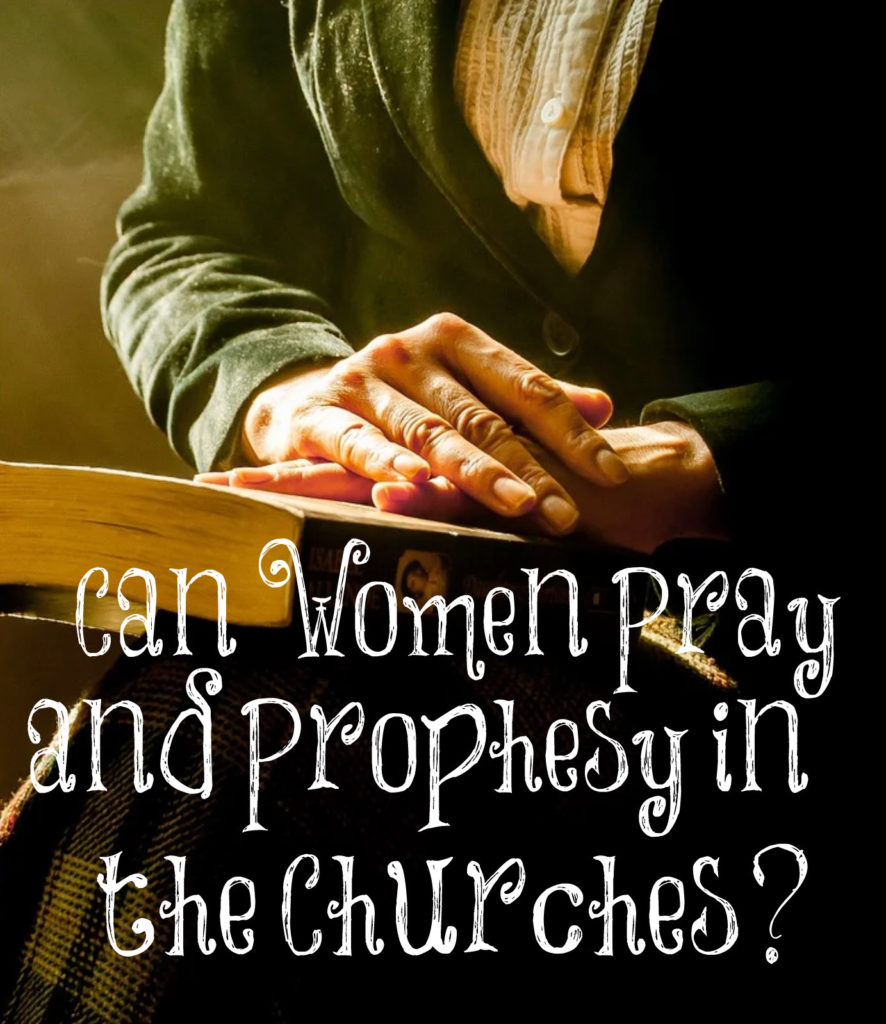 Many will use this one verse to argue that women can pray and prophesy in the church:
"But every woman that prayeth or prophesieth with her head uncovered dishonoureth her head" (1 Corinthians 11:5).
What does prophesy mean? God's Word tells us exactly what it means in 1 Corinthians 14:3. "But he that prophesieth speaketh unto men to edification, and exhortation, and comfort." Later, in this chapter, we are told this: "For ye may all prophesy one by one, that all may learn, and all may be comforted" (1 Corinthians 14:31). So can women speak in the churches to edify, exhort, and comfort since this is what prophesy means?
These instructions that the Apostle Paul wrote are for a church gathering. Does this "all" in 1 Corinthians 14:31 include women? No. A few verses later, he wrote the following:
"For God is not the author of confusion, but of peace, as in all churches of the saints.
"Let your women keep silence in the churches: for it is not permitted unto them to speak; but they are commanded to be under obedience , as also saith the law.
"And if they will learn anything, let them ask their husbands at home: for it is a shame for women to speak in the church" (1 Corinthians 14:33-35).
Then in 1 Timothy 2, he wrote this:
"Let the women learn in silence with all subjection. But I suffer not a woman to teach, nor to usurp authority over the man, but to be in silence" (1 Timothy 2:11, 12).
The best commentary on this issue, in my opinion, is Gill's Exposition:
"'But every woman that prayeth or prophesieth,….' Not that a woman was allowed to pray publicly in the congregation, and much less to preach or explain the word, for these things were not permitted them: see 1 Corinthians 14:34 but it designs any woman that joins in public worship with the minister in prayer, and attends on the hearing of the word preached, or sings the praises of God with the congregation, as we have seen, the word prophesying signifies, with her head uncovered."
People will then ask me what I believe about head coverings. "But if a woman have long hair, it is a glory to her: for her hair is given her for a covering" (1 Corinthians 11:15). If your husband wants you to wear a separate cloth, than wear one, or if he wants you to grow your hair as long as you can, then do it, but it's not something that should cause division in the churches (1 Corinthians 11:16).
I don't believe from Scripture that women were given the ministry of preaching/teaching the Word, no, not even to women. This is why God specifically ordained elders (the ones called to prophesy/preach) in the churches, and He made clear that the elders are to be men (1 Timothy 3:2).
Here's something that was posted on Twitter a few days ago:
Jen is preaching to a congregation that has men and women in it. God is clear on what He wants women teaching other women in Titus 2:3-5. Women's Bible studies need to stop using female preachers' material to study and begin studying biblical womanhood as God commands. Yes, in teaching biblical womanhood, we teach some Bible, but it's all centered around teaching women their roles. Most, if not all, of the women preachers begin to teach false teachings, which we are warned about in almost every book of the New Testament.
And why are women commanded not to teach in the churches? Because Adam was created first (1 Timothy 2:13), therefore, he is the one that God put in authority, and Eve was deceived (1 Timothy 2:14). Women are more easily deceived, as we can see that Jen Wilkins and all of the other female preachers are.
But if any man seem to be contentious, we have no such custom, neither the churches of God.
1 Corinthians 11:16