Does Teachers of "Good Things" Mean Women Can Preach to Women Anything They Want?
Does Teachers of "Good Things" Mean Women Can Preach to Women Anything They Want?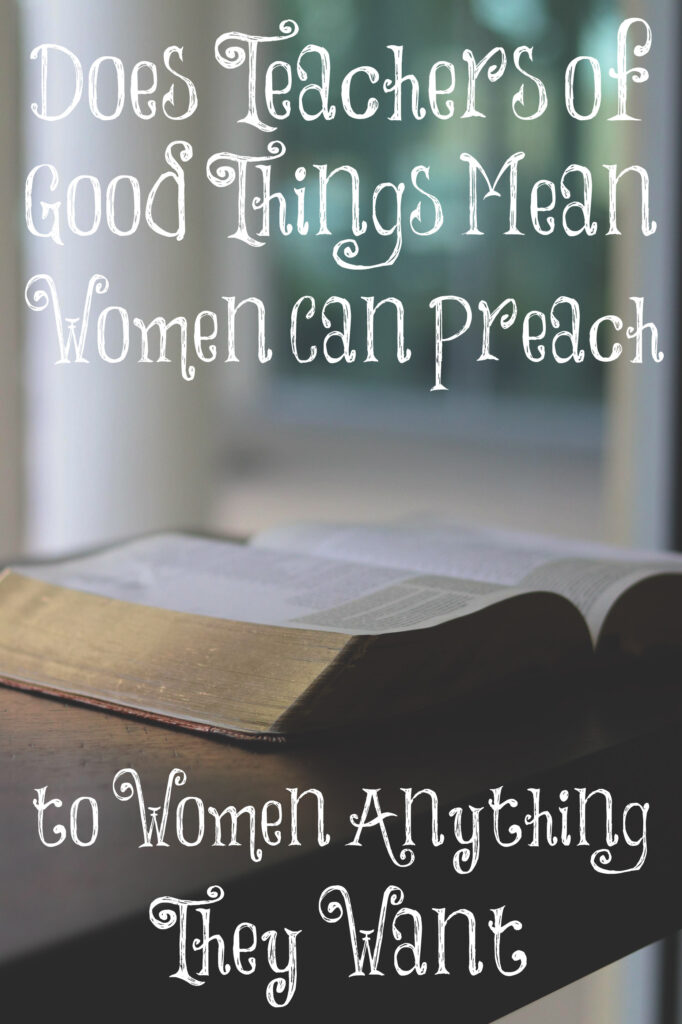 "The aged women likewise, that they be in behaviour as becometh holiness, not false accusers, not given to much wine, teachers of good things" (Titus 2:3). Many women these days will use the phrase in this verse "good things" to mean that they are able to teach any doctrines in God's Word to other women. Is this what is meant? I searched the old commentaries to see what they had to say about it.
"Teachers of good things.–Or, teachers of what is good. Beza's rendering, 'mistresses of honour', is singular and expressive. This does not mean that these aged women should occupy the place of public instructresses, but that they should, by here and there speaking a kind warning word, and, better still, by the golden silence of a useful honoured life, teach their younger sisters lessons of truth and faith and love." (Ellicot's Commentary)
"Teachers of good things; both by example and by instruction, but in their own houses privately; for they were not suffered to teach publicly, or to speak in the church; these should be teachers, not of old wives' fables, of superstitious customs, rites, and ceremonies, of the intrigues of love, and of things filthy and obscene, which are too often handed down to posterity by such persons; but of things that are solid and substantial, useful and improving, honest and honourable, chaste and pure." (Gill's Exposition)
Many fail to understand this verse: "But I suffer not a woman to teach, nor to usurp authority over the man, but to be in silence" (1 Timothy 2:12). Many seem to believe it means that women can't teach men nor be in authority over men in the churches. I believe it means that women can't teach in the churches period even to women. It's the men who are called to teach sound doctrine to the congregation which includes men and women.
Gill's Exposition on this verse: "But I suffer not a woman to teach, They may teach in private, in their own houses and families; they are to be teachers of good things, Titus 2:3. They are to bring up their children in the nurture and admonition of the Lord; nor is the law or doctrine of a mother to be forsaken, any more than the instruction of a father; see Proverbs 1:8. Timothy, no doubt, received much advantage, from the private teachings and instructions of his mother Eunice, and grandmother Lois; but then women are not to teach in the church; for that is an act of power and authority, and supposes the persons that teach to be of a superior degree, and in a superior office, and to have superior abilities to those who are taught by them."
Once women decided that the "good things" they are to teach to other women means they can teach all of God's Word, female preachers exploded. They falsely believe they are teaching "good things" without teaching what God commands that they teach, namely being sober, loving and obeying their husbands, loving their children, being discreet, chaste, good, and keepers at home.
Now, some women will even use the word "good" in Titus 2:5 to say they can teach other women theology. Is this what it means?
"Good.—Gracious, kind, thoughtful to others, especially to inferiors." (Ellicot's Commentary)
"Good – In all respects, and in all relations. To a wife, a mother, a sister, there can be no higher characteristic ascribed, than to say that she is good. What other trait of mind will enable her better to perform her appropriate duties of life? What other will make her more like her Saviour?" (Barnes' Notes on the Bible)
"Good—kind, beneficent (Matthew 20:15; Romans 5:7; 1Peter 2:18). Not churlish and stubborn, but thrifty as housewives." (Jamieson-Fausset-Brown Commentary)
I can't find any commentary that tells us that the "good things" and "good" means that this gives women free license to preach the Word to women in the churches as the elders and pastors are commanded to do.
"Thou therefore, my son, be strong in the grace that is in Christ Jesus. And the things that thou hast heard of me among many witnesses, the same commit thou to faithful men, who shall be able to teach others also." (2 Timothy 2:1,2) Paul is clearly saying that faithful men are the ones called to preach and teach the Word of God to others. There's no question about it. Godly, older women are commanded to teach the young women biblical womanhood as clearly stated in Titus 2:3-5.
Some will say that I am disobeying God's commands since I am writing in "public spaces" on my social media, my books, and my blog. I believe the authors of these commentaries meant that women weren't to leave their homes on a regular basis and even travel away from their homes as many female Bible preachers and teachers do. This ministry has been given to men. God commands women to be keepers at home, and this would take them away from their homes. Our ministry needs to revolve in and around our homes to our families. Women can't be their husbands' help meet if they are away from home often nor can they mother their own children.
Women aren't being taught biblical womanhood from the aged women in the churches. This definitely is the ideal! Women need godly, older women in their lives speaking truth to them but few can find these older women which is tragic. I began my ministry teaching other women in their homes and in my home. It's the only place I have ever taught women.
Now, I am still teaching women from my home. I don't teach in a church or anywhere else. I am a keeper of my home. I teach what God commands that I teach to women. I am thankful He has given me the opportunity to do this online since my health is not stable. Even if I were healthy, I would never feel comfortable getting behind a pulpit and preaching to women in a church, even if it was biblical womanhood. I receive many personal messages from women and am able to counsel them individually which has been a huge blessing to me. I will continue to do this until I am no longer able to do so or as the Lord wills.
***Here are the Biblical Womanhood books that I highly recommend!