Teaching Exceptions Rather Than Truth
Teaching Exceptions Rather Than Truth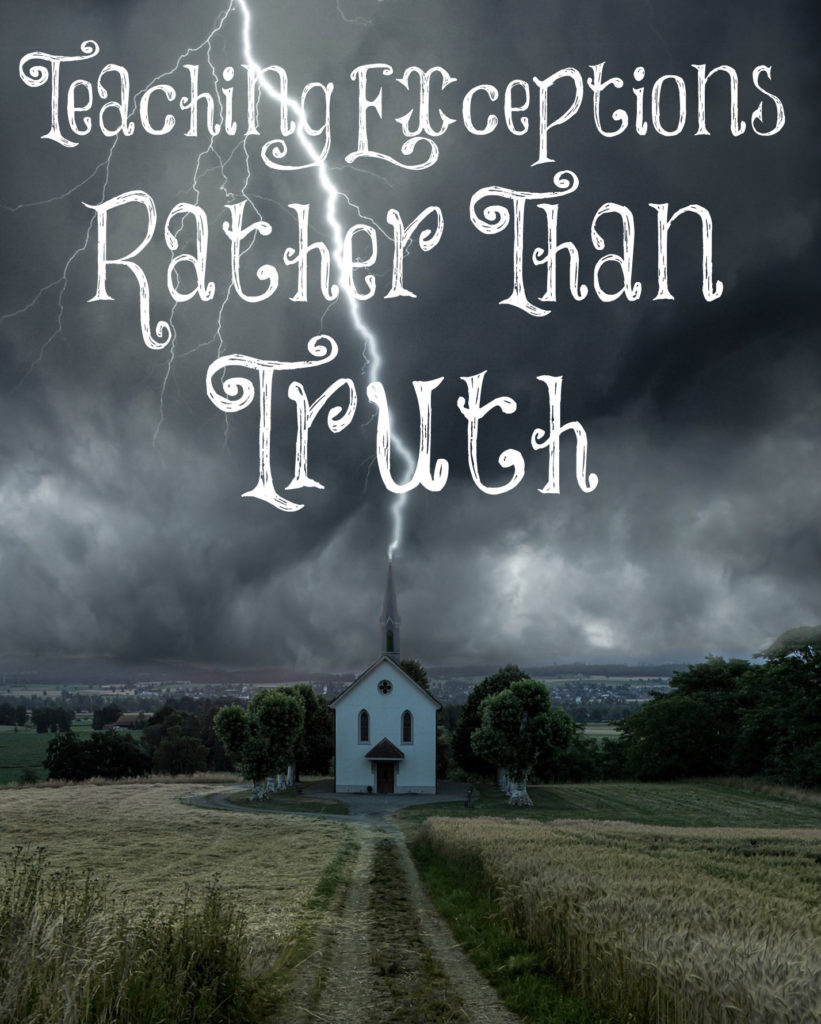 Many women teach the exceptions to biblical womanhood rather than the truth. It's far easier to teach the exceptions rather than the truth.
Rather than teaching women that they are to be quiet in the churches, learn in silence with all subjection, and that they are not to teach men nor be in authority over them, they teach the exceptions in order to teach the opposite of truth. They'll teach that Phoebe and Priscilla were leaders in a church, and that Mary Magdelene was a preacher. Oh, and the Samaritan woman at the well was a preacher too. Then there's Deborah the judge. But here's the truth:
"Let the woman learn in silence with all subjection. But I suffer not a woman to teach, nor to usurp authority over the man, but to be in silence. For Adam was first formed, then Eve. And Adam was not deceived, but the woman being deceived was in the transgression." (1 Timothy 2:11-14)
"For God is not the author of confusion, but of peace, as in all churches of the saints. Let your women keep silence in the churches: for it is not permitted unto them to speak; but they are commanded to be under obedience as also saith the law. And if they will learn any thing, let them ask their husbands at home: for it is a shame for women to speak in the church." (1 Corinthians 14:33-35)
"As for my people, children are their oppressors, and women rule over them. O my people, they which lead thee cause thee to err, and destroy the way of thy paths."(Isaiah 3:12)
Instead of teaching that women are to not deprive their husbands sexually but be willingly available to them, they will give all of the exceptions and whataboutisms instead. They will twist this teaching into saying that men are allowed to force themselves upon their wives and even go so far as to say it's marital rape.
"Let the husband render unto the wife due benevolence: and likewise also the wife unto the husband. The wife hath not power of her own body, but the husband: and likewise also the husband hath not power of his own body, but the wife. Defraud ye not one the other, except it be with consent for a time, that ye may give yourselves to fasting and prayer; and come together again, that Satan tempt you not for your incontinency." (1 Corinthians 7:3-5)
Instead of teaching women that wives are to be submissive to their husbands and yes, even obedient to their husbands, since God has made them head over their wives, they will give all of the exceptions to when they are not to be submissive to them instead of ever teaching them the truth.
"Wives, submit yourselves unto your own husbands, as unto the Lord. For the husband is the head of the wife, even as Christ is the head of the church: and he is the saviour of the body. Therefore as the church is subject unto Christ, so let the wives be to their own husbands in every thing." (Ephesians 5:22-24)
"To be discreet, chaste, keepers at home, good, obedient to their own husbands, that the word of God be not blasphemed." (Titus 2:5)
Oh, and forget ever having to submit to a husband who is disobedient to God, they will say. Only submit to a husband who is loving you like Christ loves the church. They fail to teach these verses:
"Likewise, ye wives, be in subjection to your own husbands; that, if any obey not the word, they also may without the word be won by the conversation of the wives; While they behold your chaste conversation coupled with fear…Even as Sara obeyed Abraham, calling him lord: whose daughters ye are, as long as ye do well, and are not afraid with any amazement." (1 Peter 3:1,2,6).
Instead of teaching women to be keepers at home, they will teach about all of the women in the Bible who weren't keepers at home and were, in fact, career women according to them. News flash, there were no career women in the Bible.
"That they may teach the young women to be sober, to love their husbands, to love their children, To be discreet, chaste, keepers at home…" (Titus 2:4,5)
"I will therefore that the younger women marry, bear children, guide the house, give none occasion to the adversary to speak reproachfully." (1 Timothy 5:14)
Even the Proverbs 31 woman was known for "looking well to the ways of her household," not for having a career. Everything she did was around her home and for her family. She was not a career woman.
I could go on, but I am sure you understand the point I am trying to make. I will continue to teach what God commands that I teach instead of search out all of the exceptions in order to negate the truths of God's commands for women. The exceptions are far easier to teach rather than the commands to women. What each of you do with these commands from God, women, is up to you. It's not up to me to have an answer for all of the exceptions and yes, there are exceptions, but it's all of you who are responsible for obeying God or not. You're responsible for deciding whether or not you're an exception to the truth, not me.
I will continue to encourage women to obey God, because I know His will is perfect. I have no desire to water down His commands to make them palatable to women who are easily offended these days. There are too many female teachers/preachers who are tickling women's ears rather than teaching the truths of biblical womanhood to them. I am not one of them.
For the time will come when they will not endure sound doctrine; but after their own lusts shall they heap to themselves teachers, having itching ears; And they shall turn away their ears from the truth, and shall be turned unto fables.
2 Timothy 4:3,4