Teaching Younger Women to Be Good
Teaching Younger Women to Be Good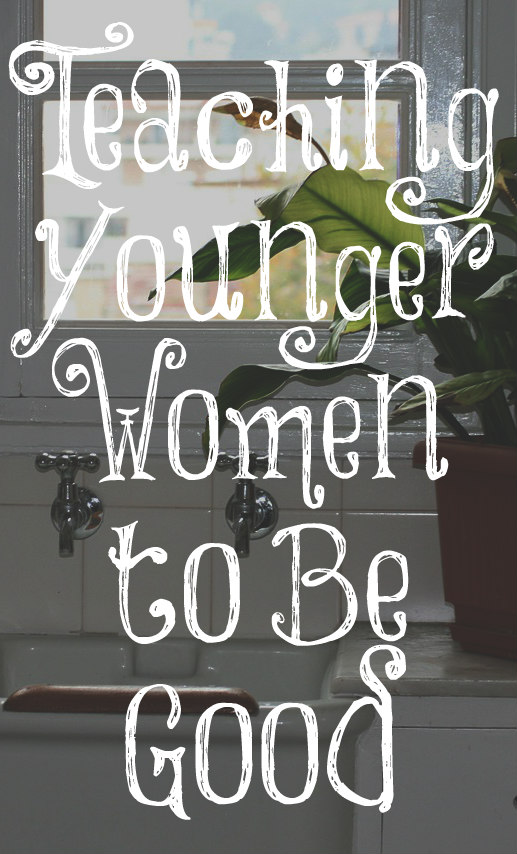 God instructs older women to teach younger women to be good in Titus 2:5. To be discreet, chaste, keepers at home, GOOD, obedient to their own husbands, that the word of God be not blasphemed. Women have scolded me for saying we can be good. They say that only God is good because of this verse: And Jesus said unto him, Why call me good? there is none good but one, that is, God (Mark 10:18). But the reason Jesus said this according to Gill's Exposition was that He was "not as denying that he was good, or as being angry with him for calling him so, but in order to lead this young man to a true knowledge of him, and his goodness, and even of his proper deity." Of course, Jesus was good because He was perfect and now He lives inside of us! 

 God expects His children to be good just as we expect our children to be good. I love how all of the old commentaries used the KJV since it's my favorite version of the Bible, so they all have the word "good" in them!

Ellicot's Commentary on the word "good" in Titus 2:5: Gracious, kind, thoughtful to others, especially to inferiors.
Barnes' Notes: In all respects, and in all relations. To a wife, a mother, a sister, there can be no higher characteristic ascribed, than to say that she is good. What other trait of mind will enable her better to perform her appropriate duties of life? What other will make her more like her Saviour?
Jamieson-Fausset: kind, beneficent. Not churlish and niggardly, but thrifty as housewives.
The book of Ephesians has a lot to say what God expects from us and what would be classified as being good, too.
These are all from Ephesians 4 and 5: Lowliness, meekness, longsuffering, forbearing one another in love, speaking the truth in love, be ye angry and sin not, working with our hands to give to those in need, no corrupt communication coming from our mouths but only which is good and edifying, kind, tenderhearted, forgiving one another, redeeming the time because the days are evil, filled with the Spirit, singing and making melody in your heart, and being thankful.
In these two chapters, we are told several times how we are to walk: walk worthy of the vocation (God's calling for your life) wherewith ye are called (4:1), walk in love (5:2), walk as children of light (5:8), and walk circumspectly (5:15).
As godly women, our goal in life should be going around doing good and the most important people we should be doing good for is our own family. Learn to be a servant and do what you can to make their lives as happy as you can. Never forget that being a help meet to your husband is your priority. Fix your family good, nourishing food. Keep your home clean and tidy for them. Make sure their clothes are clean and put away. Be in the Word so you can be a cheerful presence in your home. Don't be ruled by your emotions but be ruled by truth. Build your homes up by finding ways to bless your family and making your home a place of peace and rest.
How are we supposed to be good and accomplish all of these things? By putting on the whole armor of God and believing God's promises to us; for it is His Spirit that works mightily within you!
With good will doing service, as to the Lord, and not to men: Knowing that whatsoever good thing any man doeth, the same shall he receive of the Lord, whether he be bond or free.
Ephesians 6:7, 8