Women's Oppression is a Lie
Women's Oppression is a Lie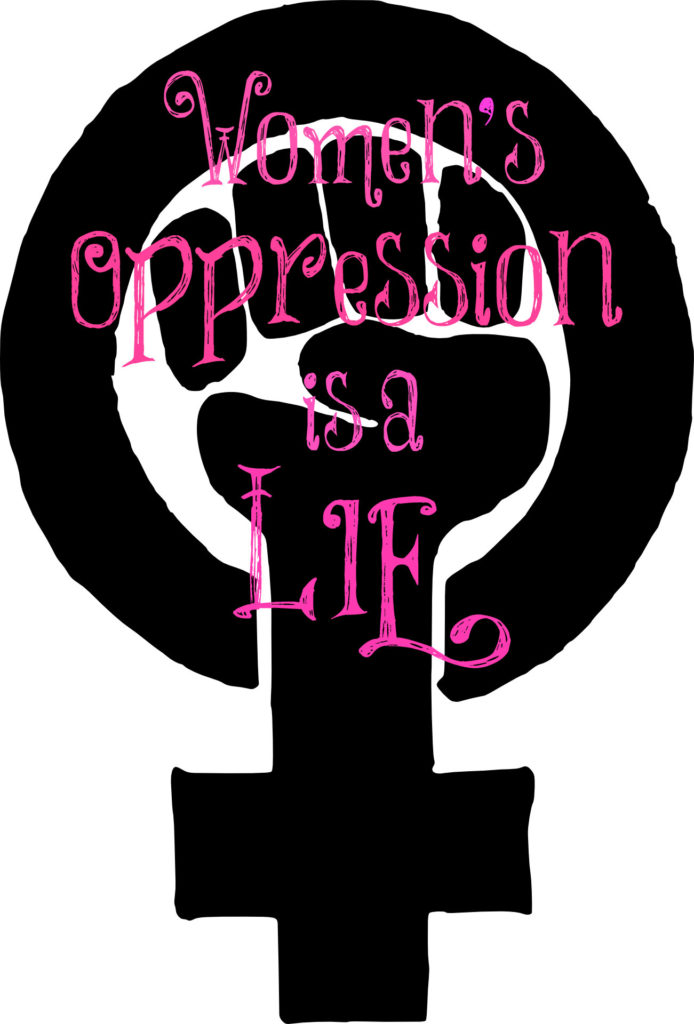 This symbol for Feminism means emancipation: "The fact or process of being set free from legal, social, or political restrictions; liberation." The second wave of Feminism (beginning in the 1960s) didn't fight to be freed from any of these but instead, they fought and are still fighting to be freed from Christianity and God's roles for women. Unfortunately, the majority of women today have breathed in this putrid feminist air their entire lives. Few women, including Christian women, are being raised to desire to be how God designed them and wants them to be. Most are being raised to be Feminists.
One example, Christian women continually try to convince me how wrong I am to teach that mothers should be full-time keepers at home. They don't believe this is biblical. I do. I believe when women understand the root and goal of this newer wave of feminism, they will understand how far it is from what God wants for godly women and how they are called to live their lives.
A woman mentioned that Feminism began in order for government to be able to tax a lot more people, break up the family by mothers working away from the home all day, and having the government raise their children (public schooling). This made sense to me since now many mothers are working full time so they are getting taxed, the majority of divorces are initiated by women, and the government is raising our children as shown by the Women's March and what they value. This is why all Bible believing Christian women need to RUN away from the feminist mindset as fast as they can and run to the clear Word of God and obey it.
One man believes that the Rockefellers funded feminism and that the CIA financially supported Ms. Magazine (a Feminist magazine).  I decided to check these out to see if they were in fact true.
"Most feminist 'Women Studies' funding comes from big foundations like Rockefeller Foundation, Ford Foundation, Carnegie Foundation etc., and of course USAID, UNIFEM and UN. Behind the facade of 'women's rights', Feminism teaches that heterosexual roles (wife, mother, etc.) are socially constructed by MEN and oppressive to WOMEN. This underscores the fact that feminism was created to destabilize the society and undermine the institution of family. 
American feminist icon Gloria Steinem, (an ex CIA agent) proudly claims in one of her own books that CIA funded Ms. Magazine with the stated goal of breaking up the families and taxing women. Watch MTV program "Sixteen and Pregnant" to understand the real state of affairs of the so called empowered liberated women in America. They fail to understand that this way of marginalizing men through one sided laws will soon, rather than later, force men to back off from running a family to avoid legal, mental, social, physical and financial harassment and also for the well being of age old parents."
From another article: Feminism has done the most damage. There is no more fundamental yet delicate relationship in society than male and female. On it depends the family, the red blood cell of society. Nobody with the interests of society at heart would try to divide men and women. Yet the lie that men have exploited women has become official orthodoxy. The American woman has been hoodwinked into investing herself in a mundane career instead of the timeless love of her husband and children.
Many women have become temperamentally unfit to be wives and mothers. People, who are isolated and alone, stunted and love-starved, are easy to fool and manipulate. Without the healthy influence of two loving parents, so are their children. 
Feminism is a grotesque fraud perpetrated on society by its governing elite. It is designed to weaken the social and cultural fabric in order to introduce a friendly fascist New World Order. Its advocates are sanctimonious charlatans who have grown rich and powerful from it. They include a whole class of liars and moral cripples who work for the elite in various capacities: social workers, lawyers, 'educators' and the media. 
Women's oppression is a lie. Sex roles were never as rigid as feminists would have us believe. My mother had a successful business in the 1950's importing watch straps from Switzerland. When my father's income increased, she was content to quit and concentrate on the children. Women were free to pursue careers if they wanted to. The difference was that their role as wife and mother was understood and socially validated, as it should be.
Until Gloria Steinem and the CIA came along."
Do you still want to call yourself a feminist and go along with the crowd on the broad path that leads to death and destruction or do you want to be known as a godly woman who loves the Lord and His ways and  joyfully walks on the narrow road that leads to life? Do you still believe that it is not in the best interest of your children to be home with you full time?
Thy word is a lamp unto my feet, and a light unto my path.
Psalm 119:105