The Firestorm Over Sleep Training One's Baby
The Firestorm Over Sleep Training One's Baby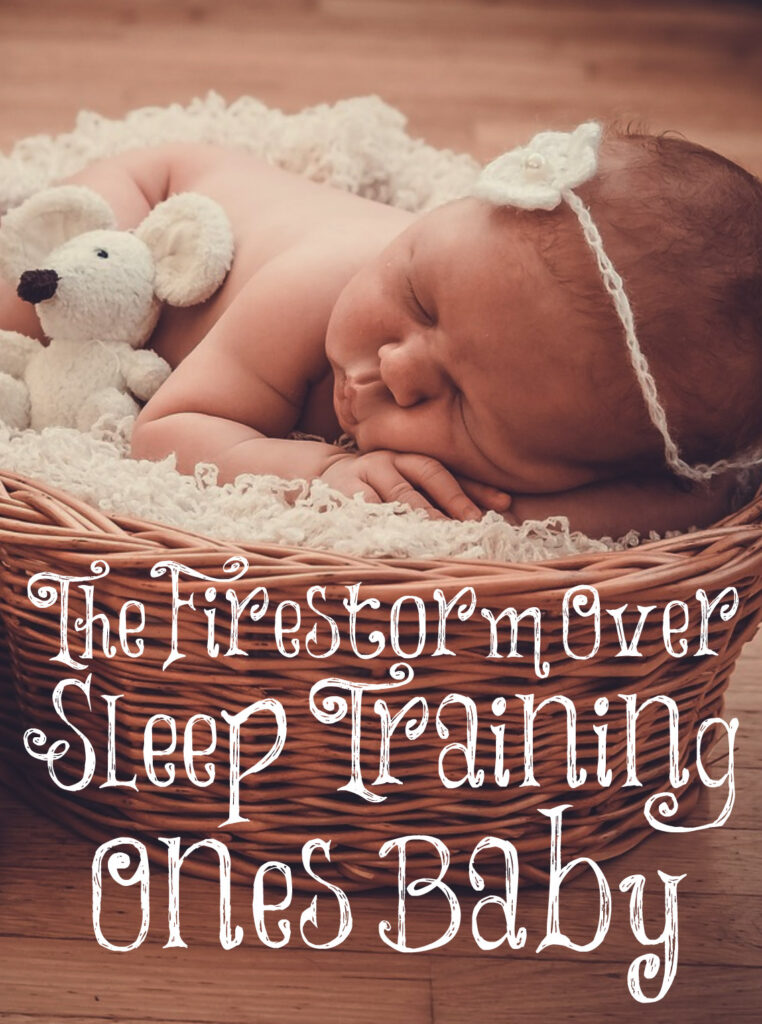 Years ago when my children were teenagers, I read through these journals of a mother who had nine children. I loved learning from her! She was a godly woman who loved her husband and children. However, I came to the part where she wrote about sleeping with her children (like four would be in their bed at one time) and never sleep training them. She felt that those who didn't have a family bed but did sleep train their children were in sin. Well, we did sleep train our children, and we didn't have a family bed. She was making something that wasn't sin into a sin. God speaks nothing about these two issues in His Word. This is legalism.
The other day, a woman who has six children and had recently had a baby told me that she was dealing with depression and even considered suicide. She told me that she needed six hours straight of sleep in order to get well. She had dealt with this for years. I asked some young women what books they would recommend for sleep training their babies, and they told me they had used Babywise, Moms on Call, and Taking Cara Babies.
I had also learned the link between depression and lack of sleep recently. This makes sense since sleep is incredibly vital to good health. Lack of sleep is known for even causing cancer! So I made a tweet about sleep training babies and mentioned these three books. Well, a firestorm broke out! When I shared this on Instagram, I received almost 500 comments. On Facebook, I have almost 600 comments. Someone shared a recent video made by Doug Wilson and his daughter, Rachel, called "Myths, Lies, and Modern Moms."  They just spoke about this topic on their video! What a wonderful coincidence, because they are both very wise.
"Women can be very emotional on the topic of their own children. Extra emotional. This is a very sensitive topic for a lot of mothers. For example, the very hot debate about whether of not you should sleep train a baby ever. If your baby isn't sleeping, should you ever let your baby cry it out in their crib. Well, this escalates almost instantaneously like this is abuse. Then Christian moms will totally shy away from it because they would never want to be abusive. "(Rachel)
"And then if dads want her to let the baby cry it out then he's abusive, and it's a really hot issue because her friends are telling her it's abusive." (Doug)
"Let's pare it back and ask ourselves, does God ever allow His children to suffer for their own good? This thinking about sleep training being abusive can easily lead to 'All disciplining is hateful' which is directly counter to what Scripture says." (Rachel)
We sleep trained our four children at six weeks old. Yes, we let them cry it out. The first night, it took about a half hour. Each night decreased dramatically. They were fully sleeping at least six hours within five or so days. This was not abusive. This was teaching them that every time they woke up, they didn't need to cry. They could go right back to sleep, and they did! Not one of our children would ever say they were abused. They were loved and well-cared for by us. They were good sleepers their entire childhoods.
I know young mothers who have one and two year olds and even older who consistently wake them up throughout the night. They eventually have to pay a lot of money to get the help of a sleep consultant. It's a whole lot easier to sleep train them when they are young rather than when they are toddlers or older. The older they get, the harder it becomes because their strong will gets involved and they haven't been trained to sleep through the night.
If you and your husband wants to have a family bed and not sleep train, this is fine! I am not writing this to bash couples who do this. Do it, but many mothers can't sleep well with their babies in their beds, or their husbands simply don't want this. This is who I am writing this for. There is no biblically right way in this area. We aren't commanded to co-sleep and not sleep train, and we're not commanded to let our babies sleep in their own beds and sleep train. Therefore, every mother gets to decide what to do, but she should absolutely listen to her husband since this isn't a sin issue, and she is to submit to him in everything. Sleep training is NOT abuse contrary to the popular opinion of this day and age!
Therefore as the church is subject unto Christ, so let the wives be to their own husbands in every thing.
Ephesians 5:24