Training Children to Obey
Training Children to Obey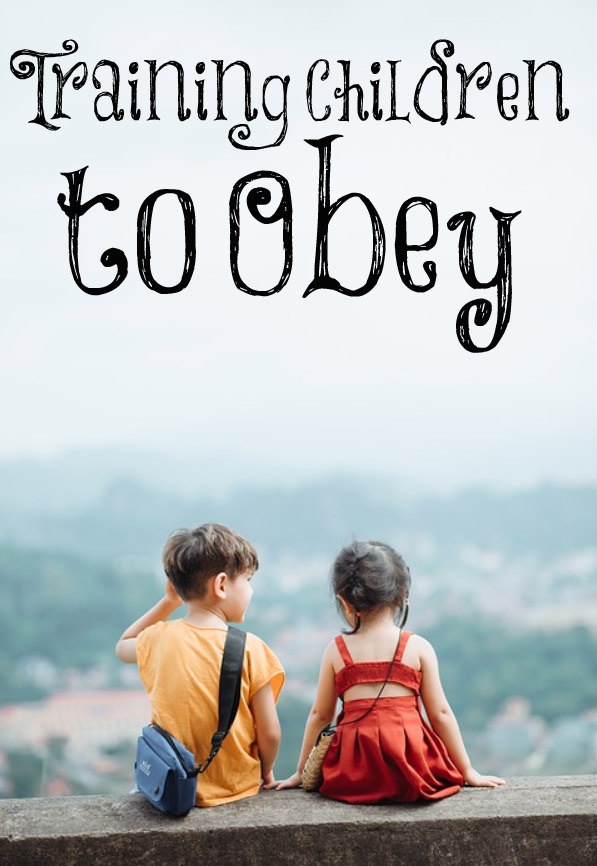 It's crucial, mothers, to train your children to obey you from a young age. When you train them to obey you IMMEDIATELY, you are teaching them discipline and self-control. Here's a quote from an excellent book titled, Teachers' Secrets and Motherhood Savvy by Renee Ellison:
"In the old film The Miracle Worker, there's a dramatic scene where the teacher and her student are under the table, rolling on the floor while the teacher is trying to make the child fold a napkin. Remember the outcome? The teacher looked like a wreck when it was over, but Helen Keller submitted. Why the big deal? Because the teacher knew that the outcome of that battle would affect all future interchanges. She knew that she had to win. So it is with your interchanges with your child. Many times, you will enter into conflict with your child, and you must win in order to secure the respect of your children toward all the good that you have in mind for him in the future."
We did this with all four of our children. The first and only battle happened around the age of two with all of them. They wanted their way, and they refused to obey us. We stood our ground and insisted they obey. No, we never abused our children as many slanderously accuse us. We did spank our children at times but never in an abusive way. (Wooden spoons on the bottom or thigh works great!) Not one of them would say that they were ever abused.
In that first battle, we always won. God commands that children obey their parents, and it's the parents' responsibility to enforce this command. We were diligent to do this from the get-go. After that first battle, the children knew we meant business and obeyed us quickly. Child raising was easy because of this. Some of our friends thought we were too strict, as we watched their children win battle after battle and grow up to lack discipline and turn rebellious.
God commands that we raise our children in the nurture and the admonition of the Lord. He commands we use the "rod." We loved them unconditionally without favoritism. We taught them God's Word consistently and had them memorize many, many verses. We made sure our children knew God and loved Him. The more you discipline and train your children, the more disciplined and self-controlled they will be as adults. It's a gift you give them!
Train them to make their beds after they wake up. Train them to read a chapter in the Bible daily. Train them to clean up after themselves. Train them to be kind and generous. Train them to be hard workers. Train them to not overeat. As you train them in these good habits, it will be easy for them to continue to do them as adults. Discipline makes their lives easier. Lack of discipline makes life harder. You are training them to control their flesh. As they grow up, it will be easier for them to walk in the Spirit, since their minds have been continually renewed with Truth, and their flesh has been disciplined.
You must also work with their thinking. Don't allow them to be controlled by their emotions and feelings. Talk to them often about this, especially your daughters since they usually are the ones that have a harder time with this. Bad actions come from bad thinking. Root out the bad thinking and replace it with truth.
Child raising isn't easy, but it's good. If you work hard training them when they are young, child raising will be enjoyable and fun! You won't have to worry about grounding and time-outs as they grow older. We didn't have to deal with this past five years old. (We never grounded our children or had to take away privileges.) We mostly just talked to our children. They obeyed us and knew we meant business. They grew up respecting us as their parents. We now have great relationships with all of our children, their spouses, and grandchildren. God's ways are perfect!
Train up a child in the way he should go: and when he is old, he will not depart from it.
Proverbs 22:6