Truly Powerful Women Have Calm Spirits
Truly Powerful Women Have Calm Spirits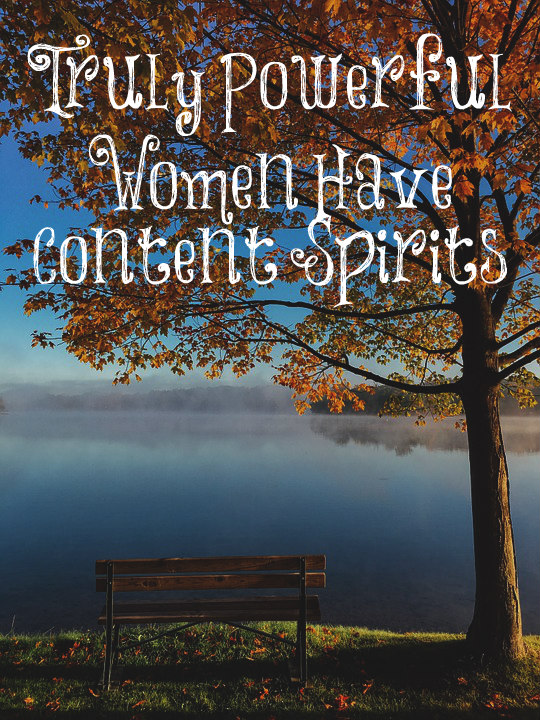 "The most powerful women I've met in life did NOT have a contentious spirit. A peaceful, calm spirit (Galatians 5:22-24) gives a believing woman tremendous influence in Western Civilization. If you can cause/create MORE dissension and contentiousness among women, you can wreck the greatest civilization in human history in a couple generations! THAT's whats going on. A godly woman has a contented Spirit. Why is she content? Because she submits to God and His precepts. A contentious woman ignores or purposely violates God's precepts." (Comment by Stuart K. from a recent post)
Christianity teaches women to have meek and quiet spirits. Feminism teaches women to have contentious and loud spirits. These are two opposing world views and most women, even Christian women, seem to have eaten the forbidden fruit of feminism. Churches certainly aren't teaching women the ways of biblical womanhood, while culture teaches them how to be feminists.
Godly women are led by the Truths found in God's Word. Feminists are led by their feelings and emotions. Godly women trust in God to perform what He has promised, so they rest in Him and are content in what He has called them to do. Feminists trust in their own abilities and what they want (and what they have been told to want by culture), so they will do whatever it takes to accomplish their "dreams and goals" apart from God's will.
How do we learn to have meek and quiet spirits when everything around us screams that we should be the opposite? Let God's Word dwell in you richly. Read a few chapters a day. Obey what God has told you to do. Look how God commands women to win disobedient husbands. Does He command they argue, quarrel, and demand their husbands shape up? No, He commands that these wives live in submission to their husbands without the word and with godly behavior with meek and quiet spirits.
What did godly women of old adorn themselves with? Preaching in the pulpits and leading women in social justice movements? NO! They adorned themselves with meek and quiet spirits while living in submission to their husbands.
For after this manner in the old time the holy women also, who trusted in God, adorned themselves, being in subjection unto their own husbands: Even as Sara obeyed Abraham, calling him lord: whose daughters ye are, as long as ye do well, and are not afraid with any amazement.
1 Peter 3:5,6