Women No Longer Need to Be Tied to Their Babies?
Women No Longer Need to Be Tied to Their Babies?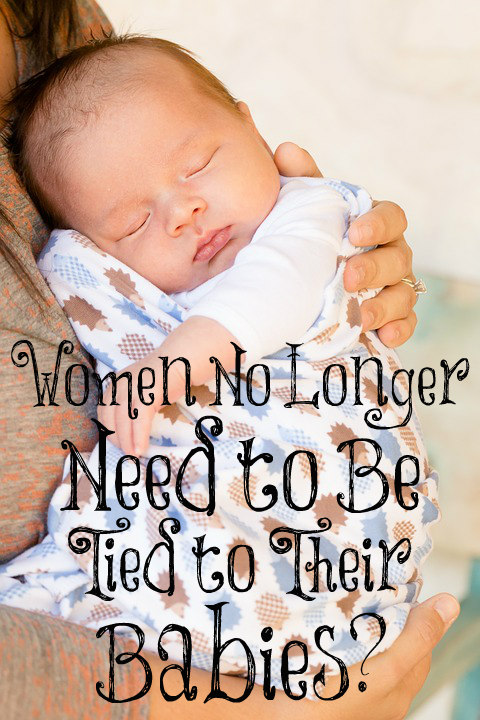 A few years ago, a young woman tried to convince me that ALL mothers love their babies. "It's just natural to love one's baby!" No, it's not. There's good reasons for all of God's commands, and He commands that older women teach young women to love their children. Today, many women don't want children. If they get pregnant, they have no trouble aborting (murdering) their baby. They also have no problems putting their babies into daycare all day long. Here's an example of a woman encouraging young women to not love their babies.
She wrote this on Twitter the other day: "Yes, but now with contraception we don't have to get pregnant, and with hygienic pumps and bottles we are now no longer tied to babies like we once were, so can return back to work sooner. We have to physically push the baby out but that doesn't mean we have to give up our lives."
"Can a woman forget her sucking child, that she should not have compassion on the son of her womb? Yea, they may forget, yet will I not forget thee" (Isaiah 49:15). Yes, mothers can forget (neglect) their nursing babies. Yes, they can willingly leave their babies with strangers and a bottle. Is this what God has called them to do? No, He gave them breasts for a reason. He wants mothers home nursing their own babies IF they are able (some can't nurse). He wants mothers caring for and loving their babies. Babies need and want their mothers.
 Can you now clearly see the lies behind feminism and what it has championed? It has championed birth control which eventually led to the slaughtering of millions of unborn babies. Sex has been completely divorced from procreation. They can have sex and get rid of any "unintended consequences" if they want and not think a thing about it. In fact, they celebrate it today. They have been given over to reprobate minds (Romans 1).
It's not giving up one's life for your baby, young women. They are gifts and blessings from God! Soon, I will have twelve grandbabies and they are one of the greatest blessings in my life! As you grow older (I just turned 62), the things of this world no longer hold much interest; for me anyway. I don't care about jewelry or makeup or fancy clothes, furniture, cars, shoes, and so on. I care about being with my children and their children. I love having a baby or older child want to sit on my lap and cuddle with me. They bring more joy into our lives than any of the stuff this world has to offer. Please, don't pass up on such incredible blessings for the short term pleasures that this world has to offer.
 Lo, children are an heritage of the Lord: and the fruit of the womb is his reward. As arrows are in the hand of a mighty man; so are children of the youth. Happy is the man that hath his quiver full of them: they shall not be ashamed, but they shall speak with the enemies in the gate.
Psalm 127:3-5