Virtuous or Rottenness in His Bones?
Virtuous or Rottenness in His Bones?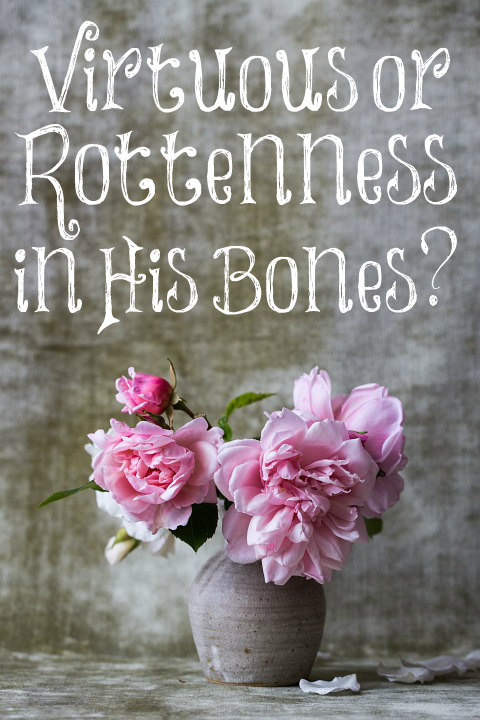 "A virtuous woman is a crown to her husband: but she that maketh ashamed is as rottenness in his bones" (Proverbs 12:4).
Whenever I read verses specifically directed towards women, I want to study them. I want to understand them and remember them to either aspire to be like them (the positive traits) or not be like them (the negative traits). We forget so easily and this is why we need to be in the Word daily.
I read the verse above the other day and wanted to study what the commentaries had to say about it.
Gill's Exposition: "A virtuous woman is a crown to her husband – One that is loving and chaste, constant and faithful, obsequious (promptly obedient) and submissive to him; that is diligent in the affairs of her house, takes care of her family, brings up her children, and is an honour and credit to her husband. Such is the true church of Christ, who is compared to a woman, Revelation 12:1; to a woman of purity and chastity, whose members are virgins, not defiled with the corruptions, errors, and superstition of the apostate church; to a woman of fortitude and courage, who resists sin, temptation, error, heresy, and idolatry, even unto blood; and whose true members love not their lives unto death, but freely lay them down in the cause of truth; such an one is an honour to Christ her husband."
Are you promptly obedient when your husband asks you to do something? Are you diligent in the affairs of your home since being a keeper at home is what God has called you to do? Are you careful to not allow your children to be corrupted by the sin in this world? Do you diligently teach them the truths found in God's Word?
Many women are being led astray by some of the female Bible teachers/preachers today in apostate churches who allow women to preach. They teach things that are not biblical and fail to teach what God has commanded them to teach women, namely biblical womanhood. They pull things out of verses that are not there. They want personal revelations from God. They rebuke Satan and listen for "special revelations" given to them by God. We must be diligent to not be led astray by these teachings. The only way to do this is to be in the Word consistently so that when we hear false teaching, we will distinguish it as such immediately.
"But she that maketh ashamed; makes her husband ashamed, by her levity (not steady in emotions) and wantonness (wickedness), her negligence and slothfulness, so that he is ashamed to be seen with her, or to be known that he stands in such a relation to her; she is as rottenness in his bones; a constant grief to his mind, a pressure upon his spirits, a wasting of his body, and a consumption of his estate; she is, as the Targum has it, 'as a worm in wood,' which rots and consumes it. Thus the apostate church of Rome, that professes to be the spouse of Christ, has made him ashamed of her; as being the Jezebel, that seduces his servants to fornication or idolatry; and whose doctrine and superstition eat, like a canker, the vitals of religion."
How do women cause their husbands to be ashamed? By allowing their emotions and feelings to control their lives. This causes their husbands to walk on eggshells around them since their husbands have no idea what kind of a mood their wives will be in. Their wives control the atmosphere of the homes, and it's a destructive atmosphere these wives are creating. These women are involved in wickedness by being swept away by evil TV shows and movies, gossip, and other activities that tear their marriages and families apart. Their homes are a mess because they think only about themselves and their fleshly pleasures. They are lazy and care not for their families. These women are as rottenness in their husbands' bones.
"Such a woman is not simply loving and modest and loyal, but is a crown to her husband; is an honour to him, adorns and beautifies his life, making, as it were, a joyous festival. One who is a terrible contrast to the woman of strong character – weak, indolent (lazy), immodest, wasteful. Is as rottenness in his bones (Proverbs 14:30; Habakkuk 3:16). Such a wife poisons her husband's life, deprives him of strength and vigour; though she is made 'bone of his bones, and flesh of his flesh' (Genesis 2:23), far from being a helpmate for him, she saps his very existence. Septuagint, 'As a worm in a tree, so an evil woman destroyeth a man.' Siracides has much to say, 'A wicked woman abateth the courage, maketh an heavy countenance and a wounded heart: a woman that will not comfort her husband in distress maketh weak hands and feeble knees' (Ecclus. 25:23)."
Do you adorn your husband's life and make it beautiful? Is it a joy for him to live with you or are you a burden for him? Do you shop carefully and live within his income or are you wasteful and cause your husband much frustration and sorrow? Are you satisfied with your life and husband or are you continually tearing him down with your words and emotions by comparing him to others and never being accepting of him?
 "A wife who is pious (godly), prudent, and looks well to the ways of her household, who makes conscience of her duty, and can bear crosses; such a one is an honour and comfort to her husband. She that is the reverse of this, preys upon him, and consumes him."
Do you bear the sufferings and trials that God allows in your life and understand that God is refining you, therefore, you don't grumble and complain about it? If so, you are a virtuous wife to your husband. Or do you consistently speak negatively and oppressively to your husband about how difficult your life is and pull him down by the weight of your unhappiness? Then you are rottenness in his bones.
Make sure you carefully examine your lives, dear women, and stand fast in the faith and in God's will for your lives!
Favour is deceitful, and beauty is vain: but a woman that feareth the LORD; she shall be praised. Give her of the fruit of her hands; and let her own works praise her in the gates.
Proverbs 31:30, 31