Does Submitting to Husbands in Everything mean EVERYTHING?
Does Submitting to Husbands in Everything mean EVERYTHING?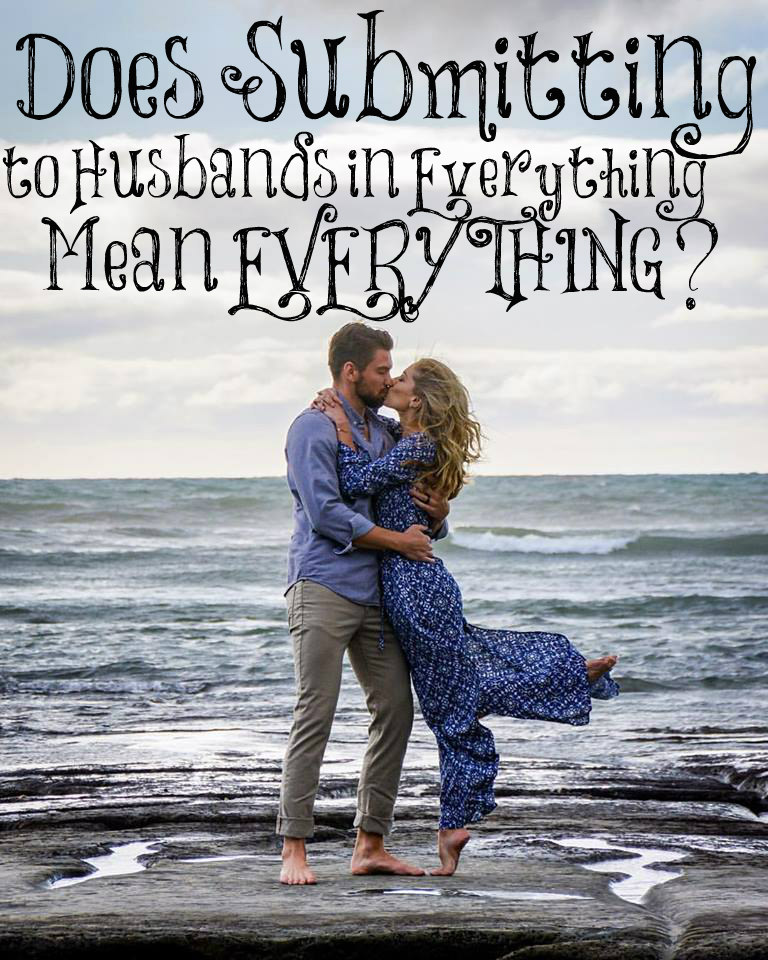 Written By Ken Alexander
"Wives should submit to their husbands in everything" is a fundamental command for all those who want to do marriage God's way. One can never arrive at a point where two have truly become one flesh until the two are in union and harmony with each other. This is not to say that a wife leaves wisdom behind once she takes her vows, nor does it mean she is to follow her husband into sin. Submission is to be the natural response of a godly wife to a loving husband, and when he is not loving her as he should, submission is still the response of the wife who desires to obey her Lord and Savior in everything.
God's Word is very plain and straightforward but each verse of the Bible is informed by its immediate context and the Bible as a whole. So what are some of those times that "in everything" does not mean "EVERYTHING?"
For the few Christians who are bent on taking a wooden literal approach to this passage, it is important to understand that language and literature are intended to be understood as the common reader would understand it. Imagine all the qualifiers the apostles under the influence of the Spirit would have to give in order to communicate if they were not free to assume that the readers would be reasonable and informed in their understanding of what they were writing.
Should Paul have said "in almost everything"? Then you would ask, so in what things shouldn't a wife submit? Or does "almost everything" mean that I can pick and choose what to submit to so long as it is most of the time I submit? No, Paul made it clear that the intent was that wives should indeed submit "in everything," but he naturally assumed his readers were believers who know God's Word, and thus would easily qualify the few exceptional exceptions to the command.
The beauty of God's Word is that one can almost always understand the necessary qualifiers directly from the immediate context.  The context says, "Wives, submit to your own husbands, as to the Lord" (Ephesians 5:22). So a wife's submission is not in a vacuum, but as she would first submit to her Lord. If her Lord's commands are clear and indisputable, she is under no obligation to submit to any sin demanded by her husband. This includes submission to abuse as any abuse of another is unlawful both civilly and in Christ.
Can we now agree here that the "in everything" does not mean to submit to a husband who is asking his wife to forsake Christ and adopt his religion? Wives have been brutally beaten, whipped and killed by husbands upon learning of their conversion to Christianity. These wives refused to submit and recant their relationship with Christ precisely because they have a higher authority than their husband in their lives. Their Lord and Master is the Lord Jesus. Jesus says, "Whoever denies me before men, I also will deny before my Father who is in heaven" (Matthew 10:3).
Jesus is Lord over a wife with the big "L" as compared to a husband who may be considered lord with a small "l". Christ's authority comes first and foremost as the Ruler of this universe and certainly has reign over a husband's demands for a wife to submit to any sin. "You shall therefore love the LORD your God and keep his requirements, his statutes, his rules, and his commandments always" (Deuteronomy 11:1).
It seems that here lies the fear of those who want to make wifely submission to a husband in EVERYTHING, including sin. They fear the slippery slope of a wife finding her way around submission by setting herself up as the ultimate authority as to what God desires for her life and marriage. It is not such a far-fetched notion to find a wife who is learning from any number of Christian women teachers who has now declared a personal relationship with God, so personal that God speaks directly to her. Or she begins to interpret the Word to her advantage so that anything a husband asks her to do that she finds to be "unloving" she can be excluded from submission because "God says that my husband is to 'love me as Christ loves the church' before I need to submit."
The twists and excuses that many Christian wives, and too often Christian pastors, use to get around the clear instructions for a wife to submit in everything, often consign the Christian marriage into a structure that God does not intend for marriage. In these marriages, a husband leads only so far as the wife allows him to lead, and he must relegate his decision making to his wife's final authority as to whether he is being loving towards her or meets her test of how she feels about God's leading her on the matter. Both of these concepts clearly violate the intent of "in everything." So the fear that any exception to the rule will be turned by a wife into rendering the passage meaningless is not without merit, nor without common day practice in many Christian marriages today.
Even recognizing the proclivity of women to twist and turn a clear passage like this one into meaninglessness, Lori and I are not going to insist that the "in everything" means EVERYTHING when it clearly does not endorse following a husband into sin or abuse. Our job as teachers is not to wrestle wives into a box of submission because it is best for them, especially when married to godly guys, but instead to try and lead Christian women to choose to willingly submit to the one they chose to marry, to love and to lead them. This fear of "give a wife an inch and she will take a yard" is not what should dictate our understanding of God's Word.
Instead, love demands that a husband patiently wait on his wife to grow up into a marriage where is she is willing to follow him into everything he leads her in so long as it is "as to the Lord" and without sin. She must learn that unless the Bible is clearly against what her husband desires of her she is to submit if she wants to do marriage God's way. If she is unsure as to whether she should submit or not, she should not rely on her own individual interpretation of the Word, nor on her feelings of what God is telling her, but test if it is sin or not by speaking to an older godly woman or an elder's wife.
The question to ask any counselor on this subject is a simple one. Is what my husband is asking of me clearly taught against in God's Word? If the answer is "no," then there should be no other qualifier. If you need help understanding where God is clearly against abuse, contact us, or your elders to understand that no wife should be subjected to physical harm or behavior that puts her or her children in danger.
Apart from this narrow set of exception of "as unto the Lord," the Christian wife is to submit "in Everything." This was the apostle's intent as inspired by God, that Christian wives everywhere allow their marriages to be the model for the church. That children being raised in such marriages could see what it means to be obedient to the Lord in a real and tangible way. Mom willfully submitting her will to her loving husband, even when she strongly disagrees with him, or he asks her to do things that go beyond her comfort level. It is false teaching by many Christian women teachers that a wife has to feel comfortable in her spirit that what a husband asks is okay, or good for the family, before she submits. God's intent is to have only one leader in the home, just as the Church is completely subject to Christ. Christ would never ask us to sin but regularly asks us to grow up outside of our natural comfort level that is too often informed by the flesh and not by His Word.
A year or so before Lori discovered Debbie Pearl's book "Created to Be His Helpmeet," the Lord showed me the biggest challenge I had in winning over my wife to a marriage of oneness and intimacy that Lori and I both longed for. Years of my wife demanding an intimate relationship had finally shown me that there was nothing I could do for her to achieve this goal as she was trapped in her fear of letting go and allowing me to be a loving husband to her. She had every excuse in the book as to why she only had to submit to me in the things that made sense to her, or did not violate her feelings of what a loving husband should do. I began to challenge her in ways that she once considered unloving, but now laughs about, precisely to help move her to a place she feared greatly in life: Vulnerability.
The reason why a wife often desires to control is because she is afraid not only of following her husband, but afraid of letting him into her own personal space where her deepest desires and fears reside. God has had the answer from the beginning of time to intimacy. The key to unlocking a wife's heart comes only by her allowing her husband into every part of her life: her hopes, her dreams, her fears, her love, and her inner most being. Vulnerability is the necessary key to entering into a woman's heart just as it is if we want God fully into our hearts. To be able to trust our God or one's husband fully is the bond that will blossom in a marriage until fully opened into a crazy love where two shall become one. No hesitations, no buy backs, no excuses, and no blind following, but rather allowing a husband to take his wife on a journey of love through vulnerability to fully give herself to the man she says she loves the most in this whole world… right after Jesus.
If you want this crazy love God offers to those who vulnerably follow Him into a one flesh, sold out marriage, then you have to do things God's way. God's ways often defy logic, and certainly defy the flesh and how mankind would do things. Yes, a wife is fully equal to her husband, just as Jesus is equal to God. And as Jesus tested the bounds of love by fully submitting to God, so too a wife will find the true love God has in store for her without full surrender and submission to her husband, while never leaving wisdom behind. Follow along so far as it is not sin and find God's promise that the "two shall become one flesh." Also, a prescription given for dealing with a disobedient husband.
Therefore as the church is subject unto Christ,
so let the wives be to their own husbands in every thing.
Ephesians 5:24