Working Hard at Home With Our Hands
Working Hard at Home With Our Hands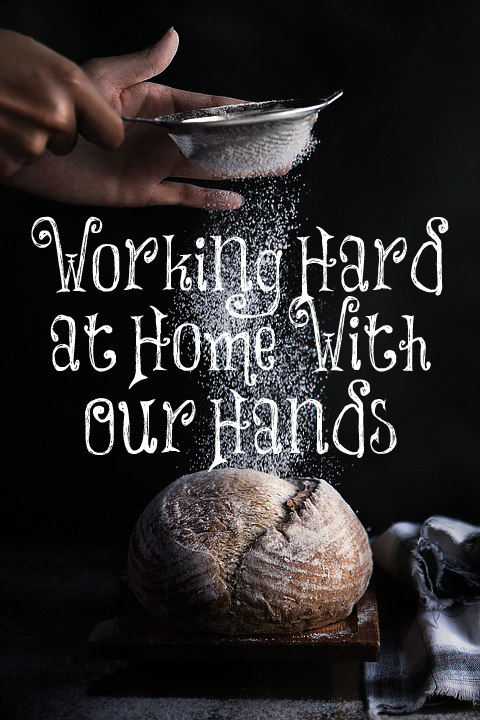 "For ye yourselves are taught of God to love one another…that ye increase more and more; And that ye study to be quiet, and to do your own business, and to work with your own hands, as we commanded you" (1 Thessalonians 4:9-11). What wonderful verses for godly keepers at home to memorize and obey!
Loving God and loving others are the most important commands in the Bible. If we don't love others, all of our work and good deeds are meaningless according to 1 Corinthians 13. What is love? It's being longsuffering, kind, it does not behave itself unseemly, thinks no evil, bears all thing, believes all things, and many other actions listed in this chapter, plus it never fails. Do you have this kind of love towards your husband and are you satisfied with him, because the enemy of your soul will do everything he can to destroy your marriage? Don't let him!
We are to "study to be quiet." It's not in most of our personalities as women to be quiet. I believe this should even include social media. We don't need to give our strong opinions on every blog and Facebook page that we follow. We don't have to quarrel with others to make them see that we are right. This shouldn't be done with our husbands, either. We are commanded to have meek and quiet spirits. This means we don't become agitated, upset, and angry easily. We trust that God is in control, so we live our lives in obedience to His will and trust Him that all things will work out together for good because we love Him and are called according to His purposes (Romans 8:28).
We "do our own business." Our business is in our homes, women, as keepers at home (Titus 2:5). We take good care of our husbands and children. We make sure their needs and more are being met. Our work in our homes is as valuable, if not more, than any job outside of the home that we could be doing or any paycheck we may receive. Don't allow culture to convince you otherwise! As you lovingly care for your family, you are serving Christ! We also look well to the ways of our household and try to do the best of our ability to keep a clean and tidy home. God is a God of beauty and order, so let's determine to be women of beauty and order.
We "work with our own hands." We aren't ashamed of hard work in the home. We are thankful for running water, toilets that need to be cleaned, dishes that need to be washed, diapers that need to be changed, and all of the other labor that it takes to run a home and care for a family. This is your high and holy calling from the Lord. He wants us to do all of these things for His glory!
And whatsoever ye do, do it heartily, as to the Lord, and not unto men.
Colossians 3:23