Watered Down Wedding Vows
Watered Down Wedding Vows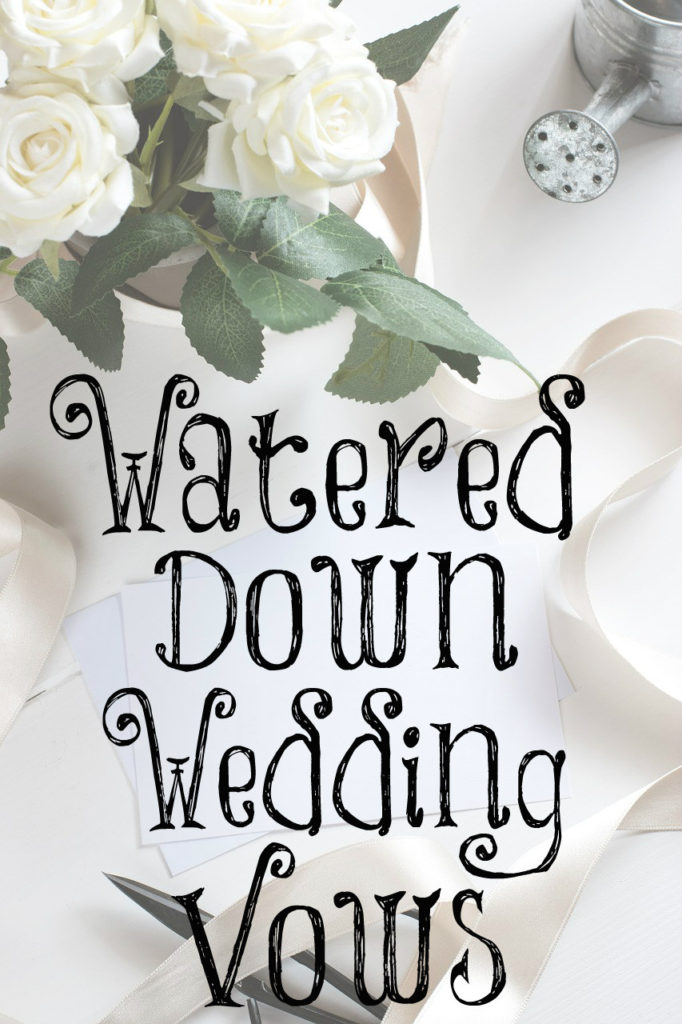 "I just went to a wedding where the officiant talked about headship and submission. He told the groom that he was to love his wife unconditionally and sacrifice everything for her. He told the bride that submission did not mean she had to be a doormat and it did not mean her opinion didn't count and it did not mean her husband was allowed to bully her. He said absolutely nothing about what submission really meant, only what it did not mean.
"This is also a problem with sermons about Ephesians 5 that spend 90% of the time talking about the husband's responsibility, 9% about mutual submission, and 1% listing the things submission does NOT mean."
Mitch made this comment on my post Why I Don't Make a Disclaimer on Every Post About Submission. Can we ask ourselves why pastors and teachers of the word and even Focus on the Family are so afraid to teach about biblical submission? Has feminism impacted the Church so heavily that there are few preachers who teach the truth about a wife's submission to her husband without softening it so much that it's hardly recognizable and gives the wife many ways out of obeying her husband?
My husband married my youngest daughter and her husband four years ago. He laid out all of the biblical commands concerning biblical submission to his own daughter during the ceremony. It was great! Unfortunately at the reception, one man made statements against what Ken had said in the ceremony during his toast. It seems that almost everyone wants to water down what God has to say about it. They seem to fear women, instead of fearing God.
No, we don't need to try to soften God's Word and give all of the exceptions. This isn't our job. It's our job to speak the truth in love. Yes, wives are to live in submission to their husbands and be obedient to them. They are to submit in everything. They are to reverence their husbands and learn what pleases them. Let's focus on doing this and see how many marriages improve instead of giving all of the exceptions and allowing women to be the decider of when to submit and when not to submit. (Of course, a wife should never submit to a husband who asks her to do evil or something that could harm herself or her children. God's will always trumps man's.)
Wives, submit yourselves unto your own husbands, as unto the Lord. For the husband is the head of the wife, even as Christ is the head of the church: and he is the saviour of the body. Therefore as the church is subject unto Christ, so let the wives be to their own husbands in every thing.
Ephesians 5:22-24