We Need More Women Full of Themselves?
We Need More Women Full of Themselves?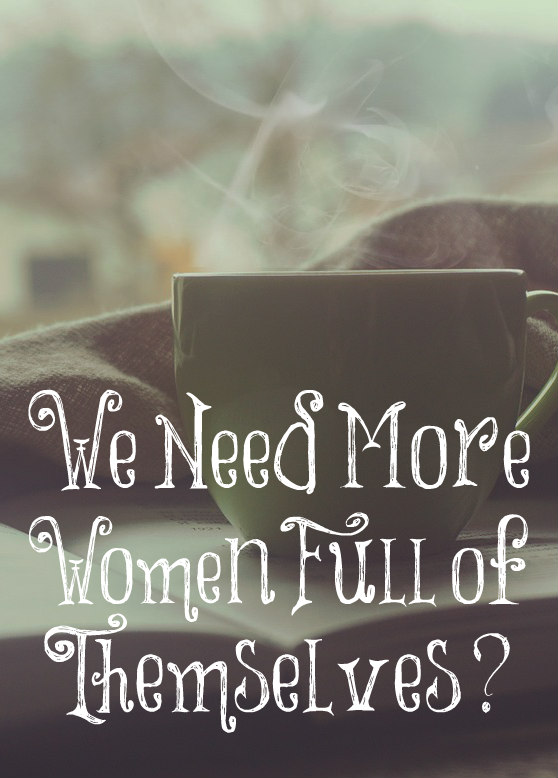 Years ago, I wrote a post about the "Christian" Glennon Doyle who was married to her husband at that time. In the post, I shared how she was acting in open rebellion to her husband and bragging about it. Fast forward five years and she has since divorced her husband and has married a woman. She continues to go around "preaching" as if she knows Truth since she still continues to claim she's a Christian.
She recently wrote a book called "Untamed." Here are the bullet points in her description of her book with her comments in quotation marks and my comments afterwards.
"When women learn how to please, we forget who we are." She's right about this! God commands that we serve; for the greatest of all is the servant of all. Serving helps us to forget ourselves and remember who we are in Christ. This is all we need to remember about ourselves! We are saints, new creatures in Christ, completely forgiven, dead and raised to new life in Christ, and freed from God's wrath to come.
"When women lose themselves, the world loses its way." I agree with this IF she means that when women lose themselves to the world and disregard God's purpose and will for their lives (feminism), then the world loses its way (abortion has skyrocketed, children not being raised by their own mothers, marriage becoming unpopular, and divorce common)  but I doubt this is what she means. It's the only thing that makes sense with what she wrote.
"We do not need any more selfless women. What we need right now is more women who are full of themselves." Wow! This is so unbiblical that I hope all of you can immediately see that this is far from the heart of God and Christianity. We need more selfless women not less. Feminism promotes selfishness. It's all about women and what they want. Christianity promotes selflessness. It's all about others by loving and serving them.
"A woman who is full of only herself no longer internalizes the world's memos and expectations." No, Glennon. A godly woman is so full of Jesus Christ and His Truth that she no longer internalizes the world's memos and expectations. She understands that her value and worth comes from Christ alone and not what others think or say.
"A woman who is full of herself knows and trusts herself enough to say and do what must be done, and lets the rest burn." Just the expression "full of herself" is unbiblical. This usually refers to someone puffed up with pride. And we don't let the rest burn, whatever that means. A godly woman is full of the Lord Jesus Christ and trusts the Lord to give her the strength for what needs to be done, then she leaves the rest in the Lord's capable hands.
Then she wrote, "This is how you find yourself." I guess she thinks you find yourself in her book. God tells us to find ourselves in Him and in His Word. Women, I can tell you that you won't find yourself in her book. You will be more unhappy and dissatisfied with yourself if you read her book. Find Christ. Find what He has done for you. Live for Him. Obey Him. Love him. In this, you will have abundant life!
The thief cometh not, but for to steal, and to kill, and to destroy: I am come that they might have life, and that they might have it more abundantly.
John 10:10