What Concrete Submission Looks Like
What Concrete Submission Looks Like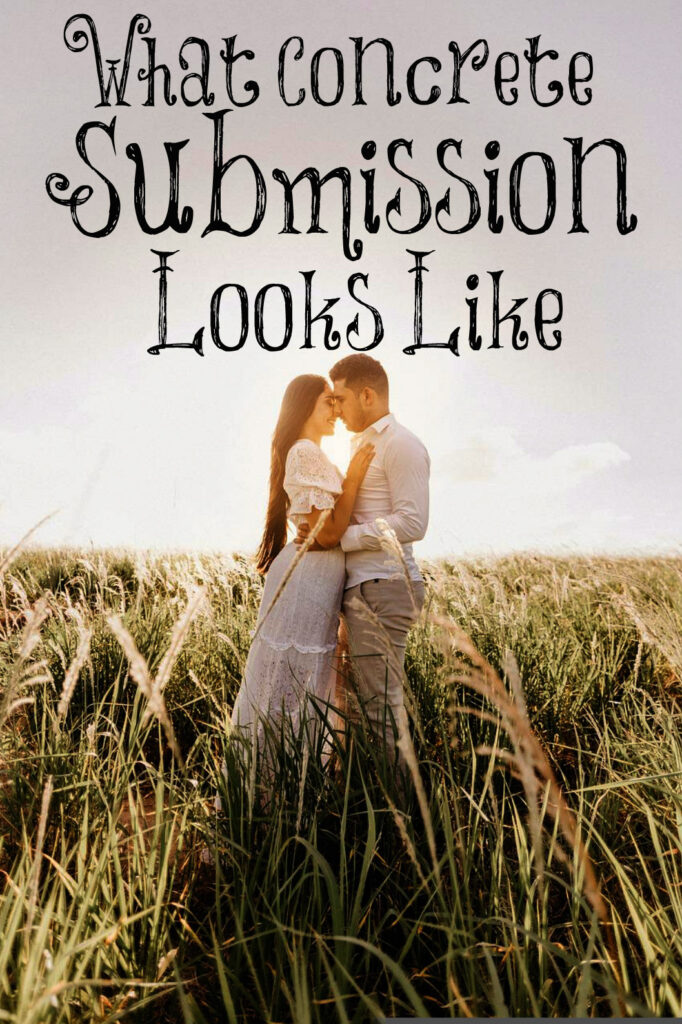 What does submission look like? Very few of us have had godly role models to show us. Laine wrote a letter giving her readers concrete examples of what submission looks like. May you be blessed by her wisdom!
Before I begin sharing concrete examples, however, I must explain that my heart changed toward my husband when I began to fall in love with Jesus all over again. When I began to thirst for His Word and time alone with Him every day, I learned more about submission than I ever realized before. I learned that my eyes had to be on Christ, not on my husband's faults or lack of leadership, as I perceived he should be or should lead. And as I grew closer to Christ, I understood that intimacy with my husband was of the prime importance after intimacy with my LORD.
Now this is the interesting part…as I fell in love with Jesus again, so also, I fell deeply in love with my honey again. That wonderful, honeymoon love that Jesus speaks about when He reminds the church in Ephesus just what they had lost ~
"Nevertheless I have this against you, that you have left your first love." Revelation 2:4
Marriage is a beautiful picture of that first love. My husband is my first love on this earth. I learned that submitting to him was building him up, supporting him, helping him, and in so doing, bringing much respect to him. How could I do this unless I knew his heart? So I set it up in our home that we might have time alone together. Early in the morning, we have the most wonderful talks over coffee. I stopped sleeping in and woke up first with my LORD, and then I was ready with coffee for Art. This started six years ago when my children were four weeks old, two years old, five years old, and eight years old. And it has continued to this morning.
I asked the LORD to help me love him as God intended a wife to love her husband. I started to tell that man of mine two good things a day that I noticed about him. Words like these started to spill out of my mouth ~
"You are so good looking."
"You are a good father."
"I love the way you say, 'Son,' to those boys of yours."
"You are like a fine wine aging just perfectly."
"You bring such good to this family."
"You are such a good provider."
"We always have more than enough with you taking care of us."
"You are so clever with your hands."
"I know you can do it. You always do!"
"You are so generous."
"I love to be with you."
The more I practiced praising my husband, the more I saw him change. In the meantime, I worked on myself. For as I studied the Word of God concerning my job as a helpmeet, I realized that I could bring much respect and honor to my husband by my busy hands, not my busy mouth but my busy hands. And since I have a tendency to have a busy mouth, I had to take some drastic measures. I had to shut my phone down every morning. To this day. Why? Because the morning hours are my most productive hours. As the day wears on, I tend to get more fatigued. So it is best that I don't talk to anyone but my children in the morning, and instead get my hands busy, busy, busy.
How? Concretely…Smile…I started to learn how to better run my home. I began to cook more from scratch, which stretched my husband's income and brought him much delight. I began to study ways to use our money wisely and essentially became his financial advisor. This week we will sign a loan reducing our house payment considerably as I sought out the best loan rate for us. I have done likewise research to get us the lowest car insurance. I use a savings plan for our electricity, reducing my heavy usage to the morning hours. I learned how to do our taxes that we might save there.
I learned how to cut our family's hair that we might save there. I learned how to teach our children that we might give them a private Christian education at a fraction of the cost. I learned to do a lot of writing rather than long distance calling. I learned how to make my home look "country- cozy" at minimal cost from bargain shopping at thrift shops, garage sales, and swap meets. I learned to prepare ahead for my family that I might laugh along with the Proverbs 31 woman at the future. So in the summer, I think winter. And in the winter, I think summer. I learned to shop more wisely with that kind of thinking and preparation.
Presently, I am studying herbs and learning to cook with honey and freshly ground wheat. For I have found that my job in the kitchen is so very important to this family's health. Since I began cooking healthier and learning to use herbs, we have not seen a doctor as much as before. I am also practicing, every now and then, a little sewing, some gardening, and some canning. My desires are to learn to knit and crochet better in the future. I would also like to learn how to quilt and make rugs. Oh, there's so much to look forward to!
For a well run, cozy home, well trained and taught children, good cooking, orderly clothing, and the income stretched to its fullest fruitfulness, brings honor to my husband. And how I have fallen in love with him and want to do just that. For I have fallen in love with my LORD, and now realize the far reaching effects for Christ just such a home has on the many loved ones it touches.
Have I fully achieved such a home yet? No, but it is getting better and better the more I practice at it. Sometimes I get discouraged by my struggle with procrastination and disorganization from so many years of bad habits. Then I remember from where I've come. I use to spend hours on the phone talking to my friends, an hour and a half in front of the television watching soap operas, hours reading romance novels late into the night, and countless hours at the mall and other stores . I don't do any of those things anymore. The LORD has replaced them with so much more and has blessedly taken the junk out of my mind. He has replaced it instead with His beautiful Word.
He has been my strength and my song all along. Now when my husband comes home, he sees a much more peaceful woman. Praise music is in the background; for this keeps my focus on Christ all day. Something good has been cooking or is cooked. His children have been taught, especially in God's Word, so they are different children, as I am a different woman. Our home, to my husband, is one of the most peaceful places on earth. He says he longs to get here after a day at work.
That, to me, is the essence of submission. It is peace in practice. It is a woman (the heart of the home) loving a man (the head of the home) as God intended. It is Proverbs 31 being played out day after day. For in Proverbs 31 the "law of kindness" is on her mouth, while her hands are very, very busy doing good for her family. And a "gentle and quiet spirit are precious in His sight." For if one "controls the tongue, one can bridle the entire body."
It is Mary saying to Gabriel the angel, "Behold the handmaid of the LORD. Let it be done to me according to your word."
A handmaid of the LORD. This is a woman you want to emulate. This is a woman you want to know. A woman who treasures and ponders God's Word in her heart. She is not anxious or upset about many things, that is why God put His Son with her for thirty years. She is favored because of her complete devotion to God and the desire to make herself a servant to His Will; for His great glory. She didn't ask a lot of questions about how He was going to do all this through her, rather she had a gentle and quiet trust in Him.
When a woman will quietly trust God like this and build up her husband, thus building up her home, she will practice "winning him without a word" to the Word, as described in 1 Peter 3. Then he will observe "her chaste conduct accompanied by fear." For the "fear of the LORD is the beginning of wisdom," and this woman is personifying that very wisdom in her home.
Concretely, what can happen? Well, I can only speak from my own home. I now see my husband studying the Word of God and leading our family as God intended. I now see my junior higher reading his Bible every night on his own initiative. I now see my high schooler reading his Bible also every night on his own initiative.
Why? Well, it all started years ago when I decided to take God at His Word in 1 Peter 3:1-2 and quiet my heart each morning alone with Jesus; lay my life down as His handmaid, get my mouth praising and my hands busy, and start building my home as so beautifully described in Proverbs 31. My husband said that my changed life drew him to the Word. And my high schooler said that he wanted to commit to reading God's Word each day as I had. My junior higher wanted to be like his brother. It is truly God's incredible work.
That is why I point to the submission of Christ to the Father when I speak about submission to women and the godly submission of the Church to Christ. This is our perfect definition of submission as wives under our husbands. This godly action is what draws others to our beautiful LORD. Can I do it on my own? No. That is why I need to be alone with my beautiful LORD and Savior every day. I need to know Him and say with Paul, "I count it all a loss at the surpassing value of knowing Christ Jesus my LORD."
Because then I will understand what it means to submit to Him, and… to him, my husband.
For knowing my husband's mind is very important in submitting to him. I found that I could know his mind just the way that I did when I was dating him. How? From lots and lots of conversation together. Communication is the first thing the enemy tries to crush during war time. It is also the first thing our enemy tries to crush in a marriage. To build communication in my marriage, I woke up early to be alone with him. I stayed up late to wait for him.
I made the afternoons special by having tea ready for him when he came home from work. I knew his mind after spending so much time with him. A concrete example is that I knew he liked me home when he came home from work. So I stopped going anywhere that prevented me from being home then on a regular basis. God has rewarded me far more than I have given up. My husband and I are closer than we were when we first got married. But the best part, oh, the very best part, is we are closer to Christ.
Submission works. It is the concrete in a marriage.
Love to you,
Laine
For after this manner in the old time the holy women also, who trusted in God, adorned themselves, being in subjection unto their own husbands: Even as Sarah obeyed Abraham, calling him lord: whose daughters ye are, as long as ye do well, and are not afraid with any amazement.
1 Peter 3:5,6