What If Public Schools Closed For Good?
What If Public Schools Closed For Good?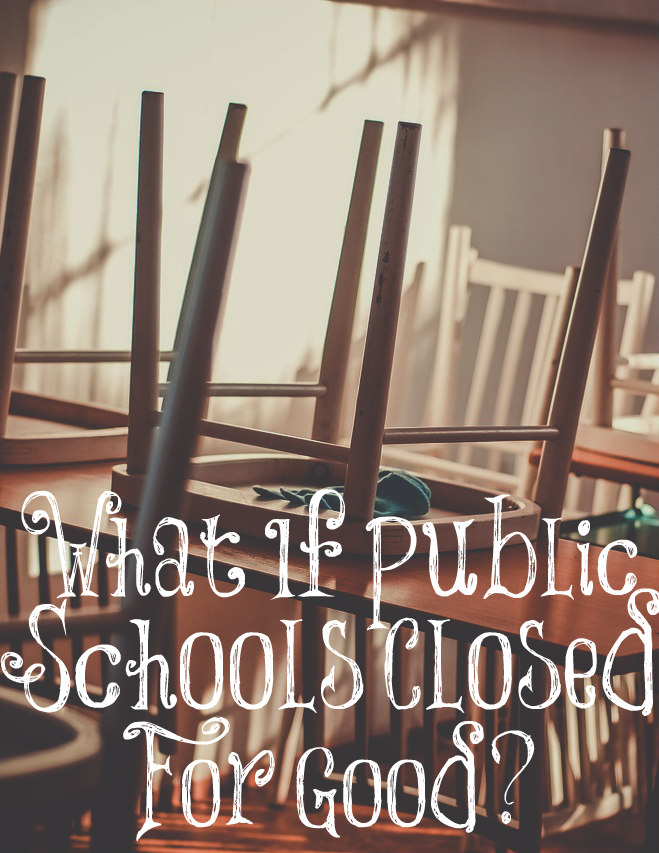 Yesterday, I shared this tweet on my Facebook page: "Since mothers are home full time with their children right now, they are protected from mass shootings, bullying, the Leftist agenda being forced upon them, and glimpses of porn from the peer's smart phones. Public schools should stay closed. Society is better without it."
Paul Dorr wrote the following: "Once the public schools are closed, the compulsory age laws repealed, the state aid tax laws repealed, the property tax laws repealed, and the state corporation laws used to legitimize them are repealed. There will be such a tidal wave of cash that pours back into citizens' pockets that Christians will easily be able to fund their own homeschooling or Christian schools and have vast amounts left over to donate for charity to be used for the righteous and proper training up of the children of the poor. The poor children will have a much better possibility of getting a good education, instead of being used by the public schools as a cash cow under a system where the public schools are gone.
"I have friend who used to be on the board of the ACLU of Missouri and on the board of Kansas City Planned Parenthood. Then she was converted to Christ in her late 30s. She is a powerful advocate for getting the poor children of her fellow minorities out of the truly horrid public schools. I have an old high school friend who set up a K-12 Christian school (600 students) in a metro in the Midwest for inner city kids. He agrees the public schools are destroying them. Want to save poor kids? Get them out of the hellish public stools….errr, schools!"
Many responded to my tweet about the many children who are abused at home and the only safe place is their school. Here is how Paul responded to this argument: "Yep, and most of their abusive 'parents' were raised by this debauched public school system to become the adults they are. Think beyond your personal experiences. The generational curse of public education must end. The alternatives will be far, far better."
I agree wholeheartedly with Paul. The reason so many in this country hate America and want to turn it into a socialist country, which eventually would turn into a communist country, is because they are taught how bad America is and how awesome communism is in the public school system! They have left God completely out of its curriculum and are teaching children vile things. ALL Christians should never send their children back. It's like sending them to Sodom and Gomorrah. God does NOT want your children to learn the ways of the heathen.
Learn not the way of the heathen.
Jeremiah 1:2