Trusting Him in the Fog
Trusting Him in the Fog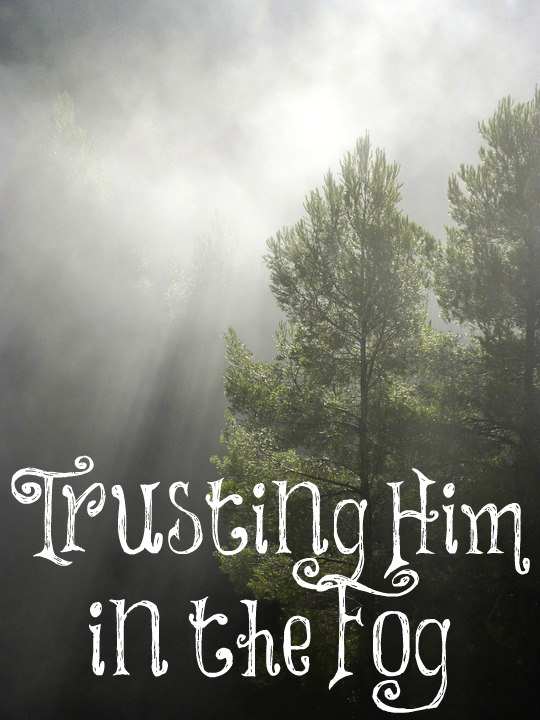 This post was written by a good friend of mine. She has written an encouraging email every Monday of this lock down. Enjoy!
Good Morning,
Welcome to week number ten. The reality of this is sad humanly speaking, but God has gone before us and this is not a surprise to Him and HIS plan will still be accomplished (Isaiah 46:9-11). When we lived in Edmonds, Washington, we were up on a hill with a beautiful view. However, for the first three months that we lived there, we never saw the sun and it was foggy or overcast every single day so our view was limited. One day, I walked out to my kitchen and literally shrieked, "Honey, come here, you've got to see this!" There were gorgeous Olympic mountains right out our windows in the distance and being from California, I didn't even know they were there!
I share this because the beauty was always there. It was just clouded by weather/circumstances and our inability to see it. But after that, even on very cloudy days, I would never doubt that they were there! Our faith is a bit like that. Sometimes, we can't see what God is doing or allowing, and it seems foggy or clouded in our estimation. It doesn't even make sense to us. And yet, God's hand is still there and His plan for each of us and for our country is still working. "The Lord WILL accomplish what concerns me, Thy loving kindness O Lord, is everlasting…" (Psalm 138:8) And living by faith is trusting when we cannot see what's ahead which brings joy to our Savior. "My righteous one shall live by faith; and if he shrinks back, my soul has no pleasure in him" (Hebrews 10:28).
It's so wonderful and peace-giving to know that God's got this and I can trust Him without understanding all that is going on. And one day, the clouds will lift and we will see the powerful, mighty hand of God and all that He has been accomplishing!
I'm not sure of the source of this, but some have credited it to C. S. LEWIS IN 1942. (Whoever wrote it, it's very powerful!)
Satan: "I will cause anxiety, fear, and panic. I will shut down business, schools, places of worship, and sports events. I will cause economic turmoil."
Jesus: "I will bring together neighbors, restore the family unit, I will bring dinner back to the kitchen table. I will help people slow down their lives and appreciate what really matters. I will teach my children to rely on me and not the world. I will teach my children to trust me and not their money and material resources."
This is happening in our midst so resist the fog and trust Him, believe Him, and rest in Him! "Rest in the Lord, and wait patiently for him: fret not thyself because of him who prospereth in his way, because of the man who bringeth wicked devices to pass" (Psalm 37:7).
Dear Jesus,
Some of us are very tired of having our freedoms taken away. We're tired of seeing people be so untruthful and misleading on TV and in the news, and we're tired of not being with our friends and families. We miss our churches. I know that you are aware of each of our hearts and each of our thoughts and struggles so today, we lay them at your feet and ask you to carry them for us.
Help us feel the freedom we have by leaving the weight of our concerns with you, and then remind us through your Word and through prayer, that as we focus our minds on You, You will give us your promised peace. We pray for our President and our leaders to know truth, to lean on You, and to guide with Your wisdom. And we ask that you would comfort those who are deeply hurting during this time. Heal our hearts and our country, dear Lord Jesus! In Your precious name I pray, Amen
Trusting in the fog,