What was Once Normal is Abnormal
What was Once Normal is Abnormal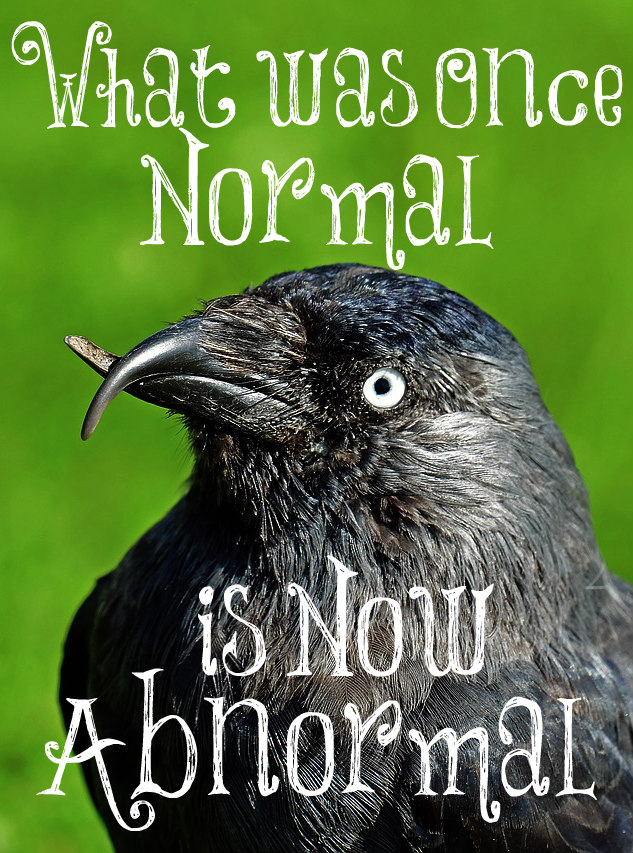 "It seems like our society really started to go down hill after the 60s. Before that decade, there was at least a general acknowledgement of God. Morals and values were rooted in a biblical foundation. It was out of the norm for a married woman to work. It was out of the norm for families to not gather around the table for supper. It was out of the norm for families to not attend church together every Sunday. Now, being a homemaker is abnormal, eating a home cooked meal together as a family is abnormal, setting aside Sunday as the Lord's day is abnormal. Women have all the freedom and rights they could possibly want, and just look at our society now. I don't know how we could possibly be any more discontent and depressed." (Jill Todd)
Did you know that before the 60s and even for some time afterwards, almost everything closed on Sundays so all of the workers could go to church? Our nation acknowledged the importance of church and many attended. People didn't mock Christians but instead most called themselves Christians even if they were not.
Did you know that public schools used to begin their day with the pledge of allegiance and prayer? Yes, the children were taught to be thankful for the country that they lived in and the freedoms they had. They were taught the truth about the history of this nation, and God was incorporated into the day.
As we have thrown God and prayer out of everything, our culture has sunken into wickedness as no one could have even imagined. I saw that some activists want to give all children hormone blockers until they are at the age when they can decide what sex they want to be. Who could have ever imagined that something this evil and depraved would even be mentioned in our nation? The Left wants to get rid of prisons and police. They don't want justice and righteousness. No, they are the servants of Satan and are doing his will.
We are a remnant and will always be a remnant. The one good thing about this wickedness abounding is that it is separating the wheat from the chaff. People who call themselves "Christians" but then support what God hates, are not Christians at all. True believers in Jesus Christ love His Word and His ways. They march to the beat a different drum than the world marches to. They don't mind being hated by many, because it's only God that they serve and want to please.
Yes, we are abnormal, women, and that's okay. God's ways are abnormal in a wicked society, but they are good. Keep walking in obedience to Him and in doing this, you are being salt and light in a wicked generation.
Thus saith the LORD, Stand ye in the ways, and see, and ask for the old paths, where is the good way, and walk therein, and ye shall find rest for your souls. But they said, We will not walk therein.
Jeremiah 6:16