Marriage is More Important Than Co-Sleeping
Marriage is More Important Than Co-Sleeping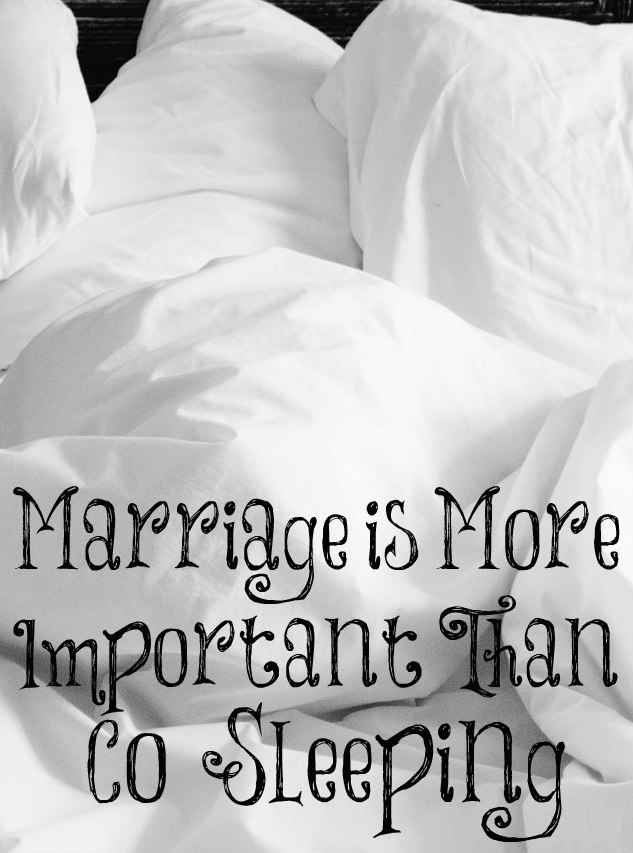 Women become furious when I teach against co-sleeping. If your husband is absolutely fine with it (some men love it!), then it's fine to do BUT if your husband doesn't want co-sleeping, then it's wrong to do. Your marriage is WAY more important to your children than co-sleeping. Wives are commanded to obey their husbands in everything! A husband asking his wife to not co-sleep with the baby/children is not sin. "Oh, but a mother's intuition should take precedent over what a husband wants!" No, it should not.
The same goes with "crying it out." Many women will say this causes harm to the babies. Crying never harmed anyone. In fact, as my older, godly friend told me recently, crying is good for babies. My first born cried almost every waking moment due to cholic her first three months, and she's fine as are all of the other babies who cried a lot due to cholic or sleep training. Yes, babies/children NEED a ton of love and affection. If they don't have this, they will suffer terribly but NOT from crying.
Here's a man's experience with co-sleeping from my post Co-Sleeping Destroyed His Marriage (which is a story of another man's experience with co-sleeping):
We're still married.
So what. I'm typing in my bed, alone. We did the co-sleeping thing and now we are just roommates. My wife is out in the living room right now, sleeping while the TV plays one episode after the next of CSI or some other such nonsense. Our kids all sleep in their rooms now. They are 16, 14, and 11.
Sex? I have to beg and bargain for it. And I finally told her, "Don't come into the bedroom unless sex is on the agenda." Sounds cruel, doesn't it? Unless you know how it got to this point. Co-sleeping was a BIG part of it.
When our first was born, my wife thought it would be a good idea to use one of those co-sleeping setups that was all the rage. I never heard of it. But, I figured it would just be a short term thing, and it made sense because my wife was going to be breastfeeding. I don't remember any strong objections or warnings from friends or family. But I do remember that neither I nor my siblings EVER slept in our parent's bed. And my parents confirmed that it just wasn't done.
Well, it came time that it started to get really old, and I wanted our son to stay in the crib that I and his grandfather built for him. The boy was strong-willed and my wife was not. I got some backup from our pediatrician, that letting him cry it out would solve the problem. Well, the expert opinion wasn't good enough for my wife. After all, the pediatrician "was a MAN, not a mother," so what the h*ll would he know? Besides that, letting the boy cry out would cause PTSD, she insisted. When pressed on it she finally said "I cannot take it. I have to go into his room," because I stopped allowing him to sleep in our bed.
The mattress she slept on beside his crib became the the toddler bed that she would sleep in with him. He didn't stop sleeping in our bed. Occasionally, If I came home late from work, he would already be in our bed with my wife. Sometimes I would engage and put him back where he belonged. And more often than not, my wife would shortly join him in his room.
Our other two children, girls, came along. And they weren't as much of a problem with the co-sleeping thing. Fast forward a few years, and someone got us this "wonderful" couch bed. So, mommy and one or all three kids could sleep in the living room with the non-stop TV in the background. For the most part, the girls slept in the bedroom they shared and my wife slept in my son's bed. Once in a great while, our son slept in our bed but I was getting hostile to that.
A breaking point came. I came home late and was about to get in bed with my wife. And it just struck me that my son was 11 years old and almost as tall as my wife and there he was in the place I'm supposed to be. I ripped off the blankets and yelled, "No more sleeping with my WIFE!" He ran to his room crying; my wife yelled at me for "overreacting."
He never slept in our bed after that. But, eventually he and my wife ended up sleeping in our living room; my wife in an EZ chair and my son on the couch. And those pieces of furniture were slowly destroyed; they weren't built for such repeated use.
My son is 16 and in his room now. And my wife has been in the living room ever since. I text her to proposition her for sex. Sometimes, she obliges. Most times she ignores me. Effectively, she's a roommate that I occasionally "get lucky" with.
Some people think the opposite of "love" is "hate." I used to think so too. It's not. The opposite of "love" is "indifference." Years ago, I used to warn her, "At some point, I am no longer going to care enough to do therapy and counseling or whatever if I don't see some type of effort on your part." Well, I am THERE now. If she left me, it wouldn't break my heart.
Don't do it. Co-sleeping wrecked our marriage.
Therefore as the church is subject unto Christ, so let the wives be to their own husbands in every thing.
Ephesians 5:24