Why Aren't Women's Ministries Teaching Biblical Womanhood?
Why Aren't Women's Ministries Teaching Biblical Womanhood?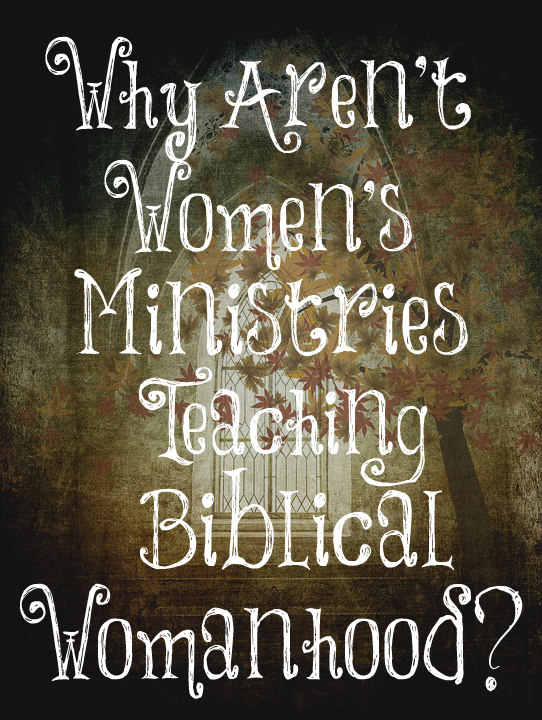 The first Women's Bible Studies began in the mid-1800s by Katherine Bushnell when women began watering down the language in the Bible towards women. The way they by-passed the limited role of women in the churches was by focusing upon the verses about the equality of men and women, then pointing out those women in the Bible who had leadership roles (all from the OT: Deborah, Ruth, and Esther). They even wrote a Woman's Bible in the late 1800s.
Thus, we get all of the arguments against the commands for women to be silent in the churches back in the Apostle's day because the women were "unruly and loud" during the church gatherings. Another made-up argument is that as long as women are under the leadership of the church, they can preach and teach as much as they want. The Bible verses that women are to be silent in the churches no longer applies. Yet, another argument is that the women were teaching inappropriate things, therefore, as long as they are teaching appropriate things, it's fine for women to teach the Bible in the churches to men and/or women.
From this, women began teaching egalitarianism within marriages (mutual submission) and that there is no authority structure in marriage, thus we have the Christian feminists who believe it's fine for women to preach/teach the Bible in the churches and have egalitarian marriages. You won't find any of the famous female Bible preachers/teachers teaching true biblical womanhood (especially being keepers at home and being silent in the churches) because they would have to quit what they are doing if they did.
This is what makes it difficult for women like me to teach biblical womanhood. Women have all of the arguments against submission, being keepers at home, the authority structure in marriages and churches, and women being silent in the churches from those who have found all of the excuses why this no longer applies to women today. Every day I receive comments from women trying to water down what I teach by the arguments from the Christian feminists.
Here are some portions of an article written by Audrey Broggi about the problems that have been caused by women in ministry and the negative effects that this has caused for those who want to live out true biblical womanhood.
This seemed to be an emerging mindset as full time career ministries for conservative women was taking shape. Home and family, domestic things – things like preparing meals, cleaning, doing laundry, educating the children – all of that – get in the way of ministry. Those things rob you of the walk with God you could have, the ministry you could be doing, the potential your life could have.
The mindset was growing in our American Culture, even among believers, is that we must get rid of the domestic scene to have ministry.
But when you study God's Word, you find that He spends much time in the Scriptures instructing in these domestic issues.
After all, He is One Who made woman to be a helper suitable for her husband and called her mother in Genesis. He is the Author of Proverbs 31 and shows us how domestic she was and that it was her husband and children who called her blessed.
But somewhere along the way, Christian women listened to the culture and all the empowerment of women mantra and decided they'd rather have the corporate world, the real ministry world, or the girl's club, and have all the women (and men) out there call them blessed.
Who cares what the hubs thinks, much less the children.
Yet Scripture is so clear. God is the One Who said He wanted young widows to get married, bear children, and keep house in keeping with the role of young women. He is the One Who described a godly, older woman as someone who has brought up children and been the wife of one man among humble attributes. He's the One Who said He wants women to be workers at home and included a laundry list (no pun intended) of six other domestic duties in Titus 2:3-5. And He is the One Who said the best teachers of these things are the godly, older women in the church. In fact, He actually commanded the older women to be godly and then gave the ministry of the young women to them, including the curriculum! I think that's a tough sell in our day of career ministry women. Oh, the older women (and the young women) will teach alright – they'll teach like the men – but the list in Titus? Isn't that a little sexist?
Think about this for a moment. How can I teach something that I feel is so mundane, so old-fashioned, limits my personal ambition and potential, and that I really don't believe is all that important? Do I just ignore the passages for women? Or do I twist them to say something they don't say? Do I say Paul or God didn't understand the culture and this was written for another time? Or do I write a book and take Scripture out of context and end up making fun of it all the while saying that was not my intention?
Other questions emerge. As a woman teacher, do I begin to travel all over the country (and/or world) consistently leaving my husband, children, and the domestic scene – the very place God has charged me with keeping?
See, if I do women's ministry God's way – rather than staying in nice hotels, traveling on a regular basis, receiving per diem, having a publishing industry push me to an adoring public, having a fan base and sold-out arenas – I will only have little fans who ask me for more than my autograph and a picture; they want me to read a story. They want me to answer their questions and tuck them into bed at night. They are my groupies.
And neither will she get to leave her home for extended times of seclusion so she can hear from God and write Bible studies to tell women how to live in His presence. Imagine that. She'll have to learn to hear from God and live in His presence while making sandwiches for toddlers who like peanut butter. She'll have to lunch with a 4-year-old who asks how stars stay in the sky rather than discuss her husband and theological matters with other women at Starbucks.
Because I have to tell you – not once at that training conference [to teach women the Bible] did those older women who led the training speak to me or any other of the young mothers in attendance about seasons of life, about the priority of home and family. Not once did they challenge me about God's very specific instructions in His Word about the high and holy ministry of home and family. Not once.
Yet that's exactly what God says the older women are to teach the younger women. That laundry list in Titus doesn't get top billing at a woman's ministry conference. In fact, it gets no billing.
Over the years, I have learned that almost none of the big name women Bible teachers help women in this area. There has been one – and in those years, she was single. Think of the irony of that. It's sad but even though so many women may not mean to, they seem to see the years of raising a family as something to get through and work around till you can get to real ministry. It is so sad.
"Where were the godly older women in her life who could help her fix her relationship with God and show her how those years of small children, small little toys, and small little words were exactly the ministry God wanted her to have? Where were the women who could help her and nurture her and come alongside so she could view her home and her life with small things from God's perspective?"
So many Christian women in the '50s and '60s listened and neglected the home, the family, and turned to other gods. Armed with college degrees, a growing women's movement, birth control, reproductive freedom and I-don't-need-a-man mentality; some sought careers, others sought playtime and leisure, while others were bored finding new ways of freeing themselves from responsibility.
All seemed to think home was drudgery.
But see, this condescending view of children isn't just the mindset of a select few believers. This is the mindset of thousands of Christian women. I've gotten so many invitations to big ministry events for women leaders and do they teach how to teach and counsel women in the roles for women God has outlined in Scripture? No. It's too controversial. It makes women feel judged. We don't want to offend.
You know, God never speaks negatively of children in the Scripture. He never says that children shut you up, keep you away from all that is happening, and keep you from being involved in anything your heart loves. Never, not once. You search all of Scripture and you'll never find that kind of thought. In fact, you'll find just the opposite. See, God says that children are fruit of the womb, blessings, rewards, arrows in the hand of a warrior. Oh, Christians will affirm that truth with their lips – but their hearts are very far from it. It's no wonder God says that young women need to be taught to love their children.
Women in ministry are giving lousy advice, by their lifestyles and their words, to the next generation. If you're a young mother – better watch out. And you'll have to decide where your heart really is and what it longs for. You want the affirmation of all the women out there or do you want to be faithful in the difficult nobody-sees-it world of home? Who do you want to call you blessed?
If you're a young woman reading this, please don't get distracted. You only have a window of time to be faithful as your children are growing up. This is real ministry.
She looketh well to the ways of her household, and eateth not the bread of idleness.
Proverbs 31:27