Birth Control, Pornography, and Abortion are Intrinsically Linked
Birth Control, Pornography, and Abortion are Intrinsically Linked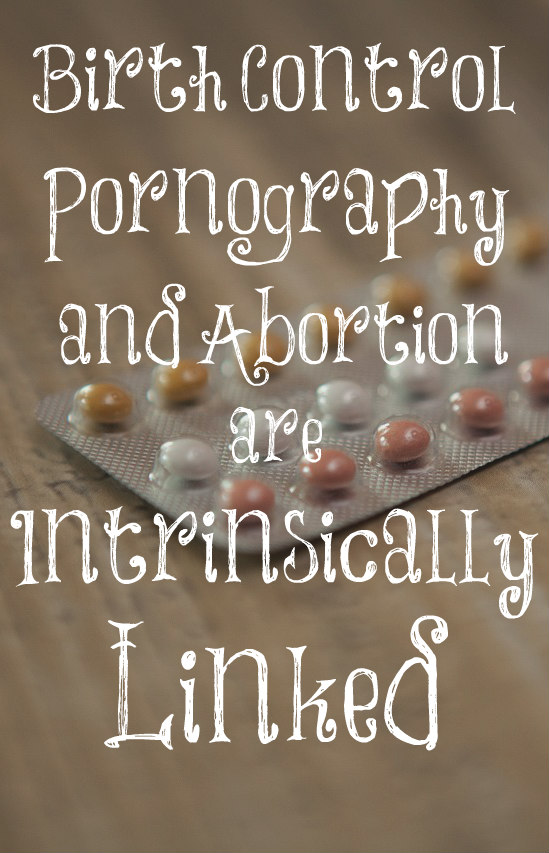 In a video called The Baby War: Defenders and Defectors, we are taught the history of birth control in America. Doctors in the 1800s warned against contraceptives and how detrimental they were to a woman's health. They saw nothing good about them and even found them repulsive. "The evil result of the whole system of avoiding offspring in the married state are so palpable and so gross, that one can scarcely find language strong enough to denounce it in suitable manner" (Dr. E. M. Buckingham, 1867).
Before 1930, all churches and religions fought hard against birth control but in 1931, The Washington Post wrote an article called "Federal Council of Churches of Christ Accepts Birth Control." Not all churches and religions had actually accepted this (which was only acceptable within marriage at the time) and continued to fight against it. In The Washington Post article, the author wrote, "The committee's report, if carried into effect, would sound the death knell of marriage as a holy degrading practice which would encourage indiscriminate immorality. The suggestion that the use of legalized contraceptives would be 'careful and restrained' is preposterous."
Margaret Sanger had come on the scene by this time and was actively promoting birth control. Planned Parenthood and Margaret Sanger's goal was for couples to have sexual pleasure without responsibility by completing divorcing sex from procreation. This is not from God and stirred up a lot of contention but the churches finally caved to the pressure. Once birth control was accepted, eugenics (the science of improving a human population by controlled breeding to increase the occurrence of desirable heritable characteristics) and overpopulation (due to the book "The Population Bomb") became popular and the culture bought both of these myths hook, line, and sinker, including Billy Graham. He had seen the human suffering going on in Africa and thought that it was from overpopulation. Now, we can see that it's the result of war and corrupt governments, not from overpopulation.
Soon after this, Roe v. Wade became the law of the land. Once birth control was allowed, those who had fought so hard against birth control knew that sex would be used for licentiousness and recreational sex outside of the bounds of marriage and would retard the purposes of marriage that God had designed. Also, licentiousness due to birth control breeds an abortion atmosphere and we can see this to be true with over 60 million abortions performed since then.
Marriage today, sadly, has been reduced to two consenting adults who pursue their own pleasures. The Church lost the fight against gay marriage when they divorced marriage from procreation."You can't separate cleanly and neatly pornography, birth control, and abortion," said Anthony Comstock who had fought hard against birth control, pornography, and abortion and kept them illegal in America for many, many years until he died in 1915.
Doctors who once fought against birth control because they knew the harm it was to women and marriage, now support it and want taxpayers to pay for it. (By the way, ALL birth control pills can cause abortions. Read the insert.) It's time to reconsider the way we view birth control, women. God views children as a blessing and good. After all, He is the One who creates life.
Thy wife shall be as a fruitful vine by the sides of thine house: thy children like olive plants round about thy table.
Psalm 128:3
*Yesterday, I made a video related to this topic titled "Unplanned Pregnancy is a Satanic Lie."