Women are Destroying the Medical Profession
Women are Destroying the Medical Profession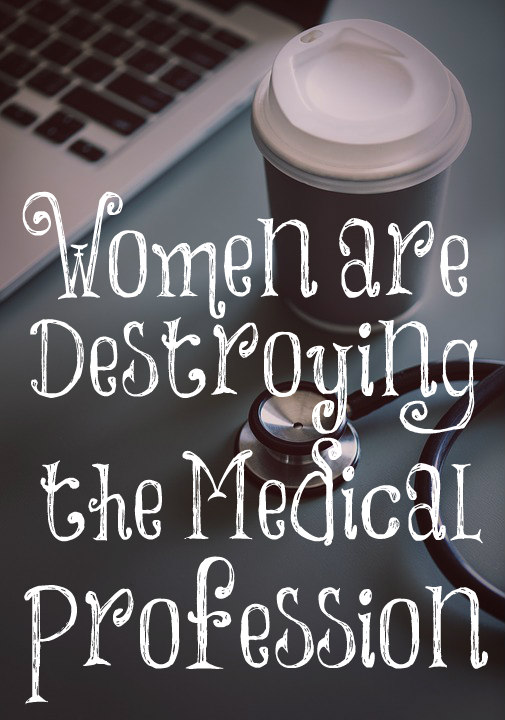 Feminists cheer that more women than men are entering medical schools but they have short-term vision. This is devastating to the medical profession since women have a much greater chance of only working part-time while men work full-time. Men were created to be the supporters of families and women were not. Women are taking men's positions in medical schools that should belong to men.
This country needs more mothers at home full time raising their own children than it needs female doctors. Men can be doctors but they can't be mothers. Only mothers can be mothers and NO ONE can replace a mother in a child's life.
According to an article from the UK, part-time women doctors are creating a timebomb. In 2017, more women than men enrolled in medical schools. This is tragic not only for health care but for children! We can't expect to disobey God's clearly stated word (that women be keepers at home) and expect good to come out of it.
"A 15-year follow-up of doctors after graduation showed that on average, after career breaks and part-time working are taken into account, women work 25 per cent less than their male counterparts. The problem, put starkly, is that the average male medical graduate will work full time, while the average female won't. This means that the state will get more man-hours out of a male graduate than a female graduate.
"The problem is starting to affect both hospitals and primary care. Some 38 per cent of female consultants work part-time compared to five per cent of the men. Two thirds of GPs are women, with a large proportion opting for less than full time work. As medicine becomes a female-majority profession, this is only going to get worse."
No long-term good comes out of women leaving their homes. Nothing. Satan convinced women to spend years and a lot of money getting a higher education and then a degree. When they finally have children, they still have their God-given instinct to care for their children, thus they are in conflict with what they were convinced about concerning their career and being with their children. Their children are the ones who suffer and society is suffering too.
Some women will proudly tell me that their sons have married doctors or that their daughters are doctors. Silently, I grieve for the lack of grandchildren they will most likely have because of this decision. No, I don't rejoice with them. I would rather tell others about the grandchildren my children are raising and that their mothers are home with them full time. I would rather tell them that my children valued their children over careers. God values the job of keepers at home and raising children over careers for women so we should too.
She looketh well to the ways of her household, and eateth not the bread of idleness.
Proverbs 31:27