Women are Easily Swayed By False Teachers
Women are Easily Swayed By False Teachers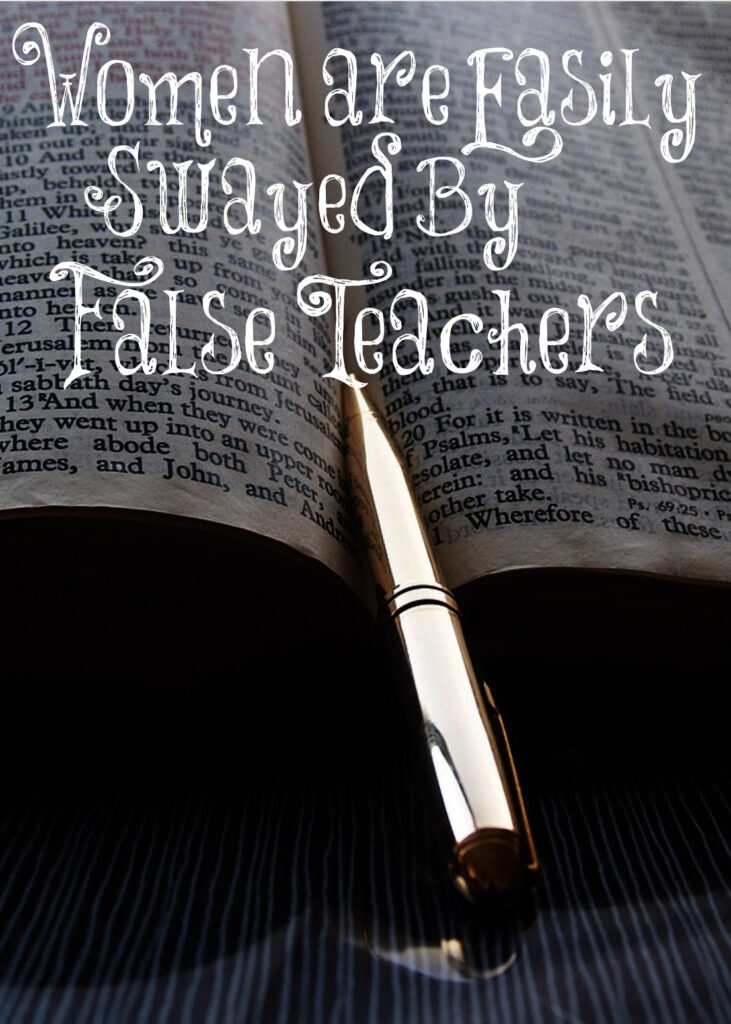 We are told that Eve was deceived, but Adam was not. This is why women are forbidden from teaching in the churches and having authority over men. "But I suffer not a woman to teach, nor to usurp authority over the man, but to be in silence. For Adam was first formed, then Eve. And Adam was not deceived, but the woman being deceived was in the transgression." (1 Timothy 2:12-14)
False teachers will tell you that just because Eve was deceived doesn't mean that all women are easily deceived. Is this true? No. Who do the false teachers target? "For of this sort are they which creep into houses, and lead captive silly women laden with sins, led away with divers lusts, Ever learning, and never able to come to the knowledge of the truth" (2 Timothy 3:6,7). It's women that they go after to deceive!!!
This is why false female preachers are abounding and leading many, many women astray. From Beth Moore, Priscilla Shirer, Lysa TerKeurst, Christine Caine, Jennie Allen, Lisa Bevere, Jen Hatmaker, and many more are preaching and teaching false doctrine to women while in rebellion to God by preaching in the churches. Read all about them here. Not one of them are biblically qualified to do what they are doing.
They are creeping into the Women's Bible studies, the church gatherings, and into women's home via books and the Internet leading captive silly women laden with sins away from Truth and into a false gospel. What should they be teaching? The only doctrine God qualifies older women to teach the young women is biblical womanhood clearly spelled out in Titus 2:3-5. Do any of them teach this? No, because they would then disqualify themselves when they came to the part about women being keepers at home (Titus 2:5) and silent in the churches (1 Corinthians 14:33-35 and 1 Timothy 2:11).
Women, do not be one of these silly women laden with sins! Don't sit around all day watching soap operas, TV shows like The Bachelor, following all of the gossip on Hollywood stars, and learning from the many false female preachers. The only way to become wise is to be consistently in God's Word and learning from godly male preachers. If you are attending a Women's Bible study that is studying from a woman who teaches nothing about biblical womanhood, leave. Learn at home from godly, older women on the Internet or from books instead. (Look in my saved stories on Instagram for my favorite books from godly, older women.)
No longer be women who are easily led astray. Measure everything you hear to God's infallible Word. Dwell on only those things that are true, honest, just, pure, lovely, and of good report (Philippians 4:8). This will not only bless your husband and children but many who know you too. There is a HUGE shortage of godly, wise women. This world is in desperate need of them. Begin to become one today! Time is short. Jesus is returning. Women need to know and live out Truth.
Those things, which ye have both learned, and received, and heard, and seen in me, do: and the God of peace shall be with you.
Philippians 4:9