Women in the Workforce Have Hurt Men's Ability to Provide for Their Families
Women in the Workforce Have Hurt Men's Ability to Provide for Their Families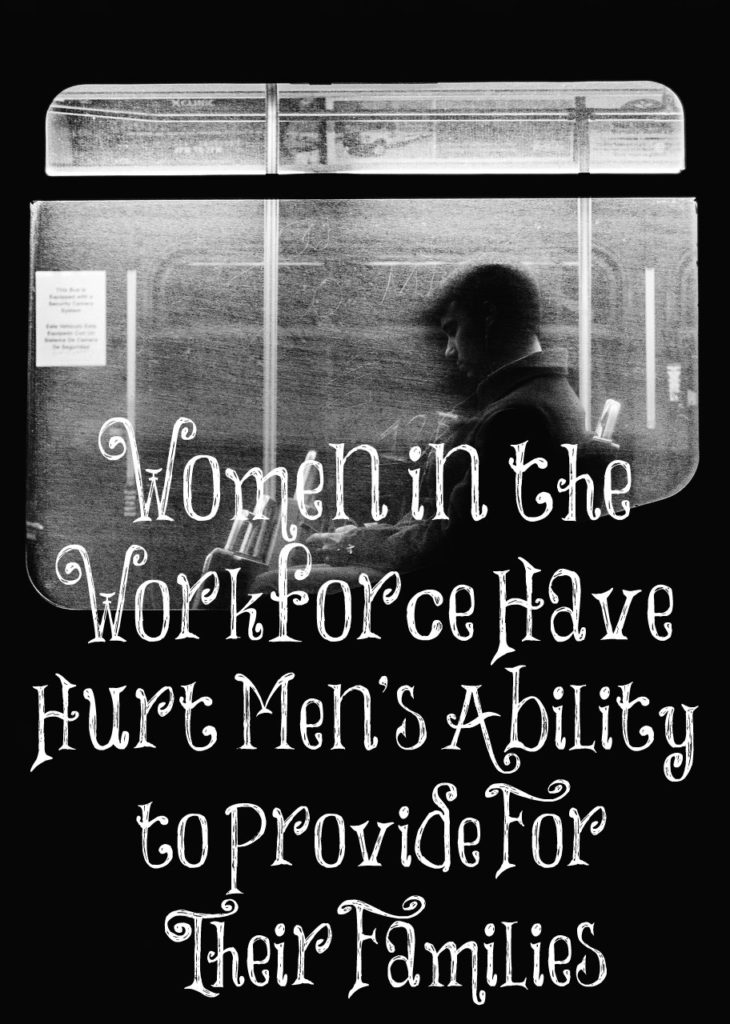 "We Christian women, too, have our standards for husbands and what are the chances that there are people who meet our standards. Thus, making it really hard for us to find husbands that will protect, love and provide for us!" wrote Suzie on my post Men Prefer Debt-Free Virgins Without Tattoos.
The results of sin that were given to Adam and Eve after the Fall correlated to their God-given roles. Work that men were required to do to provide for their families would become much harder and a burden. Women would endure suffering through childbirth. A man who doesn't provide for his family is worse the an unbeliever, the Lord tells us in His Word (1 Timothy 5:8). Women are to be keepers at home (Titus 2:5). God's roles are clear to us but when women leave their role, it's makes it harder for men to do their role, as Jeff so clearly explains in his answer to Suzie.
 "Suzie, it's growing harder for men to protect, love, and provide for women because feminism put women into the workforce to compete AGAINST men for jobs, money, and power. This has resulted in less jobs, money, and power for men in society as women make up nearly half of the workforce today. And men without jobs, money, or power do not attract females and/or lose the female they had via divorce.
"This social change of putting women to work has worked out mostly to the benefit of the government (two incomes to tax instead of just one) and to the benefit of businesses that are able to select the most qualified person (male or female) for the job willing to do the work for the least amount of pay and benefits. They have also slashed benefits greatly because they have such a huge pool of candidates desperate for work with both sexes competing against each other and desperate for work. There's virtually no companies that offer pensions anymore. It's their intent to just keep people working until they drop dead from old age without ever being able to retire.
"CEOs are raking in tons of cash for themselves today compared to historically when just men worked jobs. CEO pay has significantly increased while the average worker has stagnated or even dropped in some cases in the past 40 years. Government has also gained a tremendous amount of revenue with the dual-tax of both a man and his wife's income. Clearly businesses and government have no desire to go back to women staying home because they would lose tons of money. Government would be forced to reduce its size and that would result in less control over the people.
"It's only individual men and women that can see what's going on that want to go back to the way things worked best between the sexes. But other individual men and women are married and both are making tons of money and they like this current system, too. But they, the ones going back to traditional roles, are the rare exception the rule.
"Most people are still drinking the poisoned Kool-aid and buying into the idea that it's 'female empowerment' for women to be challenging men for jobs, money, and power and that it will somehow result in a better nation for women, men, and children. But the reality is that when a woman takes a job away from a man in society, that's a man who can no longer protect or provide for his wife, which results in his wife leaving him and/or seeking work (and thus taking another job away from another man making the problem worse). No wonder divorce rates are through the roof today!
"Men can't thrive in this toxic environment and neither can women because when men fail, women and children fail also. We both need each other and need to be doing equally important but separate roles in society when it comes to family. Makes more sense for females to be home raising children since males cannot lactate and women tend to be a lot cleaner than men, plus young children tend to be a lot more attached to their mothers than their fathers.
"It's all about greed and people are being duped and used like willing slaves by those in power to keep making themselves richer. Women are tempted by the idea of having their own spending power for their own materialistic wants and men are tempted by the idea that having more money will lead to winning over a more beautiful looking wife. And it's true that men who make more money tend to have more beautiful wives since money seems to be the key thing women are looking for out of a man since it takes money to be protect and provide for in today's world instead of muscles. Obviously, that's gold digging on the part of women. It's a bad system all around.
"In order to right wrongs, it would take women to collectively return to the home and drop out of the workforce. And I don't see that happening so long as it's taught to girls to go off and be just like boys in life and spread this lie that men just want to hold women down and out. Men love women and want to have a woman to cherish and love. But of course, feminism was used to distort the truth and make men out to be 'bad guys' that women should not trust or depend on but challenge for jobs, money, and power.
"A lot of the breakdown in marriages today is also due to men and women being too much alike. Men and women are doing too much of the same thing – working and making money. And that means other aspects of family life are being neglected. Especially children. Everybody is worse off for it. Men, women, and children.
"Too much greed in this HIGHLY materialistic society. Feminism was just a tool the government used to play women against men and to dupe women into working jobs and competing against their own husbands.
"It's going to take more than just spreading the word of God around to get women to go back. It's going to take God's punishment for it to happen when western nations collapse in on themselves. And that's already happened in some places. Germany, for instance, has a negative German birthrate today. This means that more Germans are dying than being born to replace them. Well, instead of encouraging female Germans to go home, marry, and have children to save their nation and race, the German government is in-fluxing foreigners from the middle east to replace the native population instead. Apparently, money matters more than preserving an entire nation and it's native inhabitants.
"They simply REFUSE to end feminism because it makes them (the German government and businesses) tons of money to have women working and competing against the men in society. But when it results in low birth rates because the native men and women are no longer getting married or having children, to the place the nation can no longer sustain itself, their government's answer is to bring in outsiders to replace the natives who were duped and used by their government and businesses via feminism to make their government and businesses tons of money."
The thief cometh not, but for to steal, and to kill, and to destroy: I am come that they might have life, and that they might have it more abundantly.
John 10:10