Social Justice and the Gospel
Social Justice and the Gospel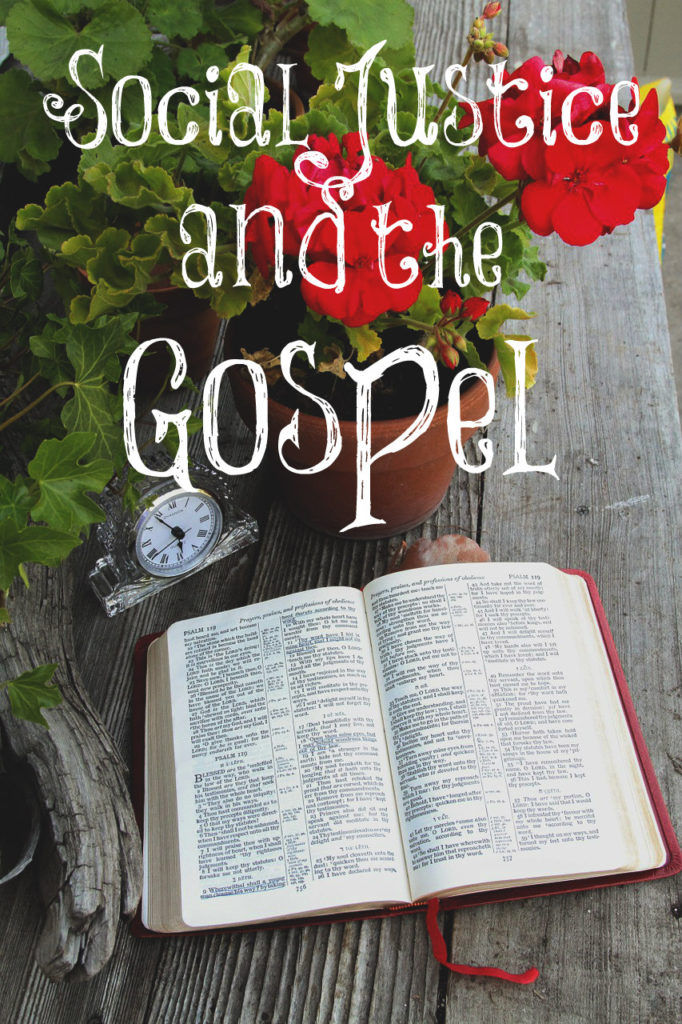 There is a statement on social justice and the gospel being spread around and anyone who believes that it is true is encouraged to sign it. This is the basis of it: "WE AFFIRM that the Bible is God's Word, breathed out by him. It is inerrant, infallible, and the final authority for determining what is true (what we must believe) and what is right (how we must live). All truth claims and ethical standards must be tested by God's final Word, which is Scripture alone."
I believe this with all of my heart, mind, and soul. I believe the word of God as written and don't try to water it down or twist it to say something that I want it to say. I love the Lord and His word. I teach all that it has to say concerning biblical womanhood every day. I see way too many churches having women preach, women preachers/teachers teaching false doctrine, and "Christian" bloggers tickling their readers ears. This is an important document as we see the Church growing more and more lukewarm.
Here are two of my favorite things that this statement affirms. Please study it and sign it if you agree. We sure did!
Sexuality and Marriage
"WE AFFIRM that God created mankind male and female and that this divinely determined distinction is good, proper, and to be celebrated. Maleness and femaleness are biologically determined at conception and are not subject to change. The curse of sin results in sinful, disordered affections that manifest in some people as same-sex attraction. Salvation grants sanctifying power to renounce such dishonorable affections as sinful and to mortify them by the Spirit. We further affirm that God's design for marriage is that one woman and one man live in a one-flesh, covenantal, sexual relationship until separated by death. Those who lack the desire or opportunity for marriage are called to serve God in singleness and chastity. This is as noble a calling as marriage.
"WE DENY that human sexuality is a socially constructed concept. We also deny that one's sex can be fluid. We reject "gay Christian" as a legitimate biblical category. We further deny that any kind of partnership or union can properly be called marriage other than one man and one woman in lifelong covenant together. We further deny that people should be identified as "sexual minorities"—which serves as a cultural classification rather than one that honors the image-bearing character of human sexuality as created by God.
The Church
"WE AFFIRM that the primary role of the church is to worship God through the preaching of his word, teaching sound doctrine, observing baptism and the Lord's Supper, refuting those who contradict, equipping the saints, and evangelizing the lost. We affirm that when the primacy of the gospel is maintained that this often has a positive effect on the culture in which various societal ills are mollified. We affirm that, under the lordship of Christ, we are to obey the governing authorities established by God and pray for civil leaders.
"WE DENY that political or social activism should be viewed as integral components of the gospel or primary to the mission of the church. Though believers can and should utilize all lawful means that God has providentially established to have some effect on the laws of a society, we deny that these activities are either evidence of saving faith or constitute a central part of the church's mission given to her by Jesus Christ, her head. We deny that laws or regulations possess any inherent power to change sinful hearts."
For the word of God is quick, and powerful, and sharper than any twoedged sword, piercing even to the dividing asunder of soul and spirit, and of the joints and marrow, and is a discerner of the thoughts and intents of the heart.
Hebrews 4:12